New on Starz: All the Movies and TV Coming in November
Image via Focus Features
Movies
Features
Starz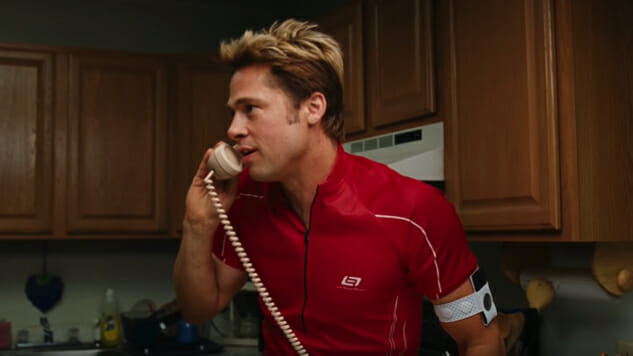 October is basically wall-to-wall spookiness nowadays, with most folks fixated on Halloween all month long, but those of you able to tear yourself away from holiday festivities have many new titles to look forward to on Starz, from must-see feature films to compelling TV offerings. Search for treats and avoid tricks via the breakdown below.
Most compelling is Starz's movie lineup for the month, featuring worthwhile films new and old. A standout among those comes to us courtesy of Joel and Ethan Coen: Burn After Reading (Nov. 16), the brothers' 2008 tale of intrigue, blackmail and a "shitstorm of consequences," starring Brad Pitt (in one of his funniest performances), Frances McDormand, George Clooney, Tilda Swinton, John Malkovich, Richard Jenkins and J.K. Simmons. Burn After Reading is generally agreed upon as one of the weaker Coen Brothers films, but that's sort like saying it's one of the smaller slices of a pizza, isn't it? It's still good! Other worthwhile titles on the way include 1961's original Oscars-sweeping musical West Side Story, Martin Scorsese career outlier Hugo, 1988 baseball classic Bull Durham, late-'70s college party comedy National Lampoon's Animal House, Dave Chappelle-starring stoner farce Half Baked, and a pair of John Hughes classics in The Breakfast Club (Nov. 1) and Sixteen Candles. Those are just some of the Nov. 1 arrivals, mind you—following them later in November are Charles Bronson-led revenge thriller Death Wish (Nov. 8), Donkey Kong competition documentary The King Of Kong: A Fistful Of Quarters (Nov. 8), Joe Dante's suburban Tom Hanks starrer The 'Burbs (Nov. 14), Denzel Washington-led neo-noir mystery Devil In A Blue Dress (Nov. 15) and 1991's live-action The Addams Family (Nov. 16), 2008's Amanda Seyfried-starring Mamma Mia! adaptation (Nov. 16) and disastrous Adam Sandler comedy Jack And Jill (Nov. 21), among others.
On the small screen side of things, November sees the end of one of Starz's most long-running and acclaimed original series, even as several new shows are just getting started. Power, created by Courtney Kemp and executive produced by Curtis "50 Cent" Jackson, concludes the first part of its sixth and final season with Episode 610, airing Sunday, Nov. 3. James "Ghost" St. Patrick's story will conclude with the series' final five episodes in January 2020, but fans of the show can keep up with Power Confidential in the meantime: New episodes of the aftershow debut on Nov. 3 and Nov. 17 prior to its return alongside Power Season 6B early next year. As for Starz's new additions, true-crime docuseries Leavenworth, executive produced by Steven Soderbergh, debuts this Sunday, Oct. 20, and will continue its five episode run each week through its fifth and final hour, airing Sunday, Nov. 17. Starz describes the docuseries as "a first-hand account of a soldier navigating the U.S. Army's legal system" in which "questions probe not only the merits of his conviction, but analyze the system at large and ultimately test the balance of guilt and innocence in the inscrutable circumstances of today's wars." Sounding just as hard-hitting is new Starz original Dublin Murders, debuting Sunday, Nov. 10—the eight-part series focuses on two murder investigations led by ambitious and charismatic detectives Rob Reilly (Killian Scott, The Commuter) and Cassie Maddox (Sarah Greene, Penny Dreadful). And also making its debut next month is Idris Elba's In the Long Run, inspired by the actor's coming-of-age in '80s East London—the family comedy's first two episodes air on Friday, Nov. 1, with two more to follow each week through Nov. 15.
We'll leave you with the list of titles leaving Starz in the month to come. These include About Schmidt (Nov. 2), Big Hero 6 (Nov. 4), Frozen (Nov. 4), Inside Out (Nov. 4), Up (Nov. 8), The Social Network (Nov. 16), Defiance (Nov. 26), Into The Woods (Nov. 27) and Roman J. Israel, Esq. (Nov. 27), not to mention many Nov. 30 departures: Do The Right Thing, A Fistful Of Dollars and For A Few Dollars More, Wall Street, Man On The Moon, Showgirls, Wargames, Antwone Fisher and the first three Fast & Furious flicks—The Fast And The Furious, 2 Fast 2 Furious and The Fast And The Furious: Tokyo Drift—aren't long for Starz, so consider this your last call.
Find November's complete list of incoming and outgoing Starz offerings below.
WHAT'S NEW ON THE STARZ APP – NOVEMBER 2019
AVAILABLE NOVEMBER 1
"Final Days Of Planet Earth" – Episodes 1 and 2
"In the Long Run" – Episodes 101 and 102
Body Snatchers (1994)
Bowfinger (1999)
Breakfast Club, The (1985)
Bull Durham (1988)
Chaplin (1992)
Cujo (1983)
Desperado: Badlands Justice (1989)
Desperado: The Outlaw Wars (1989)
Duck, You Sucker (1971)
Half Baked (1998)
Hugo (2011)
Interpreter, The (2005)
Invaders From Mars (1986)
Journey To The Center Of The Earth (1987)
La Camarista (2019)
Little Joe, The Wrangler (1942)
National Lampoon's Animal House (1978)
Never Die Alone (2004)
Outland (1981)
Rawhide Years, The (1955)
Rollerball (2002)
Saving Santa (2013)
Seven Ways From Sundown (1960)
Sixteen Candles (1984)
Smoky (1946)
Sound, The (2017)
Virginian, The (1945)
Walking Dead, The (1995)
West Side Story (1961)
Wheely (2018)
AVAILABLE NOVEMBER 3
"Power" – Episode 610
"Power Confidential" – Episode 110
"Leavenworth" – Episode 103
AVAILABLE NOVEMBER 4
"Cuando Vivas Conmigo" – Episodes 101-172
"La Ruta Blanca" – Episodes 101-184
AVAILABLE NOVEMBER 8
"In the Long Run" – Episodes 103 and 104
12 Rounds 2: Reloaded (2013)
Bilal: A New Breed of Hero (2018)
Death Wish (1974)
King Of Kong: A Fistful Of Quarters, The (2007)
AVAILABLE NOVEMBER 10
"Dublin Murders" – Episode 101
"Leavenworth" – Episode 104
Killer Elite (2011)
AVAILABLE NOVEMBER 14
'Burbs, The (1989)
White Crow, The (2019)
AVAILABLE NOVEMBER 15
"In the Long Run" – Episodes 105 & 106
12 Rounds (2009)
Brady Bunch Movie, The (1995)
Cannonball Run II (1984)
Cattle Drive (1951)
Coneheads (1993)
Date And Switch (2014)
Devil In A Blue Dress (1995)
Double Impact (1991)
I Come In Peace (1989)
I'm Gonna Git You Sucka (1988)
Kinjite: Forbidden Subjects (1989)
Mod Squad, The (1999)
Psycho (1998)
Psycho II (1983)
Psycho III (1986)
Psycho IV: The Beginning (1990)
Shallow Grave (1994)
Shape Of Things, The (2002)
Showdown At Abilene (1956)
Smokey And The Bandit II (1980)
Smokey And The Bandit Part 3 (1983)
Snake Eyes (1998)
Street Fighter: The Legend Of Chun-Li (2009)
Stroker Ace (1983)
Summer Rental (1985)
Tomahawk (1950)
Two Weeks (2006)
Woman In Black 2: Angel Of Death, The (2015)
AVAILABLE NOVEMBER 16
Addams Family, The (1991)
Away We Go (2009)
Burn After Reading (2008)
Mamma Mia! (2008)
State Of Play (2009)
AVAILABLE NOVEMBER 17
"Dublin Murders" – Episode 102
"Leavenworth" – Episode 105
"Power Confidential" – Episode 111
AVAILABLE NOVEMBER 21
Jack And Jill (2011)
AVAILABLE NOVEMBER 24
"Dublin Murders" – Episode 103
AVAILABLE NOVEMBER 28
All Is True (2019)
WHAT'S LEAVING ON THE STARZ APP – NOVEMBER 2019
LEAVING NOVEMBER 2
About Schmidt (2002)
Takers (2010)
LEAVING NOVEMBER 4
Alexander and the Terrible, Horrible, No Good, Very Bad Day (2014)
Big Hero 6 (2014)
Frozen (2013)
Inside Out (2015)
Monkey Kingdom (2015)
Monsters University (2013)
Planes (2013)
Planes: Fire And Rescue (2014)
Strange Magic (2015)
LEAVING NOVEMBER 7
Abracadabra (2017)
LEAVING NOVEMBER 8
Up (2009)
LEAVING NOVEMBER 9
Resident Evil: Afterlife (2010)
LEAVING NOVEMBER 14
Leap Year (2009)
LEAVING NOVEMBER 16
Social Network, The (2010)
LEAVING NOVEMBER 20
Keep Watching (2017)
Only The Brave (2017)
LEAVING NOVEMBER 22
Pawn Sacrifice (2015)
LEAVING NOVEMBER 26
Defiance (2008)
LEAVING NOVEMBER 27
Into The Woods (2014)
Roman J. Israel, Esq. (2017)
LEAVING NOVEMBER 30
"Attila" – Episodes 1 and 2
"Mad About You" – Episodes 101-722
"Mystery Files, The" – Episodes 101-113
"Prime Radicals, The" – Episodes 101-226
10 To Midnight (1983)
2 Fast 2 Furious (2003)
Adventures Of Sharkboy And Lavagirl, The (2005)
Airheads (1994)
Allan Quatermain And The Lost City Of Gold (1986)
Antwone Fisher (2002)
Bird On A Wire (1990)
Black Stallion, The (1979)
Border River (1953)
Borrowers, The (2011)
Borrowers, The (1997)
Bulletproof (1996)
Burning Blue (2013)
Cat Run (2011)
Chronicles Of Riddick, The (2004)
Chronicles Of Riddick: Dark Fury, The (2004)
Clockers (1995)
Cookout, The (2004)
Dark Command (1940)
De-Lovely (2004)
Digimon Adventure Tri (2015)
Do The Right Thing (1989)
Dr. Dolittle 2 (2001)
Family Man, A (2016)
Fast And The Furious, The (2001)
Fast And The Furious: Tokyo Drift, The (2006)
Fistful Of Dollars, A (1964)
For A Few Dollars More (1967)
Frank & Jesse (1995)
Great Northfield Minnesota Raid, The (1972)
Grimm Brothers' Snow White: A Tale Of Terror, The (1997)
Gunfighter, The (1950)
Guns Of A Stranger (1973)
Gunsmoke (1953)
Havana Motor Club (2015)
Heartbreakers (2001)
Heartburn (1986)
Hood Rat (2001)
I Do… Until I Don't (2017)
It's All About Love (2002)
Jimmy Neutron: Boy Genius (2001)
Just Married (2003)
Kansas Raiders (1950)
La Larga Noche De Francisco Sanctis (2016)
Law And Order (1953)
Law Of The Range (1941)
Leap Of Faith (1992)
Little Engine That Could, The (2010)
Man On The Moon (1999)
Man Without A Star (1955)
Martin Lawrence Live: Runteldat (2002)
McLintock! (1963)
New Jersey Drive (1995)
Niñas Araña (2017)
Others, The (2001)
Out Of Time (2003)
Painted Woman (2017)
Pitch Black (1999)
Pulitzer At 100, The (2017)
Pure Luck (1991)
Quarantine (2008)
Red Rock West (1992)
Renegades (1989)
Renegades Of The Rio Grande (1945)
Rio Grande (1950)
Serial Mom (1994)
Showgirls (1995)
Soloist, The (2008)
Sons Of Katie Elder, The (1965)
Splitting Heirs (1993)
Strange Wilderness (2006)
Terror In A Texas Town (1958)
Texas Across The River (1966)
Transporter 2, The (2005)
Wall Street (1987)
Wanted: The Sundance Woman (1976)
Wargames (1983)
Wolf Man, The (1941)