The Complete Studio Ghibli Catalog Is Coming to HBO Max
It's the first time these films have ever been licensed to a streamer
Images via Studio Ghibli
Movies
News
Studio Ghibli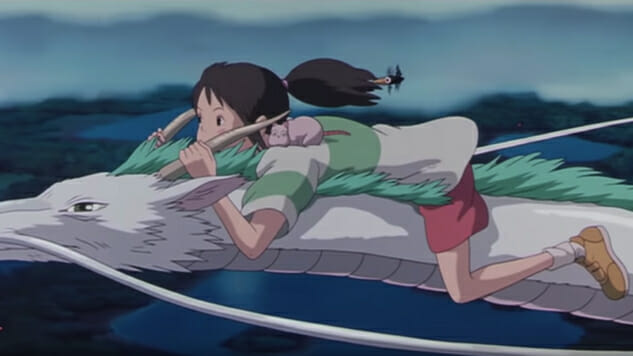 Just days after a new raft of reports affirming that the films of revered Japanese animation house Studio Ghibli would continue to be unavailable digitally, HBO Max has made the stunning announcement that it has acquired U.S. streaming rights to the complete Studio Ghibli catalog, marking the first time ever that the Hayao Miyazaki-founded studio's films have been licensed to a streamer. It's an enormous coup for the still-nascent HBO Max, and one that swells the WarnerMedia-owned streaming service's library with some of the best animated movies ever made.
We'll repeat that, in case you're as gobsmacked as we are: Through HBO Max's historic deal with North American distributor GKIDS, the complete Studio Ghibli filmography—comprising 21 feature films, including masterpieces like Spirited Away, My Neighbor Totoro, Princess Mononoke, Howl's Moving Castle, Kiki's Delivery Service, Ponyo, Castle in the Sky and The Tale of The Princess Kaguya—is coming to HBO Max. All but one of those titles will be available upon HBO Max's launch in spring 2020, including:
Castle in the Sky
The Cat Returns
From Up On Poppy Hill
Howl's Moving Castle
Kiki's Delivery Service
My Neighbor Totoro
My Neighbors the Yamadas
Nausicaä of the Valley of the Wind
Ocean Waves
Only Yesterday
Pom Poko
Ponyo
Porco Rosso
Princess Mononoke
The Secret World of Arrietty
Spirited Away
The Tale of The Princess Kaguya
Tales From Earthsea
When Marnie Was There
Whisper of the Heart
There is one Studio Ghibli film fans will have to wait a bit longer for, though: Miyazaki's 2014 masterpiece The Wind Rises, which won't reach the service until fall 2020. Reached by Paste, a WarnerMedia rep provided no further information on the timing of the film's launch.
"Studio Ghibli films are visually breathtaking, completely immersive experiences," said Kevin Reilly, Chief Content Officer, HBO Max and President, TNT, TBS and truTV, in a statement. "Exciting, enchanting and deeply humanistic, these wonderful films have captured people's hearts around the world, and we are proud to showcase them in an accessible way for even more fans through HBO Max."
"We are excited to be working with HBO Max to bring the complete collection of Studio Ghibli films to streaming audiences in the U.S. As a premium content brand, HBO Max is an ideal home for our films," said Koji Hoshino, Chairman of Studio Ghibli. "Upon launch of the service this spring, existing Ghibli fans will be able enjoy their favorites and delve deeper into the library, while whole new audiences will be able to discover our films for the first time."
Just this Tuesday, Polygon reported that Studio Ghibli had "no plans to place the collection on Netflix, Disney Plus, Hulu, or the like," sharing the following statement from a GKIDS rep: "Studio Ghibli does not make their films available digitally, whether for download or streaming, anywhere in the world. They continue to believe that presentation is vital and particularly appreciate opportunities for audiences to experience the films together in a theatrical setting." However, a GKIDS rep tells Paste this statement was originally made in a 2018 interview, not "earlier this year," as Polygon had reported, and that they were not contacted prior to this week's report's publication, indicating that today's decision is not the abrupt reversal it may have initially appeared to be.
Allow yourself to be spirited away by Paste's Studio Ghibli films ranking.