Goblin Will Provide the Live Soundtrack to Suspiria Screenings in the U.S. This Fall
Movies
News
Suspiria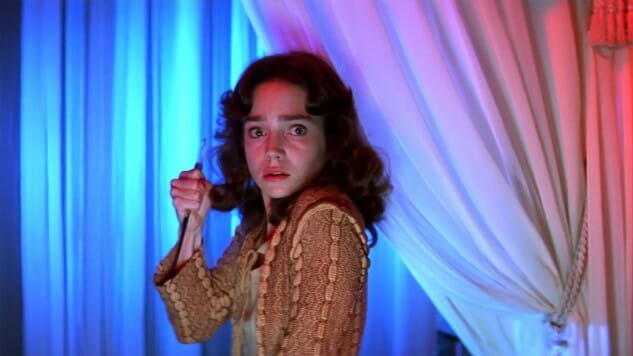 In a discussion of "horror movies with iconic soundtracks," Suspiria is a name that will always be quickly proffered. The 1977 classic of psychological horror from director Dario Argento is a masterclass of both visual and aural creepiness—a perfect collaboration between a director (Argento) and the perfect composers for the job. Those composers? Italian prog rock/chamber rock band Goblin, often incorrectly listed as "The Goblins." The tinkling bells of the main Suspiria theme stand out immediately, drawing the mind in the same direction as the equally famous "Tubular Bells" in The Exorcist. Go ahead and listen for yourself:
Creepy, right? Well, with the hotly anticipated remake of Suspiria from director Luca Guadagnino on its way to theaters this November, you'll also be given ample opportunities to rediscover the original, and do so with Goblin in tow. The band will be accompanying screenings of the original Suspiria at shows in both Europe and the U.S. this fall, starting in August and running through November. It seems safe to say that this would be the ultimate Suspiria experience for the die-hards in the audience—the only way it could be better is if they followed it up with a double bill of Argento's Deep Red, which also had a memorable soundtrack from Goblin.
The full tour dates for the Suspiria tour with Goblin can be found below. Act quickly, if you're hoping to find tickets. Bonus: The band is performing the score along with the film on Halloween night in Paste's own home of Atlanta, GA, so you know that a duly designated Paste representative will definitely be there … probably social media coordinator Annie Black, who just appeared on the Missing Frames podcast (along with yours truly) to discuss her love of Suspiria.
August
5 – Edinburgh, UK – Summerhall
6 – Edinburgh, UK – Summerhall
17 – London, UK – Union Chapel
18 – London, UK – Union Chapel
October
28 – Baltimore, MD – Rams Head Live (Days of Darkness Festival)
30 – Raleigh, NC – Lincoln Theatre
31 – Atlanta, GA – The Earl
November
2 – Austin, TX — Come and Take It Live
3 – Houston, TX – White Oak Music Hall
4 – Dallas, TX – Gas Monkey Bar N' Grill
6 – Tempe, AZ – Marquee Theatre
7 – San Diego, CA – The Irenic
8 – Los Angeles, CA – Union
9 – Oakland, CA – Oakland Metro Operahouse
11 – Portland, OR – Hawthorne Theatre
12 – Seattle, WA – El Corazon
14 – Salt Lake City, UT – Metro Music Hall
15 – Denver, CO – Gothic Theatre
18 – Chicago, IL – Reggies Rock Club
19 – Grand Rapids, MI – Wealthy Theatre
20 – Toronto, ON – The Opera House
21 – Ottawa, ON – Mavericks
22 – Montreal, QC – Théâtre Fairmount
24 – Brooklyn, NY – Murmrr Theatre
25 – Brookline, MA – Coolidge Corner Theatre
And for the hell of it, go ahead and watch the teaser for Amazon Studios' upcoming Suspiria remake below.