Just Try to Catch Jeremy Renner in the Ridiculous First Trailer for Tag
Images via Warner Bros. Pictures/YouTube
Movies
News
tag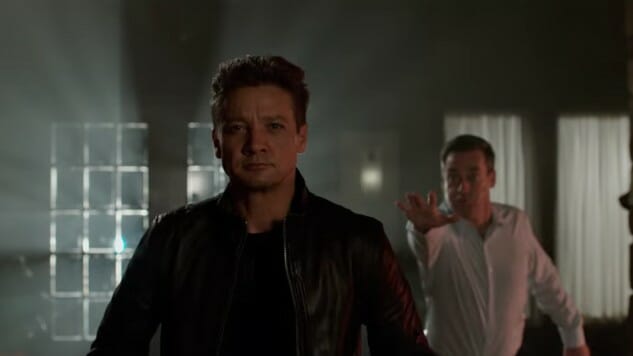 Yes, this is, in fact, a real movie. As hilariously idiotic as it sounds, Tag is a story about a group of five ultra-competitive friends who have been playing a continuous game of tag since the first grade. This year, though, one of the five friends decides to get married and wants to retire: Jeremy Renner's character, who has yet to ever be tagged in over 30 years of playing this insanely childish game.
What's even more ridiculous is that the movie is actually based on a true story—we want to meet the real friends who inspired this carnival of idiocy. The real "Tag Brothers," they're called, are from Washington state and the game started when the group was in high school. The game has become a no-holds-barred nationwide event that started with ten friends who began over 20 years ago and never stopped playing tag. Some kids just never grow up. The group attracted the attention of The Wall Street Journal, who turned it into a human interest piece. From there, Hollywood went after the "Tag Brothers" in order to turn this real-life slapstick game into a movie. The brothers eventually sold the rights to their story to Todd Garner of Broken Road Productions. Will Ferrell is also producing, alongside Garner.
This film is directed by Jeff Tomsic (Comedy Central's Broad City), with a star-studded ensemble cast led by Ed Helms (The Hangover franchise, We're the Millers), Jake Johnson (TV's New Girl), Annabelle Wallis (The Mummy with Tom Cruise), Rashida Jones (TV's Parks and Recreation), Isla Fisher (Now You See Me), Leslie Bibb (Iron Man 2), Hannibal Buress (Neighbors) and Sebastian Maniscalco (The House), with Jon Hamm (Baby Driver, TV's Mad Men) and Oscar nominee Renner (The Hurt Locker, The Town).
If it wasn't for the stellar cast, we'd say this looks like a complete bust, but we'll let you be the judge of that. The trailer is quite enjoyable and even makes you root for Renner, but honestly, who wouldn't? Tag arrives in theaters this summer on June 15.