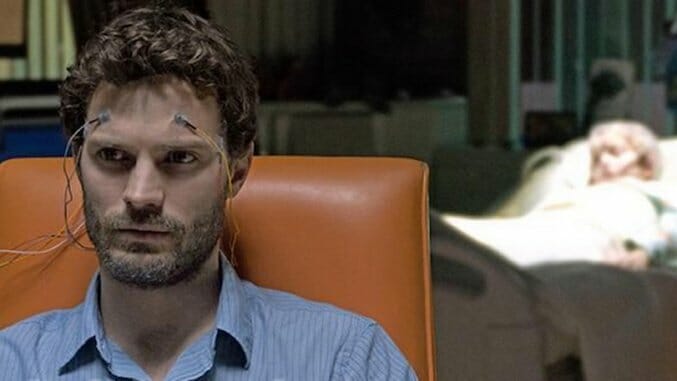 Though Alexandre Aja—the French filmmaker previously known for horror films like High Tension, the 2006 Hills Have Eyes remake, and Piranha 3D—is credited as the helmer of The 9th Life of Louis Drax, perhaps the more significant creative mind in this endeavor is its screenwriter and co-producer, Max Minghella. This adaptation of Liz Jensen's 2004 novel is the first screenplay for Minghella, best known as an actor in films like Art School Confidential and The Social Network. Considering that his father, the late English Patient writer/director Anthony Minghella, was originally slated to bring the book to the screen, there's a certain poignancy in the fact that his son apparently took it upon himself to finish what his father started. This covertly personal angle can be glimpsed in the film through Pete Drax's (Aaron Paul) occasional gestures of loving devotion toward the titular young boy (Aiden Longworth), even though he's biologically not Louis' father.
Such moments of crystalline emotion, however, are ultimately devoured by the film's narrative trickery. The 9th Life of Louis Drax alternates between two threads: Louis' fantastical Pan's Labyrinth-like tour through a kind of purgatorial netherworld while he remains in a coma from a fall off a cliff, his ninth serious accident in nine years; and the efforts of Dr. Allan Pascal (Jamie Dornan) to not only nurse Louis, but also unravel the truths behind the boy's accident and his troubled past. Basically, Aja's film is part fantasy, part detective procedural—but instead of one thread enriching the other, they end up canceling each other out, with the whole film collapsing under the weight of its divided intentions.
It's a shame, because hints of promising ideas are sprinkled throughout. The mystery of why Louis Drax is such "the amazing accident-prone boy," as he describes himself, piques one's curiosity, especially with the jokingly nonchalant way he recounts experiences that have taken him to the edge of mortality at such an early time in his life. When Louis says to his therapist, Dr. Perez (Oliver Platt), that he doesn't expect to live for much longer, a chill is bound to go up a viewer's spine in noticing the wink in his eye with which he utters such a morbid prediction. Yet as Dr. Pascal dives deeper into his patient's enigmas, some of what he uncovers about the personal lives of his parents—that he is in fact an illegitimate child, born out of a rape his mother, Natalie (Sarah Gadon), suffered before he met Pete; and that Natalie and Pete have been fighting a lot recently, leading them to spend time apart from each other—suggest that Louis' current tightrope between life and death is in part an unfortunate result of familial tensions. Perhaps, though, there's a deeper bond between mother and son. Take the mysterious letters Natalie and Dr. Pascal receive after they're caught kissing each other outside of the hospital—letters purportedly written by Louis himself that suggest a desire to protect his mother from further troubles with the men in her life.
All of these suggest a movie that strains to turn Louis' current comatose state into metaphors for the emotional fallout from parental neglect and female objectification. And yet, metaphors are all they remain. The film is too busy weaving in and out of its many narrative through lines for any of them to resonate as deeply as they should. Granted, the complicated structure is carried over from Jensen's original novel, but seeing these events unfold on a page allows readers the mental luxury of reflection that this film is too quickly paced to permit. Despite large portions of the film being narrated by Louis himself—as he recounts his life story and relays his thoughts to a mysterious creature with a basso profondo voice—rarely do we feel like we actually know this character, understanding the way his harrowing early life experiences have shaped his unusually pessimistic worldview. Mostly, we just hear Aiden Longworth utter his death-haunted lines with the kind of cutesy delivery that suggests an immature kid actor sucking up to the camera rather than feeling his way into the role. Worse than all this unfelt melancholy are the increasingly over-the-top twists and turns the procedural narrative takes, leading to a twist ending that not only turns an initially sympathetic character into a ridiculously outlandish homicidal mental case, but adds a sentimental coda that, rather than being uplifting, merely exposes the filmmakers' lack of courage in following through on their dark premises.
Director: Alexandre Aja
Writer: Max Minghella, based on Liz Jensen's novel
Starring: Jamie Dornan, Aiden Longworth, Sarah Gadon, Aaron Paul, Molly Parker, Oliver Platt
Release Date: Sept. 2, 2016
---
Kenji Fujishima is a freelance film critic, contributing to Slant Magazine, Brooklyn Magazine, The Playlist, and the Village Voice in addition to Paste. He is also Deputy Editor of Movie Mezzanine and former editor-in-chief of In Review Online. When he's not watching movies and writing and editing film criticism, he's trying to absorb as much music, art and literature as possible. He has not infrequently been called a "culture vulture" for that reason.