Exclusive: Check Out The Bad Batch Soundtrack Art, Video for Federale's "All the Colours of the Dark"
Images via Death Waltz Recording Company
Movies
News
The Bad Batch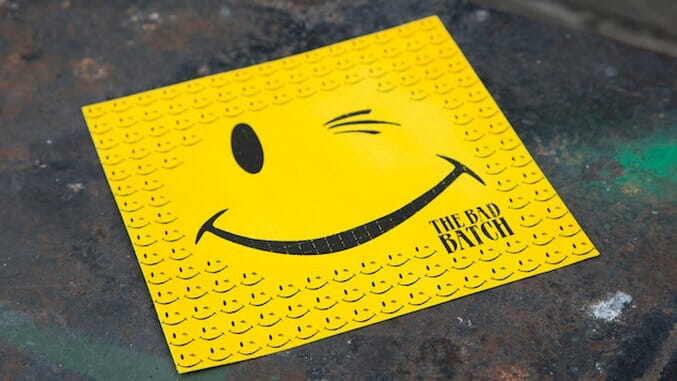 We're stoked to reveal the artwork for The Bad Batch soundtrack, as well as a video for one of the tracks, exclusively at Paste today. The winking smiley face design was created with die-cut artwork by Jay Shaw, who previously worked with the film's director, Ana Lily Amirpour, on her debut film A Girl Walks Home Alone at Night, which made our June 2017 list of the best movies on Netflix.
Feast your eyes: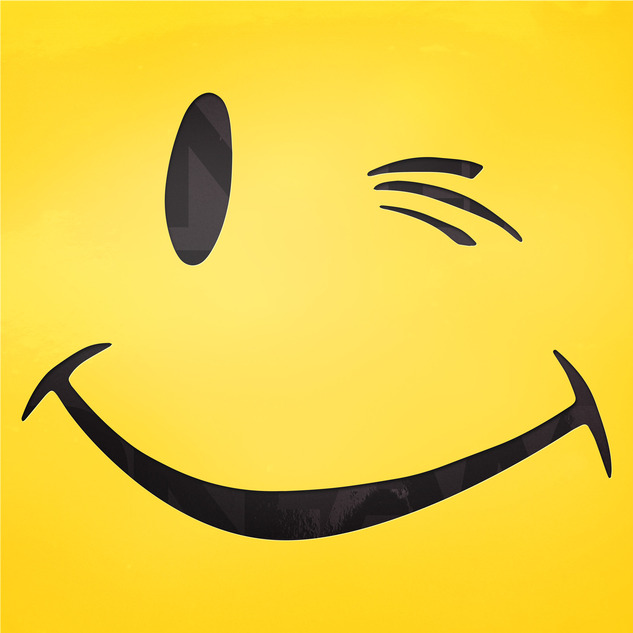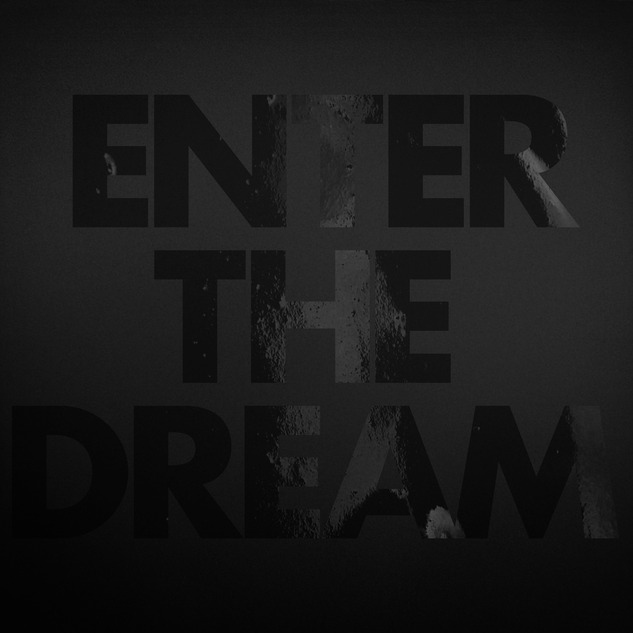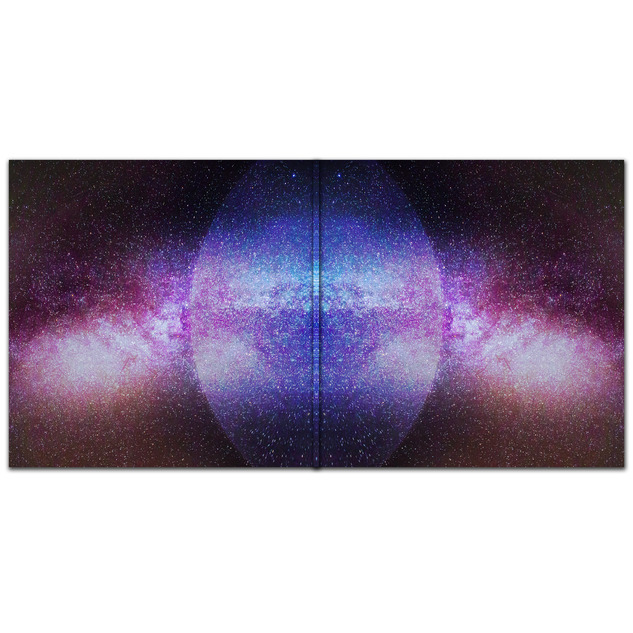 The Bad Batch is a Mad Max: Fury Road-esque dark comedy and thriller starring Suki Waterhouse, Jason Momoa, Giovani Ribisi and Keanu Reeves. Music was supervised by Andrea von Foerster, who speaks highly of Amirpour's hands-on approach to syncing the film: "Lily Amirpour has a cinematic vision that beings and ends with music. Going on the journey with her to facilitate that vision was awesome." The soundtrack includes music from Culture Club and Pantha Du Prince, and an "Acid Handbill" signed by Amirpour will be available alongside the soundtrack (LSD not included). Check that out below.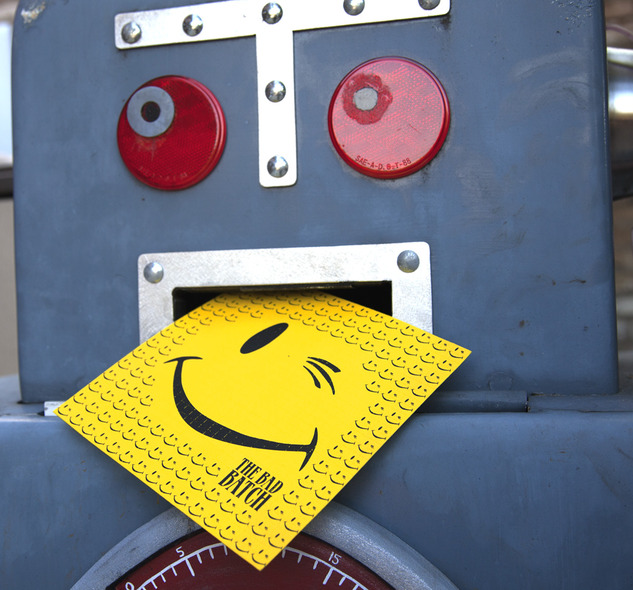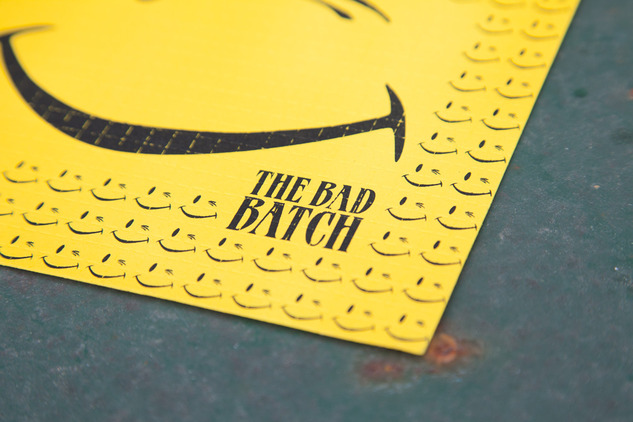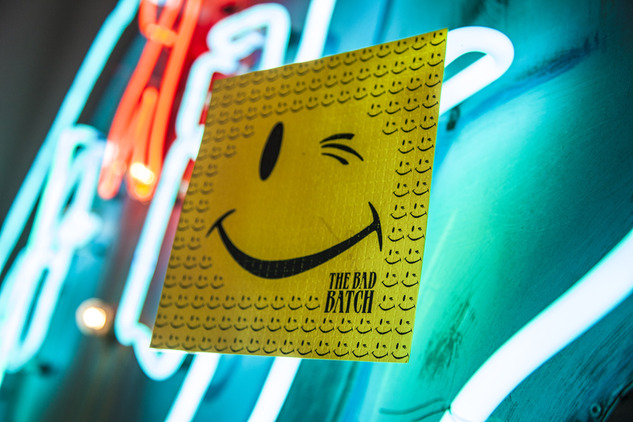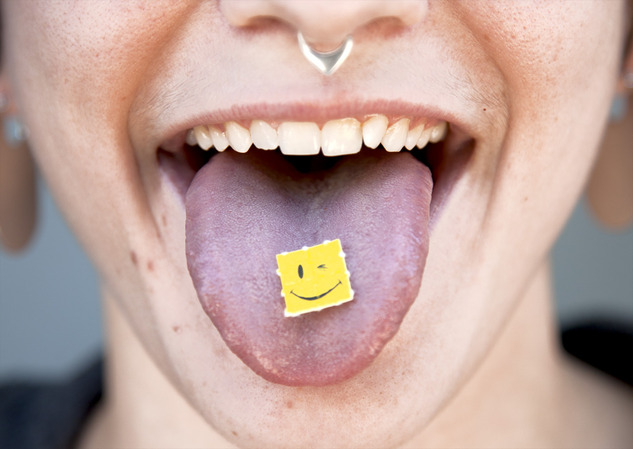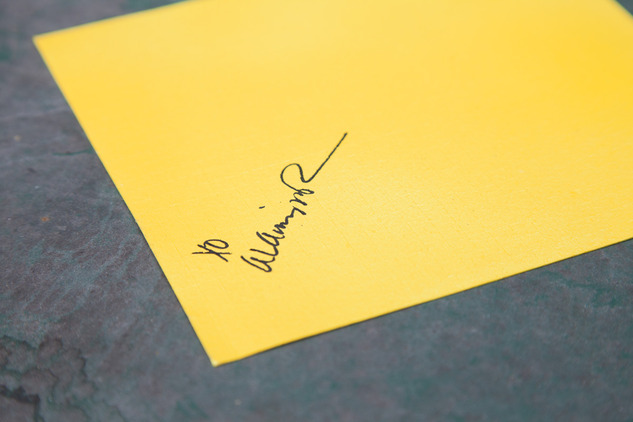 The Bad Batch, a Neon release, is set to hit theaters tomorrow, June 23, and will also be available via Amazon and iTunes. Find a showing near you here. Below, you can check out both the tracklist for The Bad Batch soundtrack and the video for Federale's "All the Colours of the Dark" featuring clips from the film.
The Bad Batch Soundtrack Tracklist:
Side 1
USRCS Detention center (Dialog) — The Bad Batch Cast
Firefly — Black Light Smoke
Karma Chameleon — Culture Club
Side 2
Screws in My Head — Black Light Smoke
This Here is The Bad Batch (Dialog) — The Dream aka Keanu Reeves
Satin Drone — Pantha du Prince
Arlen on Acid (Dialog) — Arlen aka Suki Waterhouse
Side 3
Otherness (Black Mustang's Frozen Moon Jam) — Chilled by Nature
Strange Isn't it? (Dialog) — Arlen aka Suki Waterhouse
All The Colours Of The Dark — Federale
Heart —Darkside
Side 4
Cows stand in their shit (Dialog) — The Dream aka Keanu Reeves
Fifty On Our Foreheads — White Lies
Lostfound — Francis Harris
All That She Wants — Ace of Base