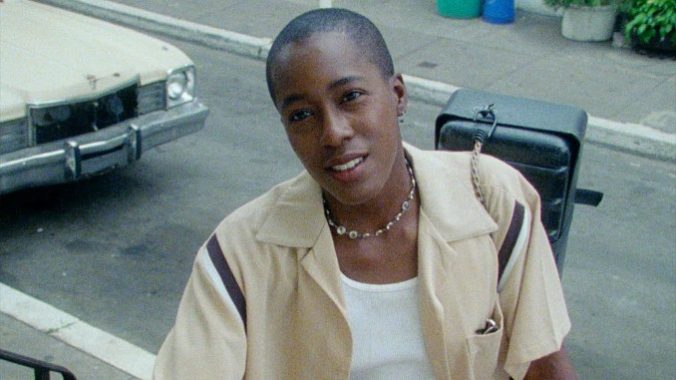 Each month, Paste brings you a look at the best new selections from the Criterion Collection. Much beloved by casual fans and cinephiles alike, Criterion has presented special editions of important classic and contemporary films for over three decades. You can explore the complete collection here.
In the meantime, because chances are you may be looking for something, anything, to discover, find all of our Criterion picks here, and if you'd rather dig into things on the streaming side (because who's got the money to invest in all these beautiful physical editions?) we've got our list of the best films on the Criterion Channel. But you're here for what's new, and we've got you covered.
Here are all the new releases from Criterion, July 2023:
---
The Watermelon WomanYear: 1996
Director: Cheryl Dunye
Stars: Cheryl Dunye, Guinevere Turner
Rating: R
Runtime: 84 minutes
There's something revolutionary about the idea of reclaiming and asserting one's history, and that's exactly what Cheryl Dunye set out to do with The Watermelon Woman, which she wrote, directed, edited and starred in. Known as the first feature film directed by a Black lesbian, the 1996 romantic comedy-drama tells a story hardly ever told. About a young Black lesbian (Dunye) who works at a video store during the day and wants to make a film about 1930s Black actresses who were forced to play mammies, sometimes uncredited, the film explores the difficulties in navigating archival sources that erase and ignore the legacies of Black queer women in Hollywood. The Watermelon Woman is a perfect example of Dunye's unique "Dunyementary" style, wherein she blends narrative and documentary techniques (with a major assist in this film from director of photography Zoë Leonard). It's a piece of queer cinematic history that deserves all of the praise. —Tre'vell Anderson
---
BreathlessYear: 1960
Director: Jean-Luc Godard
Stars: Jean-Paul Belmondo, Jean Seberg, Daniel Boulanger
Runtime: 90 minutes
Godard is arguably the most prolific, impactful French director of all time, and Breathless is his first New Wave film: To some, it spawned a revolution, and even if you object to that narrative, its influence on his home country and the New Hollywood period in 1970s America is undeniable. Breathless stars Jean-Paul Belmondo as an incompetent criminal in love with an American student named Patricia (Jean Seberg) in Paris. When he murders a cop, the film turns from a light Parisian affair to a tense love story, and the question that hangs in the balance is whether Patricia will betray her criminal beau. —Shane Ryan
---
After HoursYear: 1985
Director: Martin Scorsese
Stars: Griffin Dunne, Rosanna Arquette, Verna Bloom, Thomas Chong, Linda Fiorentino, Teri Garr, John Heard, Richard Cheech Marin, Catherine O'Hara
Rating: R
Runtime: 97 minutes
A hilarious nightmare whipping breathlessly from one anxious incident to the next, After Hours is a coffee-and-coke ode to New York's potential. Square cubicle jockey Griffin Dunne gets buffeted around the city's social corners after pursuing a mysterious hook-up (Rosanna Arquette). It frays the nerves and thwacks the funnybone. Dunne's constant face-washing in the face of getting washed by the countless women who refuse to put up with his nonsense is a physical manifestation of his nervous, incredulous deliveries. He's neurotic, but only after severe duress shatters his facade. Anyone would turn into this, under the diamond-forming pressures of NYC at its least welcoming. His long, horny night of the soul is as kinetic as it is resonant. Scorsese zips along throughout the subcultures, twisting the screws by rushing through the shadows of an artist's loft and the mohawked crowds of a punk bar. At just 97 minutes, After Hours is short enough that it sustains its pace without burning us out. At the exact midpoint of the '80s, After Hours is entrenched enough in obsolescence (getting screwed by your cash flying out of a cab window; the rising price of subway tokens; the existence of landlines) to be a bracing time capsule. One of Scorsese's funniest movies, written by Vampire's Kiss' Joseph Minion, After Hours delights in torturing its yuppie, trapped in a city that its filmmaker loves. Maybe the racing rat might not be who New York is for.—Jacob OIler
---
Decision at SundownYear: 1957
Director: Budd Boetticher
Stars: Randolph Scott, John Carroll, Noah Beery Jr., John Archer, Andrew Duggan
Rating: NR
Runtime: 77 minutes
A sour little Western in Budd Boetticher's Ranown Cycle, Decision at Sundown sees Randolph Scott's Bart Allison bust into a small town with his lackey (Noah Beery Jr.) with one thing on his mind: Revenge. Tate Kimbrough (John Carroll) has done him wrong, and he doesn't give a damn if it's Kimbrough's town or his wedding day. Turns out it's both, which gives this sparse yet sleepy pulp its biggest setpiece. Written by Charles G. Lang rather than the Ranown Cycle's more zippy regular Burt Kennedy, Decision at Sundown stumbles through its cliches (a marriage for money not love; timid townspeople waiting to revolt; half-hearted drunken gags) on the way to its cynical reveal. Turns out Allison's revenge is perhaps even more futile and empty than most, which grants its ending a more intriguing melancholy than you might expect from such a simple story. Getting there, though, is an exercise in Western-by-the-numbers.—Jacob Oller
---
Buchanan Rides AloneYear: 1958
Director: Budd Boetticher
Stars: Randolph Scott, Craig Stevens, Barry Kelley
Rating: NR
Runtime: 80 minutes
How many times can Randolph Scott be captured, freed, then captured again? In Buchanan Rides Alone, the answer seems to be "as many times as it takes to fill 80 minutes." Adapting Jonas Ward's The Name's Buchanan, this cheeky Western sees a chipper oak tree of a man (Scott) weather the ax-blows of a corrupt, family-run town. Agry and its namesake clan is deadset against the strong, silent Texan—and that only becomes more violent when he hops in to defend Juan De La Vega (Manuel Rojas), a Mexican man taking revenge on a young drunk Agry for raping his sister. No good deed goes unpunished, especially when the sheriff, the hotel manager, and the judge are all also named Agry. Peter Whitney (as the hotel manager) is the silliest of the bunch, bumbling around in a physical performance so boisterous that it compliments, even nurtures, Scott's rigid morality. This streak of humor keeps the repetitive plot (remember, they are constantly getting thrown into jail) alive, and its sense of duty in the face of greedy little bullies is invigorating. L.Q. Jones' henchman steals a few scenes as a fellow Texan caught in Scott's gravitational pull. A handful of too-tight close-ups and a final stand-off over some cash-filled saddlebags allows Boetticher to flex his bag of economical filmmaking tricks, all in service of an oddly endearing tale of honorable outsiders vs. gluttonous insiders.—Jacob Oller
---
Comanche StationYear: 1960
Director: Budd Boetticher
Stars: Randolph Scott, Claude Akins, Nancy Gates, Richard Rust
Rating: NR
Runtime: 73 minutes
Comanche Station is similar in flavor to the Budd Boetticher/Burt Kennedy collaboration The Tall T (though the entire Ranown Cycle can blur together in terms of plot, cast, setting and style), pitting Randolph Scott's stoic do-gooder up against a scummy gang with a few members that might not want to be in a gang at all. They're all smack dab in the middle of hostile territory, looking to return Nancy Lowe (Nancy Gates) to her husband and collect the reward. Since the rescue isn't technically theirs, Ben Lane (Claude Akins) and his young goons (Skip Homeier, Richard Rust) lean towards the former when it comes to "dead or alive." The ensuing contest between Scott's Puritan respect and Lane's leering sexist—and between Scott's purpose-driven quest to find (or at least do right by) his kidnapped wife and the gang's hand-to-mouth ennui—adds a few philosophical shades to this starkly colored CinemaScope Western. Rust in particular delivers a yearning, queer-coded performance that finds kinship in Homeier's character and seeks the stabilizing force of a father figure. The amount of time dedicated to his arc, which allows the henchman to outshine the rest of the cast, is Comanche Station's savviest move. Aside from a closing reveal, there's not much to this simple straight-line story. But tapping into the various confidences and lacks of the masculine condition adrift in the rocky Alabama Hills makes Comanche Station more than a few impressive horse stunts.—Jacob Oller
---
The Tall T Year: 1957
Director: Budd Boetticher
The second collaboration between director Budd Boetticher and actor Randolph Scott, adapted by screenwriter Burt Kennedy from Elmore Leonard's short story "The Captives," is a gritty tale centered on a heist turned kidnapping. Frank Usher (Richard Boone) and his ruthless gang (Henry Silva pulling a sinister turn as the murderous Chink and Skip Homeier as the naive lunk, Billy Jack) mistake a privately chartered honeymoon stagecoach for the regular mail coach. Independent rancher Pat Brennan (Randolph Scott) goes from having a bad day—losing his horse in a wager and having to hitch a ride on the doomed honeymoon stagecoach—to worse, when he finds himself on the wrong end of the gun in a hostage situation. When it becomes clear the gang is going to kill everyone on the stagecoach and wait to rob the next one, newly married coward Willard Mims (John Hubbard), who obviously has wed for money over love, uses his plain wife, Doretta (Maureen O'Sullivan), as the bargaining chip to save his own hide. Her father just happens to be the richest man in the territory, so any ransom the gang demands is going to yield more than robbing a paltry stagecoach would. The real love story, though, is between Scott and Boone. Tired of the small-minded men with whom he has cast his lot, Usher is fascinated with the stoic, self-reliant Brennan. He spares his life for no logical reason other than he likes him, constantly engages him in conversations to probe how he thinks about certain situations and, later, asks questions about his life and work. Usher sees in Brennan the man he could have been had circumstances not funneled him into the criminal life. Boetticher uses the twisted rock formations and arid landscapes of the Alabama Hills of Lone Pine, Calif. to bring out the starkness of the captivity situation. It takes resourceful, mentally strong and canny individuals to survive in that rugged country. By the end of The Tall T, both Brennan and Doretta have proven they have the grit and tenacity to overcome the most desperate of situations. —J.P.
---
Ride LonesomeYear: 1959
Director: Budd Boetticher
Director Budd Boetticher is one of the greatest pulp poets the American Western genre ever produced. As with Anthony Mann's 1950s work in the genre, Boetticher's productions are narratively taut and sizzling with undercurrents of sex, violence and sadism. His best movies were those starring matinee favorite Randolph Scott, a standard, chiseled Hollywood hero, going toe-to-toe with neurotic, psychopathic heavies, like James Best in this one. Boetticher builds up tension to a feverish degree, though the finale is unexpected in its moral weight and thoroughly satisfying. Essential. —D.H.
---
One False Move Year: 1992
Director: Carl Franklin
Carl Franklin's excellent early '90s neo-noir walks a razor-thin tightrope of suspense: You get the sense from one minute to the next that any step out of place could send the entire narrative into violent anarchy. Franklin's film has great aspirations, delving into the complexities of modern American race relations just a few years after Spike Lee wrote the cinematic book on them with Do the Right Thing. He packages those socially aware goals alongside a tale of drugs, money, spectacularly brutal violence, and familial reconciliation. One False Move never goes quite where you expect it to, and that sense of unpredictability, combined with Franklin's knack for speaking authentically to experiences from every angle of racial division, make it a sterling gem. —A.C.