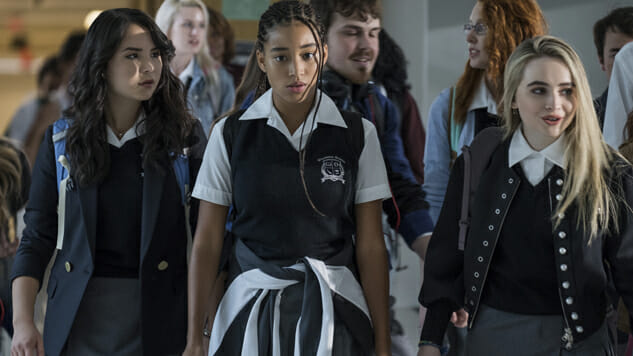 When Angie Thomas debuted her first novel The Hate U Give in February of 2017, she wasn't sure the Black Lives Matter-themed work would ever catch on. Now, just over a year later, the bestseller's film adaptation is on the way from 20th Century Fox. The film by Barbershop director George Tillman Jr. stars Amandla Stenberg as Starr Cater, a black high-schooler straddling white and black worlds as she navigates her upper-class private school and low-income neighborhood. When Starr witnesses the police shooting of her childhood best friend, she is compelled to take action that will upset the delicate balance she has worked so hard to maintain.
In the film's first official trailer, this chillingly real narrative unfolds after some typical teen movie plotting. As Starr's problems evolve from boy drama to community trauma, it's hard not to get goosebumps. The trailer gives a lot away, including snippets from the film's gut-wrenching police brutality scene, so if you want to go into the film with fresh eyes, you might want to steer clear. If not, you can watch the first trailer in full down below.
Stenberg, who's also led YA smashes like The Darkest Minds and Everything, Everything, is joined by cast-mates Regina Hall, Common, Issa Rae, Anthony Mackie and K.J. Apa. Stenberg recently opened up about the role in an interview with Wonderland, saying:
I don't think it's very often we get a black girl character who has mastered the ability of the code switch. [Starr] proficiently moves between the comfort of her lower income black neighborhood and the world of the white private school she attends where she doesn't fit in. This was my experience in life too, and to see a character who lives within this dichotomy find her voice and grow into the realization of her truth in the face of such adversity feels really special and necessary.
The Hate U Give opens Oct. 19.