New Netflix Featurette Goes Behind the Scenes on The Irishman's Groundbreaking De-Aging Technology
Images via Netflix
Movies
News
The Irishman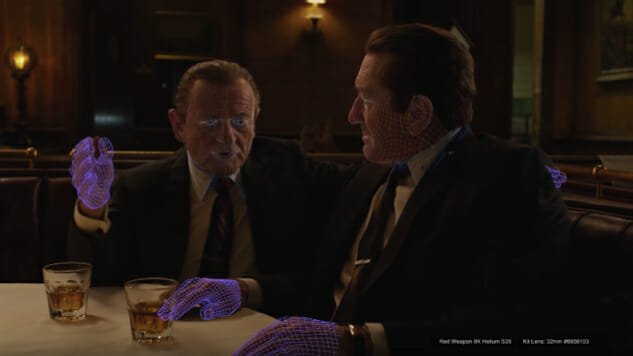 Martin Scorsese is, for the most part, a director who is set in his ways—his favorite actors to work with often find themselves cast in his films, he's worked with film editor Thelma Schoonmaker for over 50 years (including on The Irishman), and the thematic elements of his films have largely encompassed ideas of masculinity, corruption and American identity.
But if one thing is clear about Scorsese, it's that little gets in the way of him and the films he wants to make. In the case of The Irishman, all it took was more than a decade of development and production, $159 million, and patiently waiting for the perfect technology to be created in order for Scorsese to work with his desired cast.
"The problem is, by the time I was ready to make the film, Bob De Niro and Al Pacino and Pesci could no longer play these characters younger," says Scorsese in the new Netflix featurette "How The Irishman's Groundbreaking VFX Took Anti-Aging To the Next Level," about the intricacies of the de-aging technology that was pioneered for Scorsese's 25th feature.
While Scorsese was filming Silence in Taiwan, Pablo Helman of Industrial Light & Magic, a visual effects company founded by George Lucas in 1975, approached the filmmaker about the prospect of making the anti-aging effects needed for The Irishman possible.
Initially, Rob Bredo, the head of Industrial Light & Magic, was hesitant to take on the daunting challenge, saying it was way too risky.
Helman responded, "Well, this is the way you felt when you did Jurassic Park." And it seems like he couldn't really argue with that.
Whether viewers found the de-aged versions of De Niro, Pacino or Pesci remarkable or uncanny, after watching this video there's no denying that the amount of creativity and innovation put into making the lead actors in The Irishman appear decades younger opens up a multitude of possibilities for filmmakers and actors alike.
All this is hopeful, especially for those who really do want to see Daniel Day-Lewis make a comeback in Paul Thomas Anderson's forthcoming 70's high school movie.
Watch the full video from Netflix below.