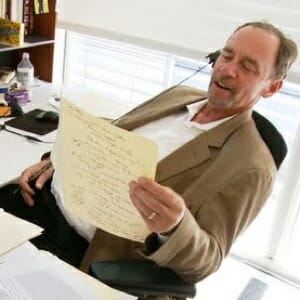 Most every journalist, at one point in is his or her life, has envisioned a gig at the New York Times. And why not? Playing the righteous defender of free press against the villainy of government corruption, the Times has chronicled our progress as a civilization for more than 150 years. And that's one reason a film like Page One: Inside the New York Times deserves attention. Another is the surprisingly easy access director Andrew Rossi has to the newspaper's inner workings.
Traditionally, reporters would stand as the least cooperative subjects of an investigative story. After all, they know all too well the pitfalls of supposedly objective coverage. But Rossi gives us an opportunistic fly's point-of-view from those journalistic walls of "all the news that's fit to print." Like the paper they're documenting, he and his cameras manage to be in the right place at the right time.
For example, when a New York Times editor takes a call from WikiLeaks' Julian Assange, the cameras are there to catch a discussion on what secrets the Times might print. It's also a moment representative of the problems plaguing the publishing world—how to disseminate the news in a fluid state of technology while remaining relevant and timely. When former executive editor Bill Keller holds a company meeting from the stairs of the paper's cavernous, multilevel lobby he seems to confirm those problems by essentially stating, in a defensive and defiant tone, that "journalism is alive and well, and feisty, especially at the New York Times."
The always entertaining Times reporter David Carr could easily have been the focus of the entire film but director Andrew Rossi smartly uses Carr as an appropriate voice of experience, albeit an unabashed defender of the paper. The grizzled, ex-drug addict journalist is a film editor's dream as he speaks in sharp, insightful and seemingly effortless sound bites. "If you work for the media long enough," says Carr, "eventually you'll type yourself back to your own doorstep."
Pointedly, the film itself is victimized by the swiftly changing technology that affects the paper. By the time it had been shot, edited, released and disseminated, many of the film's questions on what the future holds for publishing have already been answered.
Director: Andrew Rossi
Writers: Kate Novack, Andrew Rossi
Cinematographer: Andrew Rossi
Starring: David Carr, Brian Stelter, Bruce Headlam
Studio: Magnolia Pictures