Faye Dunaway and Warren Beatty Will Present Best Picture Again at the Oscars on Sunday
Photos by Kevin Winter/Getty, Kevork Djansezian/Getty, Frazer Harrison/Getty
Movies
News
The Oscars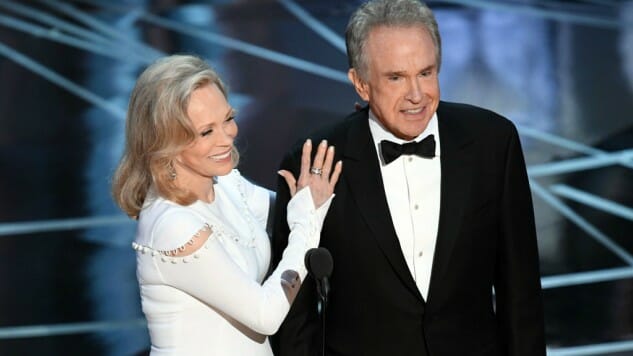 Oscar winners Faye Dunaway and Warren Beatty will return to the Oscars this Sunday to present Best Picture after last year's infamous catastrophe. THR confirmed that Dunaway and Beatty were seen rehearsing at the Dolby Theatre last night.
Last year's Best Picture epic flub occurred when a mistaken envelope was handed to the two presenters by PWC's on-site accountants, Brian Cullinan and Martha Ruiz. The envelopment was the back-up for Best Actress, listing winner Emma Stone's name for La La Land, so Dunaway simply read out La La Land after Beatty balked and gave her a confused look.
As the producers and organizers of the show began fumbling to figure out what had just happened, it left Beatty and Dunaway standing there for an agonizing few minutes. Last year's host, Jimmy Kimmel, said to Beatty, "Warren, what did you do?" Beatty clarified on stage at the time, "I opened the envelope and it said 'Emma Stone, La La Land.' That's why I looked at Faye, and at you. I wasn't trying to be funny."
The correct envelope was then rushed to the stage, naming Moonlight the actual Best Picture recipient. Luckily, the Academy unveiled in January a new set of guidelines to ensure no disaster like this would happen again. John Bailey, the new Academy president, replacing Cheryl Boone Isaacs, has announced that this year's ceremony will address what became one of the most talked-about events in Oscars history.
Catch a recap of all the previous years' Oscar-winning performances here, review this year's nominees and check out Paste's Oscars overview to prep for the 90th Academy Awards. You can watch the show to see all the winners (hopefully the correct ones) announced on Sunday, March 4 starting at 8 p.m. EST on ABC.