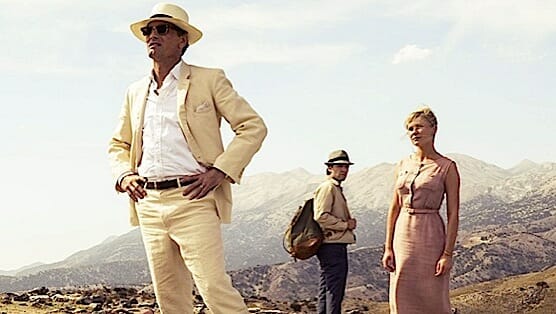 In The Two Faces of January, the latest adaptation of a Patricia Highsmith novel, you're not only seduced by the characters but also by the décor, the mood, the swirl of cigarette smoke and the stylishness of the sunglasses. Whether it's Alberto Iglesias's score, meant to evoke the icy paranoia of Bernard Herrmann's music for Alfred Hitchcock, or the period setting, the feature directorial debut of Oscar-nominated screenwriter Hossein Amini revels in its old-fashioned tone. The Two Faces of January is a thriller in love with the tense, sly thrillers of yesteryear.
Set mostly in Greece in 1962, the film stars Viggo Mortensen and Kirsten Dunst as Chester and Colette, an American married couple vacationing in Athens, who meet Rydal, an American tour guide who offers to show them around the city. (That he's also a con man is a fact he conveniently forgets to mention, overestimating the exchange rate between drachmas and U.S. dollars for his benefit while negotiating purchases for his customers.)
For those familiar with Highsmith's work—which has been adapted for films such as The Talented Mr. Ripley and Hitchcock's Strangers on a Train—The Two Faces of January's opening sets us up for the inevitable unsheathing of the knife as Rydal prepares to bilk this unassuming couple. (Adding to the story's psychological heft, when Rydal first lays eyes on the older Chester, he confesses that he's struck by how much he looks like the tour guide's recently deceased father, a spectral figure with whom he had a difficult relationship.) But the setup doesn't dictate the direction forward: Chester is a successful investor who, it turns out, is being tracked by a private investigator on behalf of some enraged clients. When Chester accidentally kills the investigator, he has no choice but to rely on Rydal to help ferry him and his wife back into America before the police descend on them.
The characters' chic, vintage outfits—all smart suits and lovely summer dresses—give The Two Faces of January an agreeably retro appeal, but the nostalgic quality extends beyond that. Amini (who adapted The Wings of the Dove and Drive) relishes the story's pre-Internet milieu, which allows for a pleasurably leisurely sense of tension. (The private investigator's death lingers over the proceedings through radio reports and newspaper headlines as our three main characters travel by buses and boats in the hopes of staying a step ahead of the authorities.) That lack of white-knuckle intensity is deceptive, however: Rydal, Chester and Colette are trapped together in their bubble of mutual distrust, never quite knowing how close their pursuers are while simultaneously wondering what each other's ulterior motives might be.
In that little cocoon of his characters' uneasy partnership, Amini has fun toying with their insecurities and base desires. Initially presented as a man of wealth and taste, Chester soon reveals his true colors, and Mortensen is adept at applying a shiny coat of slimy charm to this moral weasel. And yet, because Rydal seems to be hiding his own secrets, we feel for Chester, who's concerned that his pretty younger wife is starting to fall for the romantic, poetry-writing tour guide.
Isaac's turn as Rydal isn't as revelatory as his performance in last year's Inside Llewyn Davis, but the two roles share a wounded soulfulness as Isaac's eyes suggest worlds of pain he doesn't want to discuss. As for Colette, she's hiding less than her male cohorts, but Dunst's slightly enigmatic performance leaves us unsure. Is Colette really as innocent as she claims? Or is she a willing participant in her husband's financial scamming? Are her shifting affections indicative of real feelings for Rydal? Or is she just looking for an escape?
The best Highsmith adaptations go deep into her fascinatingly rich and awful characters, taking great delight in the everyday wickedness unearthed. The Two Faces of January is a bit too smooth and intellectual to plumb such depths: The movie is a clever puzzle, a loving homage, as opposed to a prickly psychological snapshot. But the film's elegance is enrapturing, and the performances captivate. As the noose draws tighter around the characters, we feel its pull around our neck, as well. Jackals these people may be, but they (like the world they inhabit) are too alluring to deny.
Director: Hossein Amini
Writers: Hossein Amini (screenplay); Patricia Highsmith (novel)
Starring: Viggo Mortensen, Kirsten Dunst, Oscar Isaac, Daisy Bevan
Release Date: Sept. 26, 2014
Tim Grierson is chief film critic for Paste and the vice president of the Los Angeles Film Critics Association. You can follow him on Twitter.