Queer Cult Classic The Watermelon Woman Remains as Relevant as Ever
Director Cheryl Dunye's indie film gets a 20th anniversary restoration run
Movies
Features
The Watermelon Woman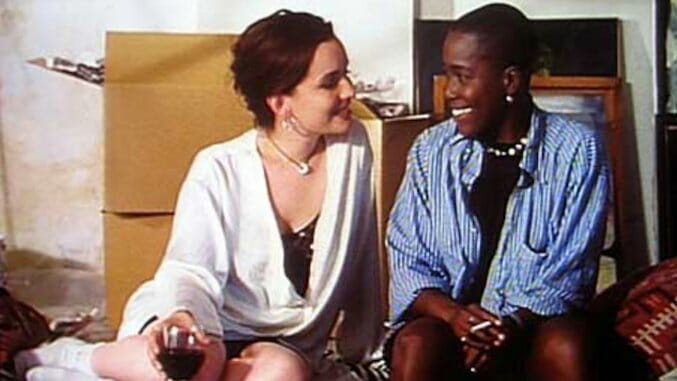 The 20th anniversary restoration run of Cheryl Dunye's The Watermelon Woman couldn't come at a more serendipitous time. Sure, the '90s fashion is glaringly telling of its time, and there's an unshakable datedness to the fact that the film's protagonist, Cheryl (played by Dunye herself), works at a video rental store where she spends her days stocking and recommending VHS tapes—but the 1996 indie film, the first feature directed by a black lesbian filmmaker, never feels stale in relevancy. On the contrary, it feels especially relevant now. The film's newly restored print premiered this Friday, November 11 at New York's Metrograph, in the same calendar year the #OscarsSoWhite controversy broke out and less than a month after the opening of Barry Jenkins' Moonlight, a masterwork of queer black cinema, and a week after Jeff Nichols' Loving, about an interracial couple.
A partly autobiographical effort, Dunye's film has become part of both queer and POC canon. Not only is it written and directed by a gay black woman, but it puts a gay black woman at the forefront as the main character, something rarely seen in film or TV. It's such a seminal entry in LGBTQ cinema that Dunye says many people tell her they use The Watermelon Woman as a vehicle to come out to their families.
Dunye opened the doors back in 1996, but they've largely remained shut since then. Examples of representation in TV (Orange is the New Black, Lena Waithe on Master of None) are few and far between—try to name a recent example of a black queer woman being the lead on a film, and you'll feel stumped. That's why the commentary around The Watermelon Woman, even in 2016, feels so significant. "Think about this year in black film," Dunye says. "It's so interesting to see how evolved the consciousness about black people in the media has become. One film can't hold all the stuff about black identity. You just don't see black queer women in the media. It took until 2011 for another spotlight, on Dee Rees [Pariah], since The Watermelon Woman. That's a long time. We just don't see her, except in a beaten, downtrodden or spoofed way. I'm still hopeful and working."
But because of #OscarsSoWhite, and because of the ongoing dialogue about diversity in entertainment, the interest in stories from minority groups has increased. "We so much want to better understand these issues and communities and the evolution of the consciousness around people of color and gender and sexuality," Dunye says. "I think my film represents one that puts it all on the same timeline, so it's a helpful point of discussion for many communities."
A narrative film that incorporates nonfiction elements (such as talking heads including real academics), The Watermelon Woman blurs the line between Cheryl, the character, and the real-life Cheryl who exists behind the camera. The title refers to a fictional black actress by the name of Faye Richards—credited in films as "the watermelon woman"—who played the stereotypical "mammy" role in the 1930s. Part of the film follows Cheryl, a documentary filmmaker, as she learns more about Richards, while the other part follows her love life, as she starts dating a white woman, Diana (Guinevere Turner). The latter becomes a huge point of contention in Cheryl's life. Her fellow black lesbian friends take issue with Cheryl and Diana's interracial relationship—something Dunye wishes there were more discussion around.
"I was living it and I wanted to have a conversation about it," Dunye says, referencing her offscreen relationship with The Watermelon Woman producer Alexandra Juhasz, a white woman. "We notice interracial relationships all over the map but nobody sort of talks about them. I think about white philanthropy. We're having a huge discussion about it now, with Black Lives Matter, and how non-black people can get involved."
For a film with such a strong outsider narrative, it's worth noting that The Watermelon Woman doesn't take on the particularly tragic tone opted for in many queer films. It reflects the ongoing "need to push storytelling," in Dunye's own words, but its lightheartedness echoes that of fellow '90s queer film Go Fish (also starring Guinevere Turner). And as educational as it is about race and gender politics, The Watermelon Woman also carries itself with the charm and lifelike quality of a Linklater film. Twenty years later, "it's fun, it's funny, it's entertaining, you have a good time," Dunye says. "And you walk away with something. And that's what I want people to do."