Christian Bale Hides in Plain Sight as Dick Cheney in First Vice Trailer
Image via Annapurna/YouTube
Movies
News
Vice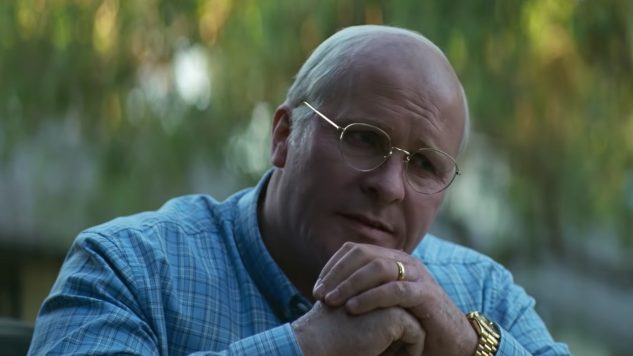 Christian Bale has taken on his fair share of shocking physical transformations throughout his career, but he's bringing more than his usual tricks to his latest role.
Last year, we got our first look at Bale's transformation into Dick Cheney during filming for Vice, Adam McCay's biopic about the Halliburton CEO-turned-Vice President and secret mastermind of the George W. Bush administration, and the final result is no less disorienting.
Prosthetics and some serious weight gain helped transform the 44-year-old Bale into the then-67-year-old Cheney, and the results make Bale unrecognizable, which is exactly how he'd want it.
Cheney makes a decision that will change the course of world history in the new trailer, as Bush, played by an also-transformed Sam Rockwell, asks him to serve as his second-in-command.
"I'm a CEO of a large company, I have been Secretary of Defense, and I have been White House Chief of Staff. The Vice Presidency is a mostly symbolic job," he tells Bush.
However, Cheney agrees to take on the position so long as he's allowed to oversee "military, energy and foreign policy," just those three small corners of presidential power.
As history would reveal, Bush's choice to let Cheney take ruthless grip over those aspects of his presidency led thousands of American soldiers to their deaths in still-ongoing wars, and would have political reverberations that continue to this day in the Trump White House. All the while, Cheney himself hides in plain sight, letting his more publicly incompetent commander-in-chief take the hit for his surreptitious policy choices. Bale, too, slips into center stage, quietly assuming control without making too big a show of it in the new trailer.
It's clear that this is the view that McCay, who brought a darkly comedic take to the 2008 financial crisis in The Big Short, would say he takes on the subject of his forthcoming comedy-drama biopic.
There's also prosthetics all around for the star-studded cast of Vice, with Amy Adams playing wife Lynne Cheney and Steve Carell as former Secretary of Defense Donald Rumsfeld.
Annapurna releases Vice on Dec. 25.
Watch the trailer below.