From the squeaky to the scuzzy, the blipping to the beeping, a collection of effects pedals can be one of the greatest assets in a guitarist's arsenal of tricks. We geeked out with 16 gearhead musicians to examine what boxes of rock go into making our favorite songs sound the way they do.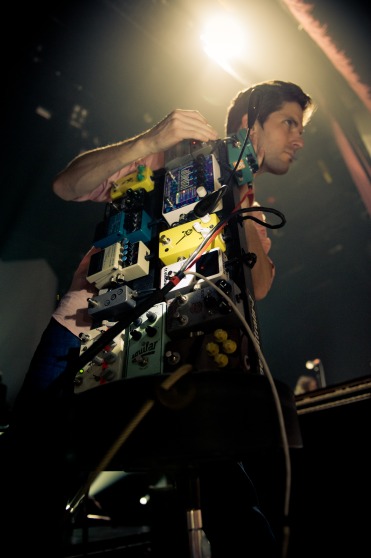 Photo by Max Roper
1. Todd Gummerman
Band: Mutemath
List of pedals on the board: Pedals in order of signal:
JHS 4 Wheeler Fuzz, Analogman Mini Bicomp, TC Eletronic Polytune, Aguilar Filter Twin, JHS Double Barrel Overdrive, Boss DD-5 Delay, JHS Tap Tempo, Boss PS-5 Super Shifter, JHS Honeycomb Tremolo, Electro-Harmonix Cathedral Reverb, MXR Carbon Copy, JHS Banana Boos, Ibanez DE7, JHS modded Boss Tremolo
All Lava Mini ELC patch cables
Board built by Helweg Custom Pedalboards
It's hard to pick a favorite pedal. I know the bassist [Roy Mitchell-Cardenas] and I both leave the JHS Morning Glory OD switched on most of the show. And I love the versatility of the Cathedral Reverb along with the fantastic infinite feature on it.
I suppose the pedal that I have the most fun with, as well as one of the most underrated delays out there is the Ibanez DE7. The Echo has just the right amount of high end rolled off for a very warm, useful texture to fill up the spaces.
On a few of our songs, I'll max out the repeat knob, which quickly causes an infinite noise that I can change the pitch of with the delay time. At a recent show during our Odd Soul 2012 Tour I got a little overzealous in working the pitch/delay knob with the crazy noises, and the knob snapped right off in my fingers. And you can't just pop these particular Ibanez dials back on like you could an MXR pedal. I was stunned for a few moments—just staring at it in my hand, and then came to and just dug my fingers down inside the pedal and got the job done that way. I few days later I called Josh at JHS Pedals and bought two more DE7s just in case it ever happens again.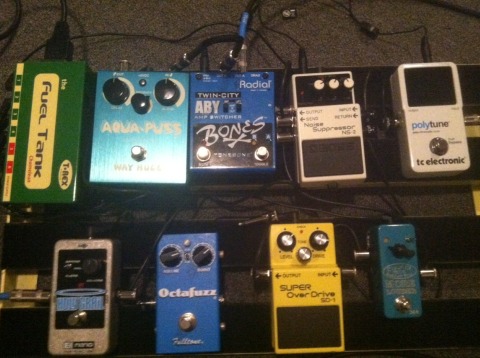 2. Alex Rosamilia
Band: The Gaslight Anthem
List of pedals on the board: TC Electronics Polytune tuner, Boss NS2 noise suppressor, Radial ABY, Way Huge Aqua Puss delay, T-Rex Chameleon power supply, Cusak More Louder db boost, Boss SD1 super overdrive, Fulltone Octafuzz, Electro Harmonix Holy Grail Nano reverb
The pedal board itself is from T-Rex as well.
When I first started playing out, I had so many pedals that my pedal board was actually a DJ coffin case (used to hold two turntables and a mixer) upside down.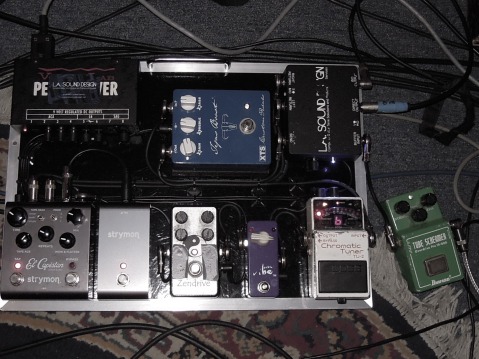 3. Nalle Colt
Band: Vintage Trouble
List of pedals on the board: From left to right:
Strymon El Capistan Echo – Always wanted an easy slap back echo that sounds like the old tape delays. This is doing the trick for me. I have it with the memory pedal next to it so I can switch to a longer delay for solos etc. Love that one!
Zendrive overdrive – I use this one for solos and when I really want to stand out.
Pickle Vibe – love the size of this pedal—super small. Sounds like the old UniVibe, a la Hendrix's "Machine Gun." I use it for the solo in "Run Outta You."
BOSS chromatic tuner – Got to have one.
Ibanez TS-808 TubeScreamer – I only use this in the studio. It's an all-original one that I had since I was a little kid. Love the sound of it but I don't bring it on the road. Got the cool Stevie Ray Vaughan sound to it.
XTC Tejas Boost – I use this one when I can't crank my Lazy J amps up enough, to get a little more breakup sound. Pushes the volume really hard into the amp. A plus is that I can push a little more treble or bass into it too.
Voodoo Lab Pedal power – Just powers all the pedals so I don't have to use batteries for them
LA Sound Design buffer/splitter – I use two Lazy J J20 amps most of the time so I use this to split the audio from my guitar in two so I can play both amps at the same time. A very transparent pedal.
I try to use mostly the straight sound from the Lazy J amps without any pedals. If there was one pedal I could not be without it would be the ZenDrive that helps put the sound over the top for a really grimy tone that I like for solos.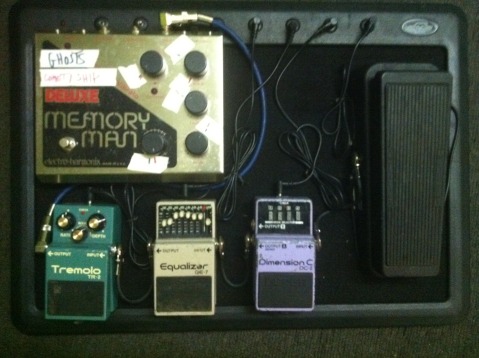 4. Pete Steinkopf
Band: The Bouncing Souls
List of pedals on the board: I'm in Europe right now for a few weeks and this is the pedal board I'm running over here:
Boss EQ, Memory Man Delay, Boss Dimension C, Boss Tremelo, Cry Baby
My favorite pedals right now are my Memory Man and Dimension C. Memory Man is a badass delay pedal. You can do all kinds of cool shit with it. The Dimension C makes anything instantly sound like The Cure's Disintegration which is pretty sick!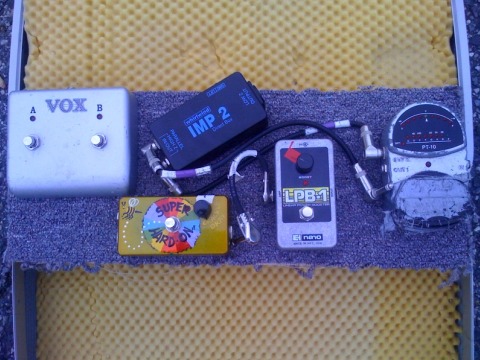 5. Nick Krill
Band: The Spinto Band
List of pedals on the board: Fender tuner pedal, direct box, Electro Harmonix LPB-1 boost pedal, Z-Vex Super Hard On boost pedal, footswitch for reverb and tremolo on Vox AC-30
I don't really consider myself much of a pedal man. When playing live, I only use the amp reverb / tremolo effects and then different boost levels to change dynamics during a song. For any other timbre changing effects I try to play the guitar string in a different place or in a different way….muting strings, playing the guitar high up the neck, or low near the bridge, etc. Still, one live effect I really love is the combination of tremolo and amp distortion. When the guitar distorts it is kind of squashing the sound and limiting the dynamic of the guitar, so superimposing the tremolo volume changes over top of a blown out signal can really start to sound neat to me.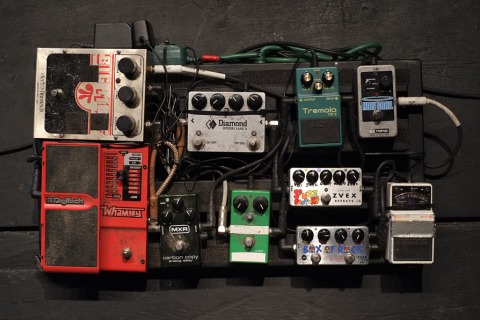 6. Michael DeAngelis
Band: Arkells
List of pedals on the board: Here's a list of my pedals, starting from the bottom right and working clockwise:
Boss Tuner, Zvex Box of Rock, Zvex Fuzz Factory, Maxon OD808 Overdrive, MXR Carbon Copy Delay, Digitech Whammy, EHX Big Muff, Diamond Memory Lane Jr.,
Boss Tremolo, EHX Holy Grail
The pedal I use the most is definitely the Zvex Box of Rock-the boost side is very natural and dynamic. I can go from a clean shimmery tone to growl depending on what I give it, which means less time tap dancing on the pedals and more time just playing. The Zvex Fuzz Factory is perhaps the most insane fuzz pedal around, and frankly a bit of a liability on any pedal board-this is why it is situated in the hardest to reach part of the board. Five mysterious, sensitive and temperamental knobs "control" it (including one simply labeled "stab") meaning the outcome can sometimes be a bit of a surprise if you're not careful. This is kind of pedal that makes you wince the moment before you engage it, but it's a very fun ride.
The other pedal I've had on my board for a long time is the MXR carbon copy-it has a really warm analog delay sound and a modulation setting that adds a very unique lushness to the sound. It also has a bit of a twisted side-if you crank the feedback and bring down the delay times, the pedal will throw back a cacophony of noise. Once you get a hang of it though, it is a thing of raw beauty.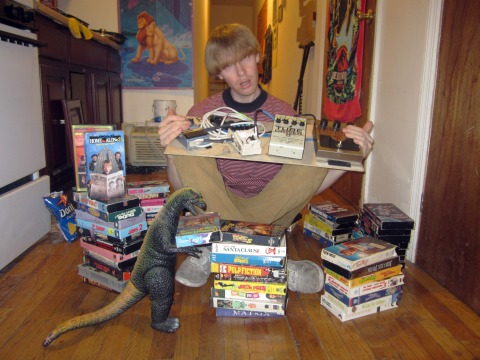 Photo By Allie Eisenberg
7. Tucker Roundtree
Band: Total Slacker
List of pedals on their board: From left to right of photo
DOD Stereo Flanger (made in my hometown of Salt Lake City, Utah – Era 1990-1994), Boss DD6 – Digital Delay, BK Butler Tube Driver (made in Aurora, Colorado), Big Muff by Electro Harmonix
There's something really special and interesting about the '90s DOD Flanger. It's a very simple and early design that has a degree of erratic signal loss and gain that's processed through some shitty first generation analogue to 16 bit filters, giving it a chorusy effect that you don't normally hear in Flange pedals made now. We actually found this FX pedal back in New Mexico on our last tour. It was in Zach Condon's (Beirut) old childhood bedroom closet with a cheap electric guitar and amp. Ross pulled it out and said, "Nobody's using this. You should have it and see if you can make music with it."
The battery supply was gnawed off by some kind of animal, seriously the battery cable is just chewed off by some thing I don't even know, but I found a A/C adapter for it, and it works great!
If Zach Condon ever needs it back, I'll totally return it! I'd have to find an exact same era correct model to replace it though, because it creates the "bRain sLime" tonality I crave.
Something interesting about the BK Butler Tuber Driver. A year before the inception of Total Slacker, I was on tour opening for Eric Johnson, we played The Fox Theatre in Boulder, Colorado, and afterwards this really nice middle aged guy came backstage, who apparently knew Eric and approached me, saying he would like to sponsor me with his line of Distortion pedals he makes in there in Colorado!! Afterwards, Eric told me the only other people that BK Butler sponsors are Billy Gibbons of ZZ Top, David Gilmour of Pink Floyd and Eric Johnson of course. Since then, I haven't been able to find another distortion pedal as warm and earthy sounding as the Tube Driver.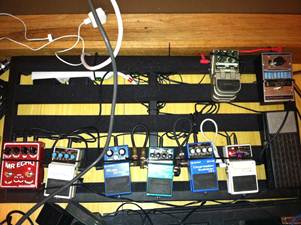 8. Josh Epstein
Band: Dale Earnhardt Jr Jr
List of pedals on the board: Boss TU-2, Boss CS-3, Boss PS-5, Boss BD-2 (Keeley Mod), Boss DD-3, SIB Mr Echo, Line 6 Echo Park, Electro-Harmonix Holy Grail, Roland EV-5
My favorite effect pedal is my BOSS RSD-10 digital delay and looper. I don't travel with it, but it is an old loop pedal that doesn't loop things in a quantized manner. It's always glitchy and strange and makes magic.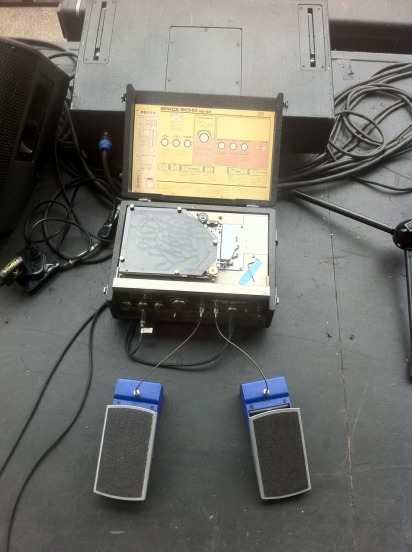 From the squeaky to the scuzzy, the blipping to the beeping, a collection of effects pedals can be one of the greatest assets in a guitarist's arsenal of tricks. We geeked out with 14 gearhead musicians to examine what boxes of rock go into making our favorite songs sound the way they do.
9. Jimmy "Cobra" Carbonetti
Band: Caveman
This is one of the stars in our Caveman universe: the 1974 Roland Space Echo. The vibe it has is timeless and has no boundaries—you can say it has a mind of its own, which is a huge part of why we love it. It's really fun to see where you can take the echo and where it can take you. I'm also using these two pedals called the Third Hand (Tone in progress) which I have hooked up to the time and repeats to manipulate the speed and space. What a vibe!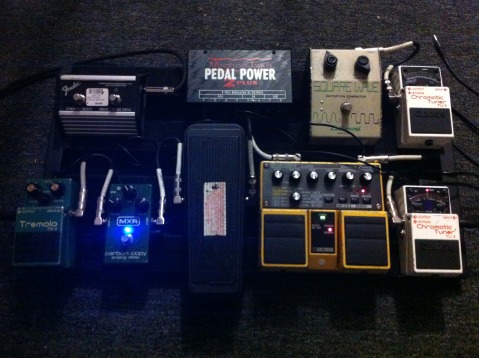 10. Michael O'Neill
Band: JD Samson & MEN
List of pedals on the board: (from R to L)
Boss Chromatic Tuner, Boss OD-20 Drive Zone, Dunlop Cry Baby Wah, MXR Carbon Copy Analog Delay, Boss Tremolo, Fender Hot Rod Deluxe Foot Switch…DeArmond Square Wave Distortion Generator (for when I switch to bass)
The Boss OD-20 was handed down to me from Johanna Fateman, so it's a privilege to keep that history and help build the bridge from Le Tigre to MEN. Also, the pedal board hardware itself was gifted to me from Avel (CSS's roadie) after a tour we did together. Without it my pedals moved across the floor anytime the subs were under the stage…I'm so lucky to have such awesome people in my life!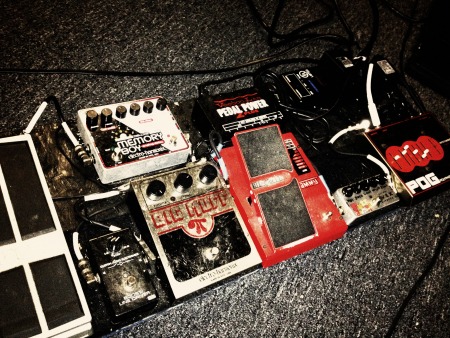 11. David Rosen
Band: The Parlor Mob
List of pedals on the board: (L to R) BOSS volume.expression pedal, MXR line booster, Electro-Harmonix Deluxe Memory Boy, Electro-Harmonix Big Muff, Digitech Whammy, Voodoo Labs Pedal Power 2, ZVEX Fuzz Factory, Electro-Harmonix Polyphonic Octave Generator. Not pictured: KORG Pitchblack Tuner
I think my absolute favorite pedal has to be the Electro-Harmonix Big Muff. I'm a bit obsessed with fuzz pedals, and I own and love different ones, but this one just can't leave my board because it does things no other pedal does for me. It has a bit of a mind of its own. I love trying to control noise, and the Big Muff seems to love it too, because when I turn it on with the sustain setting all the way up it squeals and squelches in between what I'm trying to play, and snaps to catch the notes I try to get out against waves of massive low end. It's thick and disgusting and I love it.??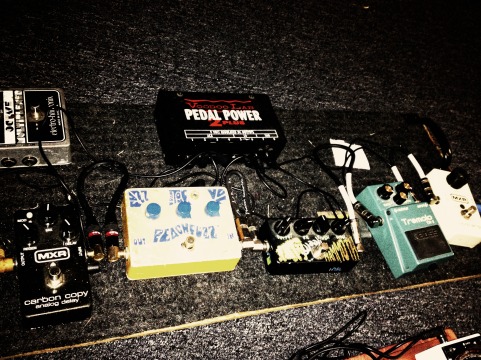 12. Paul Ritchie
Band: The Parlor Mob
List of pedals on the board: (L to R) Electro-Harmonix Octave Multiplexer, MXR Carbon Copy Delay, Frantone Peachfuzz, Voodoo Labs Pedal Power Plus 2, ZVEX Wooly Mammoth, BOSS Tremolo, MXR Micro Amp. Not pictured: BOSS TU-2 Tuner.
My favorite pedal is my Peachfuzz pedal by Frantone. I was in love with this pedal years before I was lucky enough to own one. This was my go-to pedal for fuzz while I was working at Retromedia Studios in Red Bank, N.J.. A couple of years ago I happened to stumble across one on eBay for a great price, and it has been my main solo sound ever since.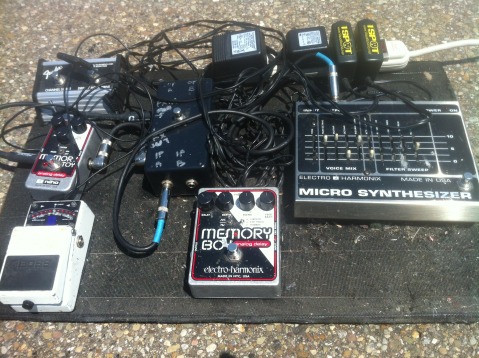 13. Emile Mosseri
Band: The Dig
List of pedals on the board:
Electro Harmonix Memory Man, Electro Harmonix Memory Boy, Electro Harmonix Memory Toy, Electro Harmonix micro synthesizer, Ernie Ball Volume Pedal, Boss Tuning Pedal
Favorite pedal would have to be the Micro synthesizer made by Electro Harmonix because we learned a neat trick: You can manipulate the settings as you play with your foot.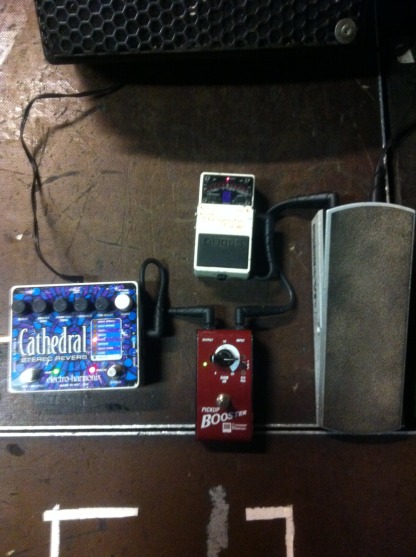 14. Mike O'Toole
Band: Make Do And Mend
List of pedals on the board: Ernie Ball Jr. volume pedal, Boss TU-2, Seymour-Duncan Pickup Booster, Line 6 DL-4 delay pedal, Visual Sound V3 Dual Tap Delay (not pictured) and Electro-Harmonix Cathedral Stereo Reverb
My pedal setup is very important to my playing. I love being able to create unique sounds with them that can help make my parts stand apart.
The first thing to remember when crafting a pedal chain is to go into DYNAMIC effects first, then go into the TIME-BASED effects at the end. I see a lot of people mix this up and it really frustrates me.
I go from my guitar directly into an Ernie Ball Jr. volume pedal, an often overlooked but crucial pedal! From there, I use the tuner output to go into a Boss TU-2. I've had this pedal for years and it's never quit on me! Out of the regular output of the volume pedal I go into a Seymour-Duncan Pickup Booster. A simple clean boost pedal that just makes my guitar push my amps harder. From there, I used to have a Line 6 DL-4 delay pedal— actually, I've had three of them! Unfortunately, this pedal was not built for the rigorous touring schedule that Make Do And Mend has, and they've all crapped out on me. I've only recently replaced it with a Visual Sound V3 Dual Tap Delay (not pictured). I've tried tons of delay pedals looking for a suitable replacement and this is by FAR the best pedal I played. It sounds great and is completely durable. Last but not least is my Electro-Harmonix Cathedral Stereo Reverb. This is by far my favorite pedal. It has tons of analog reverb types, and you have complete control over it to create your own blends and tones. It also has a very cool feature called "Infinite" where when you hold down the left button, it will maintain the reverb that was ringing at the time you hit it… infinitely! It's great for transitions between songs, filling out quiet parts of songs, and is also really useful for recording.
I'm always on the hunt for more pedals, too! Right now I'm looking for a tremelo pedal, and I also really want an OCD by FullTone. I also really want a second Ernie Ball volume pedal.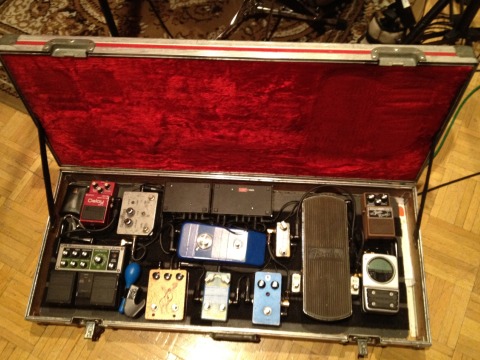 15. Joel Graves
Band: Everest
List of pedals on the board: My signal flow is usually: 1967 Epiphone Casino or 1966 Gibson Trini Lopez Guitar > 1963 Fender Spring Reverb Tank > Peterson Stomp Classic Tuner > Boss Fender 1963 Spring Reverb Pedal (not currently in line but used when I can't bring the real tank) > Vintage Fender Fuzz/Volume/ Wah (I rewired for just Fuzz and Volume) > Freakshow FX "The 9" Boost Pedal > Carl's Custom Effects Univibe/Phase > Vintage Diaz Tremodillo > Custom Made Piercing Moose Fuzz/Octave Clone > Coloursound One Knob Fuzz > Greedtone Dual Overdrive Pedal > Boss RE-20 Space Echo Delay (replaced a vintage RE-201 tape echo) > Boss DM-3 Analog Delay > Custom Modified Tungsten Cortez tweed amp (also pictured is an Ebow with shaker taped to it, Shubb Deluxe Capo and a JetSlide)
My favorite pedal right now is the infamous Colorsound One Knob Fuzz, also known as "The Fuzz." I bought this pedal at the original Macari family store in London to commemorate the end of an incredible month of touring in Europe opening festivals for Neil Young and club/theater shows with My Morning Jacket. This pedal is a rare fuzz that has no problem cutting through the mix in a three guitar band. It's my secret weapon when it's time to get loud, and an extremely useful souvenir from an amazing summer in Europe. Big, blue and one single awesome knob.
16. Jason Soda
Band: Everest
List of pedals on the board: Effects are as follows: Guitar > 60's Jen CryBaby Wah (w/analogman buffer mod) > 70's Mutron Phasor > Creepy Fingers custom Supa Fuzz copy > Sweet Sound Monterey Fuzz > 60's Sam Ash Fuzzz Boxx > Prescription Electronics Overdriver > Klon Centaur > Orange Squeezer compresser clone > 60's Sho-Bud Volume pedal > Orbit Electronix Repeat Offender Delay (EP3) > Radial amp switcher pedal > 60's EP-1 Echoplex (controlled by a fulltone EchoPad footswitch) > 65' Fender Tube Reverb Unit > amps of choice.
If I had to choose one specific effect to comment on, it would have to be the 60's EP-1 tube Echoplex. This was the first tape delay I ever bought. Like my Grandpa, it's fragile, old and cranky. It squeaks like there are small furry animals inside on a tread wheel to keep it going…and on occasion, likes to shoot sparks out of it's vents (no lie). It is without question, the go-to effect for anything that needs an extra kick in the pants. The echos warble uncontrollably, which gives your sound an extreme spooky flavor like no other. If my pedalboard lost its way, I could get by with this unit alone. It can turn any amp into "your sound." I have other echo units that I take out when I feel it might not endure the riggers of the road but when I can put a safe bet that it's in good working order and can be handled with care, it's my first choice and most important effect hands down.