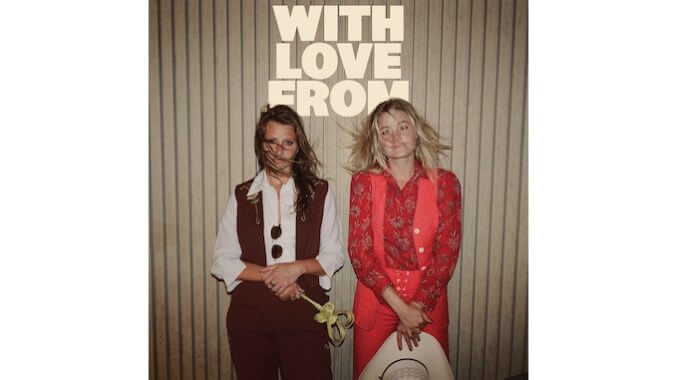 Aly & AJ are a band familiar with change. Ever since their return in 2017 with single "Take Me," the sister duo have traversed from '80s synth-pop on Ten Years to sunny road-trip alternative rock on 2021's a touch of the beat gets you up on your feet gets you out and then into the sun, with even a detour into a more experimental dance sound on 2020's "Attack of Panic" and "Joan of Arc on the Dance Floor." Their latest album With Love From is a similar change of pace, showcasing how good Aly & AJ are at building upon what has come before while delivering something surprising and memorable with each new release—this time, tapping into an Americana and country-inspired daydream.
With Love From has been dubbed by Aly & AJ as a "series of postcards to fans, from each town they've seen on their journey," and listening to this album really does feel like shuffling through mementos of various experiences on the road. The upbeat and energetic "After Hours" invokes a hotel dance party in a nameless city in the south. "Way of Nature Way of Grace," with smokey featured vocals from Joy Oladokun, feels like staring at a starry night sky during a pit stop in a desert out west. The sing-speak bridge on "Sunchoke," a regretful anthem of self-doubt and anger defined by its earworm bassline and chorus, is reminiscent of a confession-laced voicemail, calling from a payphone just off the highway. In that way, Aly & AJ have cataloged their travels, taking fans on the road with them as they navigate both the joy and the price of the nomadic life of a touring musician.
And there is a price, but With Love From finds the sister duo making peace with it. On "Blue Dress," a slow and soft ballad laced with a subtle twang, Aly & AJ sing in harmony "I don't care who you've been kissing, cause I've been doing some kissing too, I just care that you get here," with an echoing reconciliation that pushes aside loneliness to embrace a lover back into welcoming arms. The album's closer, "6 Months of Staring Into the Sun," is a powerful five-minute slowburn that builds into an explosive outro of roaring electric guitars and drums before fading back into a melancholy piano, and its longing chorus finds Aly & AJ lamenting the value of time over anything else. From top to bottom With Love From reads like a self-aware ode to the capacity and hardship of personal change and growth, tinged with both the sorrow of regret and longing but also the elation of acceptance and love. Fittingly, the title track "With Love From" captures the band's relationship to change, singing "I told you that I'd change, but I guess I never did," coming away from this song looking for closure—something this album ultimately offers in its 40-minute run-time.
The album's opener, "Open to Something and That Something Is You," immediately introduces With Love From's Americana and country-inspiration, offering the easy twang of a soft Dolly Parton classic while still utilizing the duo's pop songwriting roots. The seamless fusion of the pop songwriting style that has been integral to Aly & AJ's sound since Into The Rush and the country-esque instrumentals and analog recording style (the band tracked vocals live in the room, in an effort to capture the magic of the "classic records [they] have at home") offer a record that simultaneously feels modern and decades old—immediately timeless while remaining timely. The production on this record reflects that desire, and the band absolutely achieves their goal through echoing harmonies and various crackling guitars, drums, and synths that combine to create instrumentals that evoke classic country or '70s rock records with a modern flair. Across all tracks, Aly & AJ take advantage of those two-part harmonies while trading lead-vocal duties, blending their voices with a mastery that only comes from singing together for the better part of two decades professionally.
In addition to the striking lyrics and the full embrace of a sound that was a backdrop for a touch of the beat, With Love From is also just incredibly fun to listen to. "Tear the Night Up" is an ode to nights out, soundtracked by a bright guitar and a cheeky "giddyup!" in the chorus. "Talking in My Sleep" is an album stand-out with a moody and funky bassline, detailing the feeling of laying in bed "trying to get the last word" in an argument on replay. "Baby Lay Your Head Down," the second single, takes a touch of the beat's rock-inspired roadtrip sound from "Pretty Places" or "Symptom of Your Touch" and infuses it into a new windows-down anthem. And it would not be an Aly & AJ album without a song that feels particularly poignant for the duo's fervent LGBTQ fanbase; following in the footsteps of "Good Love," "Love You This Way" is an upbeat and carefree ode to a shameless kind of love—there's something so cathartic about the song's chorus, which is altered slightly to end the song with: "I love you this way, let 'em stare, I bet they're all watching." If nothing else, Aly & AJ's songs are always deeply personal yet strikingly universal, and With Love From continues to offer heartfelt stories on a backdrop of outrageously addictive instrumentals.
More than anything, Aly & AJ have proven once again that they are so much more than the music they made when they were teenagers. Aly & AJ are releasing career-defining music (and have been for the past six years), and With Love From might top a touch of the beat as their best album to date. In a recent video promoting their upcoming "With Love From Tour," Aly & AJ defined themselves as "the sound of your childhood, and the sound of your future;" through With Love From's effortless excellence, that future is incredibly bright.
---
Anna Govert is an entertainment writer based in middle-of-nowhere Indiana. For any and all thoughts about TV, film, and the wonderful insanity of Riverdale, you can follow her @annagovert.