Watch Arbor Labor Union's Trippy, Life-Affirming Stop-Motion Video for Their Bluesy New Single "Flowerhead"
Their new album New Petal Instants is out in February
Images courtesy of the artist, Arrowhead Records
Music
News
Arbor Labor Union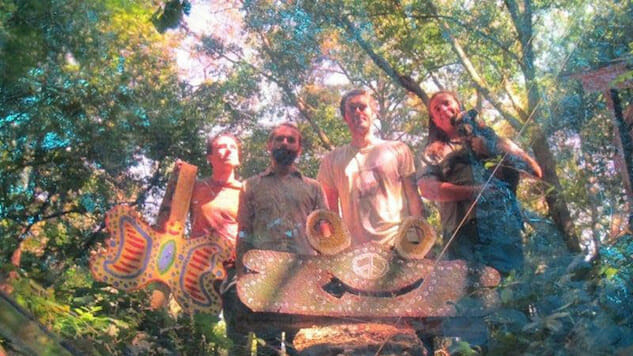 Arbor Labor Union released their last record, I Hear You, back in 2016, garnering a Best of What's Next feature from Paste that highlighted the band's "transcendental weirdness" and "hard-edged bite." Today (Nov. 25), they've announced a follow-up, New Petal Instants, due Feb. 7, 2020.
The lead single off New Petal Instants continues the band's psychedelic-infused blues sound and reflects the record's theme of growth and greenery. Titled "Flowerhead," it's a paean to the bond between all living things: "I was born with dandelion eyes / Learned to dance by watching butterflies." Its visual accompaniment joyfully intersperses collage-based stop-motion (including a series of faces being made out of leaves) with clips from nature footage, goofy retro dance videos and DVD guitar lessons—all surrounded by a groovy rainbow border.
Watch "Flowerhead" below and see the details of New Petal Instants further down. You can preorder the album here.
New Petal Instants Tracklist:
01. Lasso
02. Flowerhead
03. Big Face In The Sky
04. Under The Tree
05. Riddle Snake Blues
06. Give Us The Light
07. Pipers Play'd
08. Crushed By Fear Destroyer
09. How Long Was I Gone
10. Highway Loop
New Petal Instants Album Art: