Hear Arctic Monkeys' First New Album in Five Years, Frontman Alex Turner's Beats 1 Interview
Tranquility Base Hotel & Casino is out now
Images via Zackery Michael, Domino Records
Music
News
Arctic Monkeys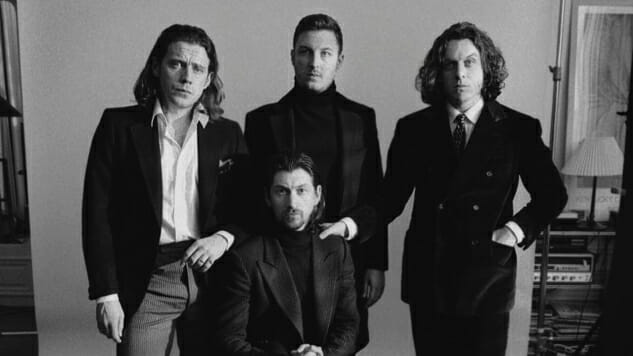 Alex Turner and his Arctic Monkeys have released their first new album in five years, Tranquility Base Hotel & Casino, via Domino Records. Alongside the album's release, Turner sat down with Zane Lowe for an interview on Beats 1, discussing Arctic Monkey's sixth LP, their recording process, their cinematic influences and much more.
Fascinatingly, Arctic Monkeys didn't release any singles whatsoever ahead of their new album, although they did live-debut a handful of tracks during a show in San Diego last week. Back in March, a fan claimed that Turner had told him the band's new music would be released "soon"—apparently, he meant the entire album, with "soon" here meaning "in two months." Critical response to the album has been favorable so far—it currently has a rock-solid Metascore of 76.
In his Beats 1 interview, Turner described Tranquility Base—the band's first album since 2013's AM—as "11 short stories." As you'll see in the clip below, the singer explains that its first track, "Star Treatment," was originally meant as a rough draft, rather than a bonafide album opener. Turner offers his rationale for name-dropping The Strokes in that song, jokes about another track titled "The World's First Ever Monster Truck Front Flip" and reveals that album closer "The Ultracheese" featured the band "[getting] in a room and doing a live take."
Arctic Monkeys plan to spend the summer on tour in support of their new album, with headlining shows in North America and Europe, as well as numerous festival dates, including stops at Firefly in June, Lollapalooza and Osheaga in August, and Austin City Limits in October.
In celebration of the album's release day, Tranquility Base Hotel & Casino pop-up stores are now open in select cities, including New York City, Sydney, Paris and Tokyo. The pop-ups are said to offer various unique and limited album and merchandise items. Find out more here.
Stream or buy Arctic Monkeys' new album here, and watch the aforementioned clip from Turner's Beats 1 interview below—Apple Music subscribers can see the rest right here. While you're at it, revisit our look back at Arctic Monkeys' evolution as a band here.