Exclusive: Listen to Battle Ave's New Single, "Core"
"Sonically, it's the heaviest thing I think I've ever written," says Jesse Doherty
Photo by Becky Iasillo
Music
News
Battle Ave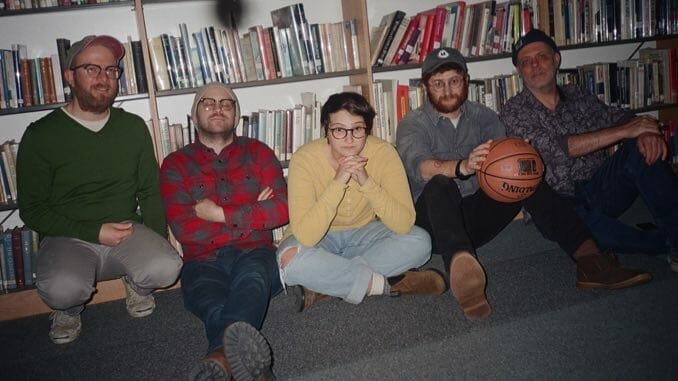 On April 1, Hudson Valley five-piece Battle Ave will release I Saw The Egg (Friend Club Records/Totally Real Records), their first new full-length in the better part of a decade. The LP's latest single "Core" is premiering now, right here at Paste.
Led by vocalist and guitarist Jesse Doherty, Battle Ave made their 2011 debut with War Paint and followed that up with Year of Nod before taking a six-year hiatus, which ended in 2021 with the quintet's self-titled, five-track EP. Now, on I Saw The Egg—produced by Kevin McMahon (Titus Andronicus, Real Estate, Swans), as all their albums have been—the band finds "an organic middle ground," per press materials, between the sounds of their first two albums, merging the rousing and the contemplative.
That give and take manifests quite clearly on album standout "Core," which puts its most dramatic foot forward in the form of a bold, layered shoegaze guitar riff. Doherty's raspy vocal conjures images of precious connection fostered amid crushing isolation ("Meet me on the prison floor / I need something to keep warm / Put my hand on top of yours"), but he spends much of the song vocalizing wordlessly, his melodic crooning floating over the instrumental like steam from a hot spring.
"'Core' is probably my favorite song on the record," says Doherty. "Lyrically, it's like a piece of Lydia Davis flash-fiction, but sonically it's the heaviest thing I think I've ever written."
"Core" is the third single from I Saw The Egg, following the dual release of "leo" (feat. Laura Stevenson) and "maya," which marked the album's mid-January announcement.
Listen to "Core" below and find the details of I Saw The Egg further down. You can preorder the album right here.
I Saw The Egg Tracklist:
01. ring
02. temple
03. fool
04. core
05. nite lite
06. i saw the egg
07. maya
08. s w i s h
09. leo
10. tether
11. tower
I Saw The Egg Art: