The 50 Best Songs of 2018
2018, you were something. These are the songs that got us through the year.
Music
Lists
Best Songs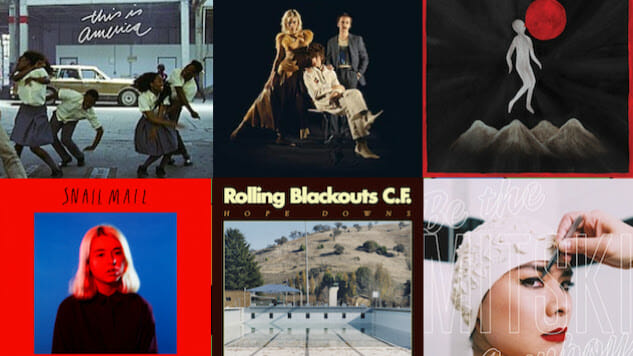 There were times in 2018 when everything just felt like too much. We saw a divided nation grow even further apart. We witnessed mass shootings, the #MeToo movement's successes and heartbreaking downfalls, a slew of devastating natural disasters and a chaotic administration try to patch it all up. But in the two years since that harrowing election, we've figured out how to cope. We're used to—but not complacent in—these turbulent times. And our ability to handle it all is in part thanks to the great art that has emerged from the chaos. Matador Records, a label that's home to several of the artists featured on this list, has a Spotify playlist called "Great Music For Terrible Times." Though these times aren't entirely terrible, Matador's right, in a way: We need music even more when the going gets tough. The songs on this list would fit snugly under that same title. These are the songs we needed this year—to dance to, laugh to, cry to or space out to. These are the songs that helped us understand 2018 and survive in 2018. Whether it was a self-love bop from one of rap's rising female stars or a #MeToo anthem by a rightfully enraged rock band, a dizzying love song or a quiet muse on the bleak state of affairs, or maybe even a blissful pop song, this year's tunes often provided us with just what we needed to get by in the moment, and we're sure to be playing these jams for years to come. Here are the songs that moved us in 2018.
50. Caroline Rose, "Bikini"
It's hard to believe the Caroline Rose who made I Will Not Be Afraid, her first album and a swinging, folk-fueled rockabilly record, is the same Caroline Rose who, this year, released an absurdist, darkly hilarious pop record called LONER. "Bikini," from the latter, is weird and wonderful and, like many of LONER's best tunes, oozes with satire. On standout "Jeannie Becomes A Mom," Rose tackles aggressive suburban ideals, but "Bikini" freaks out on the insane expectations facing women in the spotlight (and women in general). In the video, Rose, though still dressed in her signature red, is costumed as her male narrator, barking commands at bikini-clad women. "C'mon shake it," she sings. "Put on this bikini and dance." The takeaway: Ladies, you don't ever have to "shake it" for anyone, no matter how nicely they ask. —Ellen Johnson
Read Paste's review of Caroline Rose's LONER
49. Amanda Shires, "Leave It Alone"
Amanda Shires made a huge splash when she released "Leave It Alone," the first single from her excellent album To The Sunset. The record is still deeply grounded in Shires' typical twang and stomp, but "Leave It Alone" is very nearly a pop song, bursting with light and color, like the "fishtank-green" she references in the lyrics. Shires combines more highly produced beats and riffs with twangy, Shania Twain-esque vocals, a complete sonic break from anything in the 400 Unit's catalogue (or, for that matter, Shires'). The coolest part about this song, though, is Shires' manipulation of her instrument of choice, the fiddle: She feeds it through a mellotron pedal, which makes it sound like a violin from outer space. —Ellen Johnson
Read Paste's 2018 interview with Amanda Shires
48. The 1975, "Love It If We Made It"
"Love It If We Made It," the second single from The 1975's A Brief Inquiry Into Online Relationships, opens with a quietly pulsing keyboard before Matt Healy comes in swinging with the drums and the brusque line, "Fucking in a car, shooting heroin." That opening piano bit is at the backbone of the song, and the brighter, twinkling synth that comes in adds a shiny quality to the song's atmosphere. Most powerful, however, is the push in the second chorus where the electric guitar bursts forward and a chorus of backing vocals swell behind Healy. The verses bluntly point out what's happening in society, giving little to no context. "Saying controversial things just for the hell of it," Healy sings, and you can't help but laugh because of how smoothly Healy avoids overt opinion while observing "controversial things" ("Thank you Kanye, very cool!" stands out). Still, the chorus is anything but cynical—"I'd love it if we made it," repeats again and again. —Anna Haas
Watch The 1975 perform in 2013 via the Paste vault
47. Unknown Mortal Orchestra, "American Guilt"
Unknown Mortal Orchestra's Sex & Food is, at times, a delirious pleasure-kick, a dancing-in-the-dark denial of the absurd times in which we live and a call to indulge. Other times, though, UMO face 2018's ugly sides head-on. Though he hails from New Zealand originally, Rubin Nielson has spent enough time in America to know our ways—including our unfavorable ones. Sex & Food is not an intensive political record, but "American Guilt" shunts nasty, nationalist banter to the wayside in the form of a driving fuzz-rock jam. It's pretty clear how Nielson feels about the U.S.'s harboring of right-wing ideals, including the "America First" policy, in 2018: In the "Land of the expensive," "Even the Nazis are crying." —Ellen Johnson
Read Paste's 2015 interview with Unknown Mortal Orchestra
46. Elvis Costello, "Under Lime"
Elvis Costello has always had a talent for writing songs that you feel with your whole body, and "Under Lime" might be his most orgasmic yet. Following up with the "Jimmie" we left "standing in the rain" on National Ransom, Costello delivers a peppy, poppy homage to an illicit backstage tryst between the older showman and the daffy young assistant on a low-budget "Mystery Guest" TV show. Costello's vocals are satin-sinister, sweet as honey on one line and a dangerous purr in the next, and Pete Thomas' clockwork drumming keeps everyone in check. But it's Steve Nieve who steals the show with a ragtime piano that hits its frantic, fiery peak at the tail end of the last verse, and the song ends in a glorious shudder. I'm not ashamed to say I actually swooned when I heard him play it live this past November. —Libby Cudmore
Read Paste's list of the 20 best Elvis Costello songs
45. IDLES, "Danny Nedelko"
Here's an apparently controversial opinion in 2018: racism is bad. Or at least that's how it seems, given the increasingly rabid right-wing fanaticism of Western politics, a mindset that embraces blatant racism and xenophobia alike. Luckily, Bristol-based punks IDLES are here to give us a taste of British anti-fascism with "Danny Nedelko," off their album Joy As An Act of Resistance. "My blood brother is an immigrant / A beautiful immigrant," singer Joe Talbot spits out right off the bat. "My blood brother's Freddie Mercury / A Nigerian mother of three." That's right, your favorite "classic-rock" band was fronted by an immigrant from Zanzibar. Talbot continues to shout out accomplished immigrants, including the titular Nedelko, who fronts the Heavy Lungs. The best part, though, is the infectious joy of the song. "Danny Nedelko" might be a polemic against racism, but it never focuses on the people spewing hate. It instead relentlessly champions the immigrants who endure such violence. It truly does feel like an act of resistance to be so joyous, and to not give into debasement and hate. —Justin Kamp
44. I'm With Her, "Overland"
"Overland" is certainly by no means the flashiest track on the long-awaited debut LP from modern bluegrass/folk supergroup I'm With Her, but it is the most perfectly composed and soulful. Ostensibly a historical tale of some sort, awash in manifest destiny symbolism, it's a clear metaphor for embracing the uncertainty and risks inherent in making a sweeping lifestyle change and throwing caution to the wind. Nickel Creek's Sara Watkins steps up front and center with a gorgeous, throaty, sometimes whispered lead vocal, met halfway by beautiful harmonies from Aoife O'Donovan and Sarah Jarosz. As the song gathers strength and volume through repeated choruses, it mirrors the gathering resolve of someone setting off on a long and difficult expedition—each step confirms only further that you're making the right decision. Various songs on See You Around are star vehicles for each of these three, prodigiously talented women, but the stark beauty of "Overland" is the track most likely to force your attention, and do it through subtlety rather than bombast. It's the kind of tune that breaks through the fog of complacency via sheer loveliness, making the world seem a little bit more warm while it lasts. —Jim Vorel
Watch I'm With Her's 2018 session in the Paste Studio
43. Stephen Malkmus & The Jicks, "Bike Lane"
Stephen Malkmus is known for an easygoing air on songs full of jangling guitars and wandering subject matter, a reputation he undercuts with savage social commentary on the tightly focused "Bike Lane." The song, from Sparkle Hard, his latest with the Jicks, skewers misplaced cultural priorities as he juxtaposes an observational, mild-mannered refrain—"Another beautiful bike lane"—with a brutally casual recounting of how a young black man named Freddie Gray died at the hands of Baltimore police officers in 2015. It's bracing, as Malkmus offers sarcastic sympathy for the cops, and also irresistibly catchy, with a propulsive beat, squiggles of keyboards and an off-kilter guitar workout. "Bike Lane" is a high point on one of Malkmus' strongest albums, which puts it in rare company indeed. —Eric R. Danton
Listen to "Bike Lane" on Spotify
Read Paste's 2018 interview with Stephen Malkmus
42. Courtney Marie Andrews, "May Your Kindness Remain"
The title track from Andrews' latest shows the full scope of her ability as a writer and a jaw-dropping vocalist. She lays back at the start, her voice taut with emotion held barely in check. The country-soul arrangement ebbs and flows, growing stronger as the song unfolds, with overdriven guitar joining a low, keening organ and gospel-choir backing vocals. And then Andrews lets loose, full-throated, on the refrain with an impassioned benediction. Just when it seems like she has reached her vocal limit, the Phoenix native pulls back a tad, then blows past it with enough power to shatter your heart into a million pieces, and the tenderness to pull it back together. —Eric R. Danton
Watch Courtney Marie Andrews' 2018 Paste Studio session
41. Anderson .Paak, "'Til It's Over"
When Anderson .Paak's "'Til It's Over" dropped seemingly out of thin air as a soundtrack to the Spike Jonze-directed video/Apple HomePod spot back in March, it seemed as though Paak was on the cusp of shaping an intellitronic hip-hop sound for himself. Come November, though, we settled on the idea that perhaps Paak's finest output of the year was just an off-album single that stood sonically apart from Dr. Dre's cognac-soaked funk production on Paak's much-anticipated 3rd LP, Oxnard. "'Til It's Over" is a winner for its instantly iconic visual of FKA Twigs dancing in a room of moving walls — like a modern day "Virtual Insanity" — as much as it is for Paak's creamy delivery over a beat by Frank Ocean collaborators Michael Uzowuru and Jeff Kleinman. Like all ubiquitous Apple commercials, a perfect song is cemented alongside an idea, where the song always prevails in mainstream thought in the long run over whatever the ad was selling. Ultimately, the intrigue of "'Til It's Over", is that it could hold a key to the future of Anderson .Paak's music. If on whatever comes after Oxnard, he isn't tied to a concept album produced entirely by Dr. Dre, we'll see what this newfound, fully blown-up version of Anderson .Paak can create and how he can affect the future of popular hip hop. —Adrian Spinelli
Read Paste's 2015 interview with Anderson .Paak
40. Lizzo, "Boys"
Why pick one summer crush when you can marvel at them all? That's the question at stake on the wonderfully raunchy "Boys," which finds Lizzo grasping and declaring her sexuality via a series of delicious male typecasts. She's not picky, either, singing, "I like big boys, itty bitty boys / Mississippi boys, inner city boys." An overtly groovy bass line flavored with high-pitched electric guitar carries the song through. A dance-y boasting of sexuality, "Boys" is a flirty summer jam. —Ellen Johnson
Listen to Lizzo's 2016 Daytrotter session
39. Natalie Prass, "Short Court Style"
The "Short Court Style" video features a colorfully dressed Natalie Prass bringing jubilation to an otherwise-dreary park in her home state, Virginia. She spins on a merry-go-round, performs with ribbon dancers and generally delights. "Short Court Style," from Prass' sophomore LP The Future and the Past, itself is equally joyous: Prass offers figurative revolutions to match the video's literal ones, singing, "Oh you spin me round / Round and round / Had ups and downs / No but I can't be without / My love that I have found." The song's irresistible groove makes for a slick and spirited showcase of Prass' exquisite vocals, emphasizing her R&B leanings in irresistible fashion. —Scott Russell
Read Paste's 2018 interview with Natalie Prass
38. Dirty Projectors, "Break-Thru"
This single from Dirty Projectors' Lamp Lit Prose maintains the band's trademark indie/art rock fusion while continuing the electronic/R&B sound from last year's self-titled record. The song and album mark "a recommitment to the sounds and ideals of Dirty Projectors, embracing the band's trademarks while pushing forward the sonic envelope" with guitars and intricate harmonies returning to the fold, as evidenced by "Break-Thru." The lyrical content is another shift for the group, as frontman Dave Longstreth seeks "a restorative balance" after his breakup with former Dirty Projectors bandmate and ex-girlfriend Amber Coffman. Longstreth sings, "She's a break-thru / Under the sun, there's nothing new / But she keeps it 100 in the shade, she's a break-thru / It's cold out here, that's nothing new / But she keeps it 100, she's a break-thru." —Adreon Patterson
37. Superchunk, "Erasure"
For this song from their 2018 album What a Time to Be Alive—whose excellent title track did not meet the timeline criteria for this list—beloved North Carolinian rockers Superchunk rounded up a few of their Merge Records labelmates to collaborate on a resounding, thumping power track. Waxahatchee's Katie Crutchfield and The Magnetic Fields' Stephin Merritt, both Merge signees, offer backing vocals during the chorus, which leads to an immaculate melding (Merging?) of voices. "Erasure" is pure, driving power-pop, and that energy is in part due to Crutchfield's and Merritt's solid additions. It's the stuff of indie supergroup lore. —Ellen Johnson
Read Paste's ranking of every Superchunk album
36. Ought, "Disgraced in America"
"Disgraced in America," from Montreal post-punk band Ought's album Room Inside the World, is a song led by Tim Darcy's melodramatic, at times Bowie-esque and other times Ian Curtis-esque, lead vocals, which are so painstaking, impactful and heart-wrenching, they would make an enthralling a cappella track. The track also includes robotic keyboards, jangly, melodic guitars, crying horns and chaotic, dense percussion worth getting lost in. —Lizzie Manno
35. Haley Heynderickx, "Untitled God Song"
There's no chorus to speak of in this little gem from Haley Heynderickx's brilliant debut album, nor any answers to the questions that this singer/songwriter is posing within it. This is a modern version of a talking blues, but a more poetic take on that well-worn style, because throughout, we're never quite sure if she's actually conjuring up new deities or if she's commenting on how we tend to deify our lovers during the heat of a relationship. Maybe it's both. Maybe we should just try and keep up with Heynderickx as she spins and spins. —Robert Ham
Watch Haley Heynderickx's 2018 performance in the Paste studio
34. Noname, "Blaxpoitation"
There was the old Noname, the one who ducked and dodged around the fluttery rhythms and subdued melodies of her debut EP Telefone like a shy hummingbird, beautiful but weightless. But with "Blaxploitation," from her new album Room 25, Noname is finally ready for all the limelight. She spits out lines like "Penny proud, penny petty, pissing off Betty the Boop / Only date n****s that hoop, traded my life for cartoon," with a previously unheard vigor over a bass-line that pops. No one is safe from Noname's polemic—not the artists that blow up and move to the yuppie Wicker Park neighborhood in Chicago, not those mammy-stereotype "Power of Pine-Sol" commercials, not even Noname herself for indulging in noted anti-LGBT restaurant Chick-Fil-A. It's an unflinchingly powerful introduction to this new Noname, one who is ready, able and fully willing to become the next big thing. And yes, all without label support. —Justin Kamp
33. Wye Oak, "The Louder I Call, The Faster It Runs"
The phrase "dream pop banger" would be a contradiction in terms if not for this glorious song, the centerpiece of Wye Oak's album of the same name. Jenn Wasner, who has spent a decade honing one of the greatest voices in indie-rock, sings about the inexorable urge to seek patterns in chaos, repeating the title with mantra-like fervor: "The louder I call, the faster it runs / The louder I call, the faster it runs." And then the song seems to do precisely that, growing faster, louder, more joyously overwhelmed, as it spins around and around its central refrain. —Zach Schonfeld
Listen to Wye Oak's 2012 Daytrotter session
32. Ariana Grande, "thank u, next"
Something strange happened in early November: Ariana Grande released a song about her four ex-boyfriends, and both critics and fans loved it. A refreshing take on a breakup ballad, "thank u, next" is Grande's graceful (and supremely catchy) nod to her past loves: Big Sean, her former backup dancer Ricky Alvarez, the dearly departed Mac Miller and, most recently, Saturday Night Live's Pete Davidson. Her brief relationship with (and engagement to) the latter spurred some serious speculation, but rather than chastise the media for hounding her, she used her platform to say "Thank you" to her ex-boyfriends in what's perhaps the most endearing display of gratitude the pop charts have ever seen. Last year, Taylor Swift delivered unto us a petty revenge album, but this year's reigning pop queen Ariana Grande—of all people—also happens to be its best moral compass. At song's end, Grande even takes a moment to thank herself, admitting that even though she's "loved" and "lost," she "turned out amazing." We think so too, Ari. —Ellen Johnson
31. Nathaniel Rateliff & The Night Sweats, "You Worry Me"
Denver's Nathaniel Rateliff & The Night Sweats broke through in 2015 with the polished honkytonk rock of their self-titled debut on the famed Stax Records label. Three years later, on their sophomore LP, the band, with Rateliff at the helm and the dearly departed Richard Swift behind the boards, have become one of the finest Americana acts in the nation, and "You Worry Me" is the best song Rateliff has ever written. Solitary keys play as the song opens, a now bold and signature indicator that Rateliff & The Night Sweats are about to embark on their crown jewel. Intensity builds through gracefully careening strings and Rateliff's gravelly vocals ascending into a glorious explosion of horns. A superb saxophone bridge atop a kick drum raises Rateliff's delivery to mountainous levels of soul and emotion, and you can't help but just feel something powerful inside of you. There is the blissful sound that marries the Colorado frontier from which it came with the Stax legacy into a newfound apex of Roots and Americana music. —Adrian Spinelli
Listen to Nathaniel Rateliff & The Night Sweats' 2015 Daytrotter session
30. Flasher, "Skim Milk"
Picking a standout track from the stellar debut from D.C. trio Flasher is a steep task, but "Skim Milk" is a solid representation of the band's strengths on Constant Image. Contrary to what you might think, the song doesn't foreshadow an empty future ("No future / No fate"). It reminds us that even fantasizing about the future is a right only afforded by those who aren't living hand to mouth, so why not try to transcend the late capitalist, cog-in-the-machine life that's laid out for you? The song's bridge has a rapturous vocal interplay ("As though / But yet / And so") while the rest of the track is marked by spring-loaded drums and mischievous guitar riffs. —Lizzie Manno
Read Paste's list of 15 Washington D.C. Bands You Need To Know in 2018
29. Lonnie Holley, "I Woke Up in a Fucked-Up America"
It's a pretty dire commentary on Our American Moment to realize that Lonnie Holley was born in Jim Crow-era Alabama and yet waited until 2018 to record a song called "I Woke Up in a Fucked-Up America." Holley, a 68-year-old black man who has spent much of his creative career building sculptures from junkyard debris (his work has been exhibited in places like The Met), sings songs, largely improvised, with the same dreamlike, free-associate energy that animates his visual art. On "Fucked-Up America," his voice is a disturbed rumble as he surveys a rotten country full of walls, greed and "all the vampires." Holley has expanded his backing group with avant-garde multi-instrumentalists like Shahzad Ismaily, and here Holley's musical backing is a discordant, warped symphony of blown-out synths and piano—aural representative of a country crumbling into chaos. —Zach Schonfeld
28. Arctic Monkeys, "The Ultracheese"
Arctic Monkeys sure know how to end an album. Some of their best songs to date—"A Certain Romance," "505," and "That's Where You're Wrong"—all come at the tail end of Side B, a testament to Alex Turner & co.'s brilliant songwriting and sequencing. It's time to add another to that esteemed list, the smooth, sleazy, and heartfelt "The Ultracheese," a track that sees Turner turn in perhaps the best vocal take of his career. Though Tranquility Base Hotel & Casino is a tough listen at first, getting to "The Ultracheese," the record's crown jewel, is the ultimate prize, a sing-along for the ages (with no chorus or refrain, no less) that pulls the complex and musically peculiar album together in astonishing fashion. Chock full of purposely self-deprecating, (ultra)cheesy lyrics—alongside some of Turner's most profound to date—he ends on a simple yet endearing line that pulls back the curtain on the twists and turns of the bizarre sci-fi influenced concept album, "But I haven't stopped loving you once," before giving way to a closing howl that's sure to be a fan favorite live moment for years to come. —Steven Edelstone
Read Paste's 2013 interview with Arctic Monkeys
27. Kacey Musgraves, "Lonely Weekend"
The latest album from Kacey Musgraves is a throwback, but it's one that looks to a time in the '70s when country artists were, as they are now, trying to keep up with the sounds of the pop charts. And no song from Golden Hour represents that better than this little gem, a tune that skirts the edge of disco schmaltz without spilling over into a jumble of sequins and overwrought production. It holds steady, riding a perfect groove and even more perfect vocal hook that celebrates and bemoans those days when you're on your own with not a lot to do. —Robert Ham
Read Paste's 2015 interview with Kacey Musgraves
26. The Beths, "Future Me Hates Me"
Elizabeth Stokes named her band after herself, or, rather, her nickname. So it should come as no surprise, then, that the debut album from New Zealand-based rockers The Beths, Future Me Hates Me, is sharply self-aware. One of those self-assured (or, rather, self-doubting) rock tunes is the toe-tap-inducing examination of overthinking, "Future Me Hates Me." "Sometimes I think I'm doing fine / I think I'm pretty smart," Stokes sings on the title track before, later, completing the thought: "Oh then the walls become thin / And somebody gets in / I'm defenseless." "Future Hates Me," like many of the songs on its namesake record, is nothing short of an indie rock anthem. —Ellen Johnson
25. Tune-Yards, "Colonizer"
2018 was the year of the "white voice." Moviegoers will recognize the phrase from Boots Riley's afro-surrealist hit Sorry to Bother You, in which a black telemarketer finds success employing a cartoonishly caucasian-sounding voice when calling customers. Tune-Yards (who scored that film) explored a similar concept six months earlier on "Colonizer," a surprising and raucously arranged anthem of self-interrogation. Like much of its surrounding album, the song is an examination of white privilege, with Merrill Garbus grappling with the "white woman's voice" she uses while telling "stories of travels with African men." It's not satire, or at least not the outward-facing kind. "A lot of people assume I'm commenting on another white woman or that it's ironic or sarcastic, but it's actually just true," Garbus told me in January. Strangely, it does not sound like a graduate dissertation. It sounds like a thrilling industrial-funk cacophony. —Zach Schonfeld
Listen to Tune-Yards' "Colonizer" on Spotify
Read Paste's 2015 interview with Merrill Garbus
24. Camp Cope, "The Opener"
Melbourne-based trio Camp Cope's biting punk track "The Opener," from their 2018 album How to Socialise & Make Friends, starts like a typical breakup song: "Tell me you never wanna see me again / And then keep showing up at my house." But as the track progresses, it morphs into an intense, overt call for gender equality in the music industry. Lead vocalist Georgia "Maq" McDonald has a guttural reaction to the sexism her band has faced as she yells, as loud as she can, "Yeah, tell me again how there just aren't that many girls in the music scene." —Ellen Johnson
23. Amen Dunes, "Miki Dora"
Named after the famous '60s California surfer of the same name, Amen Dunes' "Miki Dora" is slinky and level-headed with Damon McMahon's telltale drawl. McMahon's vocals emit gristly wisdom and spry energy, and this track, like many others on his latest album Freedom, pour with a profound level of spirituality. He sings, "Pride destroyed me man / Til it took a hold of me / I feel it when I cry / I can feel it in my dreams," and you can't help but picture him sitting cross-legged on the peak of a mountain, shelling out cryptic advice from past life experiences. —Lizzie Manno
Read Paste's review of Amen Dunes' Freedom
22. Courtney Barnett, "Nameless, Faceless"
Probably one of the most talked-about #MeToo anthems this year, Courtney Barnett's "Nameless, Faceless" vocalizes so well every woman's fear: "I wanna walk through the park in the dark," she sings, then citing a tactic many of us have, unfortunately, utilized before: "I hold my keys / Between my fingers." She also quotes The Handmaid's Tale author Margaret Atwood in her three-minute diss track of both a nasty internet troll and the patriarchy: "Men are scared that women will laugh at them / Women are scared that men will kill them." —Ellen Johnson
Watch Courtney Barnett play for Paste at South by Southwest circa 2015
21. Hop Along, "Prior Things"
"Prior Things" is the closer on Hop Along's Bark Your Head Off, Dog, and it features a spontaneous, slightly off-kilter wash of violins (think Alex G's "Poison Root") as Frances Quinlan's exquisite lead vocals sing of escaping the memories of past relationships ("You were on vacation / Vacation means leave / Means obliterate all prior things"). By the end, Quinlan comes to a sobering yet enlivening realization about past failed romance ("I'm still soft / I'm still in my prime / I'm still soft / It's still my time"). —Lizzie Manno
Read Paste's 2015 interview with Hop Along
20. Christine and the Queens feat. Dâm-Funk, "Girlfriend"
Christine and the Queen's second full-length album Chris sees Héloïse Letissier adopt the fierce, sexual and masculine sides of herself that she wasn't sure how to bring into the fold until now. On the surface, one of the album highlights, "Girlfriend," featuring Dâm-Funk, is a funky, slick dance-pop cut, but an examination of the lyrics reveals a nuanced portrait of a woman who dares to exhibit so-called macho tendencies and exudes physical power beyond mere female sexuality. —Lizzie Manno
Read Paste's 2015 interview with Christine and the Queens
19. Grouper, "Parking Lot"
Grouper's Liz Harris taps into withering sadness on such a deep musical level that she makes Mitski's somber Be The Cowboy sound like cheery pump-up songs. Taken from her latest LP Grid of Points, Grouper's "Parking Lot" is an ambient, breathy piano ballad for when you've hit absolute rock bottom. Its ambient folk flourishes and whispered, angelic lead vocals fade in and out like gentle gusts of wind and, though her words are difficult to decipher, the track's intense, emotional wave is still fully realized as its warm purity reverberates long after it's over. —Lizzie Manno
18. Bodega, "How Did This Happen?!"
Endless Scroll, the remarkable debut record from Brooklyn-based band Bodega, exists in a very specific time and place. Each song makes references to particular bars, music venues, and New York City landmarks relevant to the Bodega story, one that spans the death of their former band, the relationship of lead singers Ben Hozie and Nikki Belfiglio, their boring day jobs, the nightly catharsis onstage on various Bushwick DIY stages and everything in between. Album opener "How Did This Happen?!" sees Hozie and Belfiglio walk past the post 2016 election protests in Union Square, processing the same thoughts that we all had after Trump's election—a mix of "How did this happen?!" and those smug post-Bernie loss feelings of "These people should be here regardless of outcome." Bodega turn this all into a driving post-punk song, packing as much punch into its three-minute running time as humanly possible, complete with the perfect lyrical references to place us in the scene. Few songs sum up the past couple of years of life under the Trump administration quite like "How Did This Happen?!," where we all feel simultaneously angry and lost, struggling to figure out how to best direct our fury in a productive manner and wondering aloud if any of it is worth it. —Steven Edelstone
17. Yo La Tengo, "For You Too"
"For You Too" is a transcendent act of noise-rock introspection. Yo La Tengo's song is one of the most entrancing from their new record, There's A Riot Going On. The scintillating guitar line, soft synth drone and deceptively propulsive percussion combine to create an inviting, yet layered soundscape, while Ira Kaplan delivers near-whispered lyrics that are brimming with heart-swelling affection: "For you / whenever there's hurt / and when things are uncertain / Maybe I could be that guy / I'd like to try," he sings. Songs like this are why Daily Dose exists. —Scott Russell
Read Paste's 2018 interview with Yo La Tengo
16. Soccer Mommy, "Your Dog"
Few opening lines this year have shook and scorned like, "I don't wanna be your fucking dog / that you drag around." The story of being trapped in an abusive relationship is not an easy one to consume, and Soccer Mommy's Sophie Allison doesn't sweeten any of the details. "Your Dog" is honest and painful and necessary, a massive "back off" to every man who's ever emotionally or physically abused. —Ellen Johnson
Read Paste's review of Soccer Mommy's Clean
15. Cardi B feat. SZA, "I Do"
This bad-bitch-bop from Cardi B's 2018 debut Invasion of Privacy is more a love-letter-to-the-self than social outcry, but it's still a product of a woman's exhaustion. "I Do" is Cardi B's way of saying "I'm done explaining myself," and in doing so she speaks on behalf of all women who've ever been told to shut up. Cardi B does not need a man to make music (or do anything else), and heaven help the fellow who tries to stand her way. SZA anchors the song with the nonnegotiable chorus: "I do what I like."—Ellen Johnson
14. boygenius, "Bite The Hand"
In August, the good people at Matador Records finally pulled back the curtain on the new supergroup made up of Lucy Dacus, Julien Baker and Phoebe Bridgers, boygenius. "Bite The Hand" is Lucy Dacus' chance to shine, an unflinching declaration of independence that would have fit right in on Historian. What sets it apart from her solo work, however, is its choruses, on which Dacus, Baker and Bridgers harmonize to drop-dead gorgeous and increasingly powerful effect, warning an unwanted partner, "I can't love you how you want me to." The song closes on their voices, with nothing but bare conviction against the silence. —Scott Russell
Listen to "Bite The Hand" on Spotify
13. Pusha T, "If You Know You Know"
Pusha T is the most no-bullshit rapper in the game. In a world where every cat on the mic needs a hype man, King Push sits alone on his throne and doesn't care to sugarcoat anything for anyone. The DAYTONA album opener has it all: Golden State Warriors and Scarface references, reminiscing on the back-in-the-day dope game, tongue-in-cheek pop culture mastery shouting out Puff, Oprah, Al Roker and Ri-Ri…what can't this guy do? Before Kanye West went totally off his rocker and became a grade-A asshole, he was better known for incredible productions like "If You Know You Know." The cinematic beat is a canvas for Push's tale of a supreme dream that started in the streets. He floats above the beat, unadulterated, authoritative, not a shred of auto-tune—just bars for days. He delivers in a way that if the beat stopped, he wouldn't break stride, and he lets the production serve only as an elevator for his menacing rhymes. Accept no substitutions. —Adrian Spinelli
12. Neko Case, "Curse of the I-5 Corridor"
Neko Case's seven-minute song winds like the long interstate it references: I-5 runs along the West Coast of the U.S., from the Mexican to Canadian border. A duet with Mark Lanegan, who is known for his solo work in addition to collaborations and his work with Queens of the Stone Age, "Curse Of The I-5 Corridor" is a haunting combination of lyrics and sound. The song reflects on the past, and uncovers an unsureness of the future and what it could have brought. Lines like "in the current of your life I was an eyelash in the shipping lanes" and "I fear I smell extinction in the folds of this novocaine age coming on" reveal these aspects. Lanegan's voice at times becomes an eerie echo to Case's, lurking in the background, and adds to the tension the song's instrumental breaks carry. —Anna Haas
Read Paste's review of Neko Case's Hell-On
11. Janelle Monáe, "Make Me Feel"
We don't deserve Janelle Monáe and we never have and we never will, but the Prince protégée continues to grace us with her music anyways. "Make Me Feel," the second single off her third album Dirty Computer, is an homage to being, as Monáe describes herself, a "free-ass motherfucker." Monáe's voice is honey-rich, and the song doesn't get too caught up in either its breathy, '80s-style dance riffs or its modern electronic grind but bridges the gap between both, creating a slick-and-sexy sound only a legitimate musical genius like Monáe could master. Top it all off with a smoldering video starring her girlfriend Tessa Thompson, and if this song doesn't make you tingle from head to toe, you may want to get your pleasure centers checked. —Libby Cudmore
Watch Paste's 2009 interview with Janelle Monae
10. Car Seat Headrest, "Bodys"
Though this magnificent fragment of Will Toledo's brain technically debuted on the nether-regions of Bandcamp back in 2011, the Twin Fantasy rework is nothing short of exquisite. If every rock song was this immaculate, we'd call it "gold" instead of "rock." One reason it's so fantastic is the song's percussive underbelly: A swarm of pedal effects, drum loops and good ol' fashioned kit noise carry the song through its near-seven minutes, as Toledo talks us through the song like a math problem, asking, "Is it the chorus yet?." For all its magnificent sonic arrangements, though, the lyrics are even heftier, a testament to love, life and the fragility of the vessels that hold it all together: "Don't you realize our bodies could fall apart any second?" —Ellen Johnson
Read Paste's review of Car Seat Headrest's Twin Fantasy
9. Parquet Courts, "Wide Awake"
While it might not have made the cut as our pick for the best song of the year, Parquet Courts' absolute banger "Wide Awake" deserves the award for the funkiest. This song is everything you need to get your body, well, "movin' and groovin', "ain't ever losin' the pace," as the song itself says. The percussion, lead flawlessly by drummer Max Savage, drives the track with a Latin-inspired rhythm that somehow fits just fine in a New York City rock band's repertoire. Thrown on top of that is arguably the grooviest bass line of the year by Sean Yeaton, layered unexpectedly with A. Savage and Austin Brown's raucous signature guitar stylings. This song forces you to dance, it forces you to yell "WIDE AWAKE" whenever the band does, and it works well both within its record and on its own. It's the sonic equivalent of that level of caffeine when you can't close your eyes, and I mean that sincerely in a good way. —Annie Black
8. MGMT, "Me and Michael"
MGMT's "Me and Michael" from their latest album Little Dark Age is musically about as '80s as they come with its gleaming synths, booming electronic percussion and VanWyngarden's soaring yet poignant Pet Shop Boys-esque vocal lead. The chorus is catchy to the point where it's actually infuriating that someone hasn't come up with this perfect, ebullient sing-along melody before. This ode to male friendship sounds like the mega-hit that they haven't quite mustered since 2007's "Kids" or "Electric Feel." —Lizzie Manno
Read Paste's review of MGMT's Little Dark Age
7. Mitski, "Nobody"
Disco beats had a moment this year—and so did cowboys. The slick disco blips appeared first on Kacey Musgraves's "High Horse," a dance song fueled by cowboy metaphors, then again, a few months later, on arguably the best song from Mitski's Be The Cowboy, "Nobody," in which the indie-rock monarch employs tight basslines and movie-score drums to make a thumping, sweaty dance track. Mitski shouts into the void to anyone who can hear her: "I'm just asking for a kiss / Give me one good movie kiss." As her despair worsens, the song just gets louder, faster and groovier. Who knew the sound of loneliness could be so irresistible? —Ellen Johnson
Read Paste's review of Mitski's Be The Cowboy
6. Rolling Blackouts Coastal Fever, "Talking Straight"
The one thing that 2018 could not take from us is the pure joy of a pop song. And yes, there were bigger ones, more emotional ones, but with "Talking Straight," RBCF provided us with a song that felt so perfectly fleeting that it was incomparable in terms of pure indie-rock pleasure. "Talking Straight" is the sound of '70s and '80s FM Aussie-pop distilled to its purest form, an expertly-crafted geode of a song that sounds readymade for blaring over the radio. But the band's attraction lies in their veracity. For all its hooks, the song feels incredibly whole, full of hard-panned riffs and stratospheric harmonizing. It's akin to world-building, in a way, all the song's small details adding up to make it feel bigger than it really is. RBCF's songwriting tricks you into thinking it's effortless, which is something we all needed this year. —Justin Kamp
5. Robyn, "Missing U"
Swedish pop songstress Robyn is an expert at crafting melancholy pop songs—tunes you can dance to, groove to and also cry to. Her 2010 hit "Dancing On My Own" is a tale as heartbreaking as they come, but we'll be darned if we didn't jump to our feet every time we heard those first few bars of synth. "Missing U," the first single from Honey and what was Robyn's first bit of new music in eight years, is like that: It's electronic, streamlined and dance-y, but it's also deeply sad. "I've turned all my sorrow into glass," she sings. "It don't leave no shadow." The glorious dance number actually sounds a bit like glass breaking, like a synth-laden mirror hall à la Phoenix's Ti Amo. Oh, how we missed U, Robyn. —Ellen Johnson
Read Paste's review of Robyn's Honey
4. Snail Mail, "Heat Wave"
Album opener "Pristine" may have earned lead single status, but there's a reason "Heat Wave" bats clean-up on Lush, Lindsey Jordan's full-length studio debut as Snail Mail—it's an exceptional showcase of her talents as a singer/songwriter and guitarist, an effervescent story of unrequited summer love that wastes no time in getting its emotional hooks into you. A solitary, tumbling guitar line leads into Jordan's open-hearted, scene-setting vocals: "I'm so tired of moving on / Spending every weekend so far gone / Heat wave, nothing to do / Woke up in my clothes having dreamt of you." The song unfolds its yearning from there over five obscenely melodic minutes, with Jordan wishing her beloved "green eyes" the best in-between explosive instrumental asides: "And I hope the love that you find / swallows you wholly / like you said it might." It's beautiful, sentiment and song both. — Scott Russell
Read Paste's 2018 interview with Snail Mail
3. Lucy Dacus, "Night Shift"
"Night Shift," the opening track on Paste's album of the year, is Lucy Dacus' first and only break-up song, and a modern classic of the form at that. Dacus processes her fractured romance in front of us, working through the immediate aftermath in her opening lines ("The first time I tasted somebody else's spit, I had a coughing fit / I mistakenly called them by your name / I was let down, it wasn't the same") and moving from anger ("Am I a masochist, resisting urges to punch you in the teeth / call you a bitch and leave?") and resignation ("I feel no need to forgive but I might as well") to empowerment ("Don't hold your breath, forget you ever saw me at my best / You don't deserve what you don't respect"). It's a cathartic emotional journey that ends on a note of renewed hope: "In five years I hope the songs feel like covers / dedicated to new lovers," Dacus sings, as if recognizing that she's created something timeless. — Scott Russell
Read Paste's 2018 interview with Lucy Dacus
2. Sunflower Bean, "Twentytwo"
Are you 22? Or, were you at one time 22? Then you know. You know what it feels like when the protective bubble of youth begins to wrinkle and then pop, when adulthood arrives before you were done being a kid. You remember that all-consuming confusion—and stress—born out of questions like "Who am I?" and "What the hell am I supposed to do with the rest of my life?" Sunflower Bean are all-too familiar with those qualms. Each member of the New York City trio, one of the most consistent groups working in indie-rock today, was 22 when they recorded Twentytwo in Blue, and, on a single track, they flawlessly capture the anxiety, beauty, fear, sadness and excitement that permeate a human being's 22nd year of earth-dwelling. Not to mention, "Twentytwo" is one of the most smartly and creatively composed songs to come out of this year, complete with an achingly melodic chorus and unforgettable riffs. "Independent, that's how you view yourself," frontwoman Julia Cumming sings, before later declaring, "I do not go quietly / Into the night that calls me." 2018 brought us all kinds of anthems, but—and maybe this is my sappy post-grad subconscious talking—"Twentytwo" might just be the most heartfelt of them all. —Ellen Johnson
Read Paste's 2018 interview with Sunflower Bean
1. Childish Gambino, "This Is America"
When Childish Gambino released "This Is America" while simultaneously hosting and performing on Saturday Night Live in May, the searing music video accompanying the track sparked a national conversation about the binary black Americans occupy and the complex intersection between entertainment and race in this country. Split between delicate folk melody and pulsing trap beats, the song's symbolism-drenched video, directed by Atlanta collaborator Hiro Murai, required (or rather, demanded) rewatch. In it, Gambino performs choreography derived from viral hip-hop videos and traditional African dance with schoolchildren, all smiles even as violence permeates the fringes of the video: He manically pantomimes Jim Crow caricatures and shoots bystanders in the head; riots erupt behind him, but never quite take center stage; guns are laid down gently on red velvet, while gunned-down black bodies are hastily dragged out of sight. The music video faced its share of criticism—some felt it exploited real-life tragedies like the Charleston church shooting, others noted similarities between the track and Jase Harley's "American Pharaoh"—but, regardless, the song's unsettling and unshakeable coda makes it a grim success. —Katie Cameron