Big Thief Share Second U.F.O.F. Single "Cattails," Expand Fall Tour
Photo by Michael Buishas
Music
News
Big Thief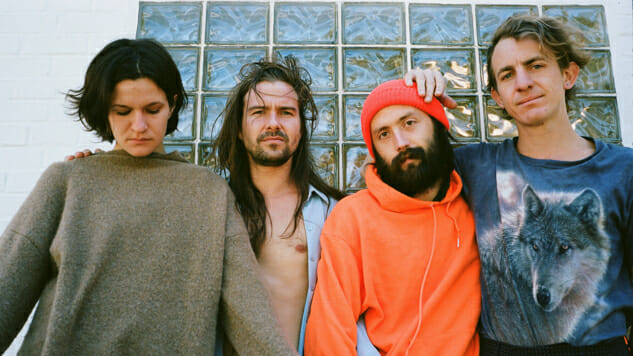 The next new single from Big Thief's forthcoming junior effort U.F.O.F. (May 3, 4AD) has landed: the rustic "Cattails," which follows the album's gorgeous title track, released alongside its announcement in late February.
"Cattails" opens on Adrianne Lenker's jangling, fingerpicked guitar and James Krivchenia's steadfast drums before it's later built out with a slow-rising synth hum and gleaming piano stabs. "Going back home to the great lakes / where the cattail sways / with the lonesome loon / riding that train in late June / with the windows wide by my side," sings Lenker, her thoughts in transit somewhere between civilization and nature—she later insists, "you don't need to know why / you don't need to know why / when you cry," deferring to the mysteries that run deep within the human heart.
Lenker recalls how the band's new single came together in a statement:
"Cattails" came about while we were at the studio in Washington in the pine forest. Writing it was just one of those electric multicolored waves of connectivity just sweeping through my body. I stayed up late finishing the song and the next morning was stomping around playing it over and over again. We thought why not just record it, so James sat at the drums and we practiced, and by the time we'd finished practicing, Dom Monks—our engineer—had already sneakily set up mics and recorded it. It was beautiful that he'd captured it right away because when James and I were playing, it felt like a little portal in the fabric had opened and we were just flying. Listening back to it makes me cry sometimes.
Big Thief have also added new shows to their upcoming fall tour, with new stops in Detroit, Mich. (Oct. 17), Madison, Wis. (Oct. 19), Santa Ana, Calif. (Oct. 30) and Columbus, Ohio (Nov. 11). Said tour kicks off in Los Angeles on May 2, the day before U.F.O.F.'s release, and concludes with the band's newly announced Columbus show.
Listen to "Cattails" and revisit Big Thief's 2016 Daytrotter Session below. You'll find the band's updated tour slate further down, with new shows in bold.
Big Thief Tour Dates:
April
20 – San Diego, Calif. @ Irenic
May
02 – Los Angeles, Calif. @ The Fonda Theatre
03 – Los Angeles, Calif. @ The Bootleg Theater (SOLD OUT)
05 – Brooklyn, N.Y. @ Elsewhere (SOLD OUT)
18 – Leeds, U.K. @ Brudenell Social Club (SOLD OUT)
19 – Glasgow, U.K. @ SWG3
21 – Dublin, Ireland @ Vicar Street
22 – Manchester, U.K. @ The Ritz
23 – London, U.K. @ Roundhouse
24 – Bristol, U.K. @ SWX
26 – Cambridge, U.K. @ Cambridge Junction
27 – Paris, France @ Trabendo
28 – Brussels, Belgium @ Orangerie
30 – Barcelona, Spain @ Primavera Sound
31 – Nîmes, France @ This Is Not a Love Song Festival
June
02 – Amsterdam, Netherlands @ Best Kept Secret
03-06 – Marina Di Ravenna, Italy @ Beaches Brew Festival
03 – Berlin, Germany @ Lido
04 – Zurich, Switzerland @ Bogen F
08 – Porto, Portugal @ NOS Privaera Sound
August
06-10 – Oslo, Norway @ Oya Festival
08 – Copenhagen, Denmark @ Lille Vega
15-18 – Wales, U.K @ Green Man Festival
16 – Hasselt, Belgium @ Pukkelpop Festival
October
10 – New York, N.Y. @ Webster Hall
11 – New York, N.Y. @ Webster Hall
12 – South Burlington, Vt. @ Higher Ground
13 – Boston, Mass. @ Wilbur Theatre
15 – Montreal, Que. @ La Tulipe
16 – Toronto, Ont. @ Phoenix Concert Theatre
17 – Detroit, Mich. @ Majestic Theatre
18 – Chicago, Ill. @ Metro
19 – Madison, Wis. @ The Sylvee
21 – Minneapolis, Minn. @ First Avenue
24 – Portland, Ore. @ Crystal Ballroom
25 – Vancouver, B.C. @ Vogue Theatre
26 – Seattle, Wash. @ Moore Theatre
28 – San Francisco, Calif. @ The Fillmore
30 – Santa Ana, Calif. @ The Observatory
November
01 – Phoenix, Ariz. @ Crescent Ballroom
02 – Albuquerque, N.M. @ Sister
04 – Austin, Texas @ Stubb's Waller Creek Amphitheatre
05 – Dallas, Texas @ Trees
07 – Atlanta, Ga. @ Variety Playhouse
08 – Saxapahaw, N.C. @ Haw River Ballroom
09 – Philadelphia, Pa. @ Union Transfer
10 – Washington, D.C. @ 9:30 Club
11 – Columbus, Ohio @ The Athenaeum Theatre