Big Ups Stare Into the Void on the Tense and Sprawling "Imaginary Dog Walker"
The Brooklyn band will release their third album, Two Parts Together, on May 18.
Photo by Montana Elliot
Music
News
Big Ups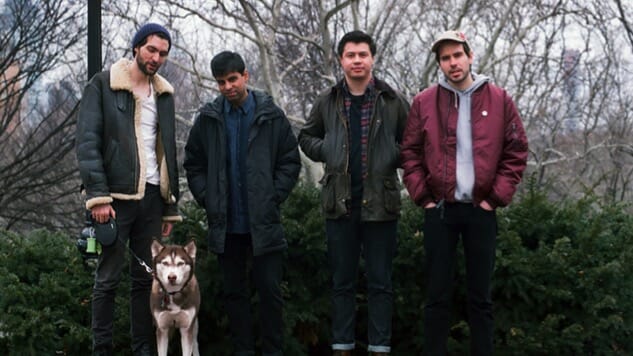 Punk quartet Big Ups have been Brooklyn mainstays for the better part of a decade. Formed in 2010 while the members— Joe Galarraga, Amar Lal, Brendan Finn and Carlos Salguero, Jr— were students at NYU, they have matured and expanded their brand of searing, yet deeply thoughtful post-hardcore in the years since graduation. On May 18, the band will release their third full-length record, Two Parts Together, an uncertain assessment of present and future existence.
"Imaginary Dog Walker," the record's closing track, is a sprawling and dynamic coda, ending Two Parts Together with unsettling doubt. The song finds Galarraga staring into a lake (a recurring thematic element of the album), wondering what lies beneath. "We all want the same thing/ And that is to thrive," he declares, "So why hold our breaths/ Kill the life inside?" Propelled by vivid, destructive imagery, tense repetition, and agitated guitars, "Imaginary Dog Walker" is an aggressive-yet-meaningful meditation on the human experience.
Preorder Big Ups' Two Parts Together, out May 18 on Exploding in Sound, right here, and see the band's summer tour dates in the U.S. and Europe below.
Big Ups Tour Dates
5/17 – Brooklyn, NY @ Secret Project Robot ^
5/23 – Hamburg, DE @ Hafenklang
5/24 – Dresden, DE @ Groovestation
5/25 – Berlin, DE @ Urban Spree
5/27 – Krakow, PL @ Green Zoo Festival *
5/29 – Prague, CZ @ Underdogs Ballroom *
5/30 – Budapest, HU @ Dürer Kert
5/31 – Ljubljana, SI @ Gala Hala
6/2 – Amsterdam, NL @ CineTol
6/3 – Utrecht, NL @ Culturele Zondagen
6/3 – Rotterdam, NL @ V11
6/4 – Groningen, NL @ Vera
6/5 – Brussels, BE @ Magasin 4
6/7 – Paris, FR @ The Olympic Cafe
6/8 – Poiters, FR @ Conforte Moderne
6/9 – Hilvarenbeek, NL @ Best Kept Secret
6/10 – Leeds, UK @ Brudenell Social CLub
6/11 – Newport, UK @ Le Pub
6/13 – Brighton, UK @ The Green Door Store
6/14 – London, UK @ Birthdays
7/11 – San Diego, CA @ Soda Bar
7/12 – Los Angeles, CA @ The Smell
7/13 – Tijuana, MX @ Moustache Bar
7/15 – San Francisco, CA @ Bottom of the Hill
7/16 – Arcata, CA @ Outer Space
7/18 – Portland, OR @ Black Water
7/19 – Seattle, WA @ The Vera Project
7/20 – Boise, ID @ Neurolux
7/21 – Reno, NV @ The Holland Project
^ Record Release Show w/ LVL UP, Human People and Water From Your Eyes