The Black Eyed Peas Are Busy Changing the Way We Consume…Comics?
The hip-hop veterans have partnered with Marvel to augment your reality, but is reading an AR comic through a phone the best way to express their ideas?
Photo: Christopher Parsons
Music
Features
Black Eyed Peas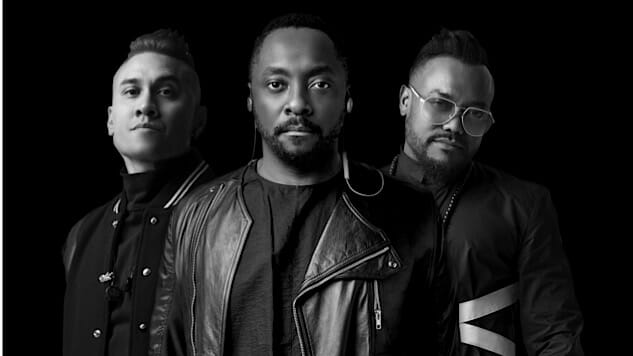 Flip a page of Masters of the Sun: The Zombie Chronicles, the Black Eyed Peas' first Marvel Comics graphic novel, and a KRS-One-voiced character comes to life through augmented reality on your phone screen (via a downloaded app) and delivers a virtual hip-hop show. Flip another page and AR characters voiced by the likes of Common, Queen Latifah, Jamie Foxx, Michael Rapaport and even Harry Potter's Jason Isaacs might pop out of the page to fight a virtual battle against evil forces—all set to original music.
The now Fergie-less Black Eyed Peas have sold more than 30 million albums worldwide, and while they haven't released a new record since 2010's The E.N.D, they've been anything but dormant. With unprecedented AR and a trickle of new features around the experience, Masters of the Sun is a pioneering comic standing in place of a conventional album release. "Every time we come out, there's a hunger for creative expression or creative ways to put out content that isn't duplicated from our last run." says BEP's Taboo. "Whether it's technology, messaging, visual…we're always pushing the envelope."
While a reader can easily enjoy the book as is, the augmented-reality format is worth the effort and, more important, serves as a precursor for something else: a full virtual-reality experience.
Co-written by BEP frontman willi.i.am and writer Ben Jackendoff, and illustrated by Spider-Man artist Damion Scott, Masters of the Sun is a hip-hop adventure that, according to Marvel, "mixes L.A. Gang culture, B-Boy-ism and Egyptology to tell the heroic tale of a Hip-Hop group from East L.A. who must battle an ancient, alien God sent to earth to continue a Black Curse—which turns drug dealers and gangsters into zombies." Music is a central part of the story, which frequently cites "vibrations" as a powerful force to defeat evil. And to take things a step further, the accompanying score, which plays in both story transitions and underneath dialogue, was written by will.i.am along with Oscar-winning composer Hans Zimmer, and co-produced by Grammy-winner Keith Harris. "We were at Hans's recording studio and there was a whole orchestra in there," says BEP's apl.de.ap. "Will was on Pro Tools, Keith [Harris] on drums. It was like a whole factory in a studio."
Along with the score, readers can unlock sporadic tracks throughout the story, like a teaser of "Ice Cream Truck" by KRS-One's Zulu-X character. or a video for the Peas' latest single, "Street Livin'." The song is a boom-bap return to '90s-era Black Eyed Peas, predicated on a bossa nova trumpet sample of Brazilian artist Eumir Deodato's "Pouca Duração." It's a soothing backdrop to a track whose lyrics are analogous to the book's themes that decry systemic racism, police brutality and the drug war.
"Brazilian music has always been a part of us, but it's even more valuable now because of the sentiment or the theme of the actual song," Taboo says. "So I feel like "Street Livin'" is paying homage to what we started and it's touching on a lot of serious themes to DACA, immigration reform, prison control…all the things we address in the video. We had to put it out in the world and we say that it's a diagnosis of what's happening. That's why we did a call to action at the end of the video. On top of that, we incorporated Masters of the Sun at the beginning of the video and at the end so it's all cohesive and ties in to Masters."
If there's a limitation to Masters of the Sun, it's that reading an AR comic through your phone can be clunky. Scanning the page isn't a perfect maneuver and sometimes takes a couple of attempts. But while a reader can easily enjoy the book as is, the AR format is worth the effort and, more important, serves as a precursor for something else: a full virtual-reality experience. The Peas, who partnered on the comic with VR firm Oculus, have a 300-person team at their L.A.-based facility, called The Future, who worked on the book's VR technology, which debuted at Sundance in late January.
"Everything is in-house," says apl.de.ap. "We have over 300 people in one building just working on it. It's like a pinball machine in there just going back and forth."
"I think it's definitely a process," says Taboo. "Before the iPod took off, a lot of people couldn't afford it. And right now the [VR] headset is so big that everybody's not gonna wanna rock a headset for $900. So yes, we're a little bit ahead of the curve…in a beta mentality. It's gonna take some time, but we want to stay ahead of that and add our imprint, cause we're the first ones to ever do this in the comic-book world."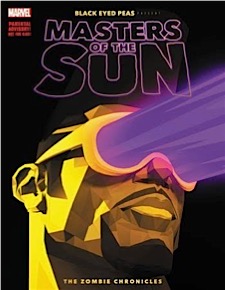 The Future is also intended to serve as a facility for other creators down the line who want to create similar AR and VR experiences. It's an ambitious entrepreneurial step for a group that has a history of them. Will.i.am founded i.am+, a consumer electronics-cum-customer support platform startup that has raised $117 million in venture capital to date. But the group, who formed in 1992 at a hip-hop party put on by Married With Children's David Faustino (yes, Bud Bundy) still have music on their minds. Addressing societal ills and conveying a deeper message, as they do on "Street Livin,'" is a reflection of their personalities: Apl.de.ap is a noted philanthropist in his native Philippines, helping to build classrooms in impoverished communities, while Taboo has been a strong voice and contributor to causes in Native American communities, including the Stand Up/ Standing Rock; efforts with other Native American musicians.
Right now, the group is balancing work on Masters of the Sun and whatever music that comes next. "Music comes in waves you know…we're like the balance," says apl.de.ap. "This is what we're feeling right now and getting our blood pumping. That's what's exciting. You never know on the next album, what will inspire us…we're going on second gear for the next single. The mood for the album we have is like, 'should we keep pushing the message or give 'em that chill vibe?' cause we have both. But we're gonna keep hitting 'em in the head like BAM!"