Listen to Bob Dylan Perform Songs from John Wesley Harding, Released 51 Years Ago Today
Photo by Express Newspapers/Getty
Music
Features
Bob Dylan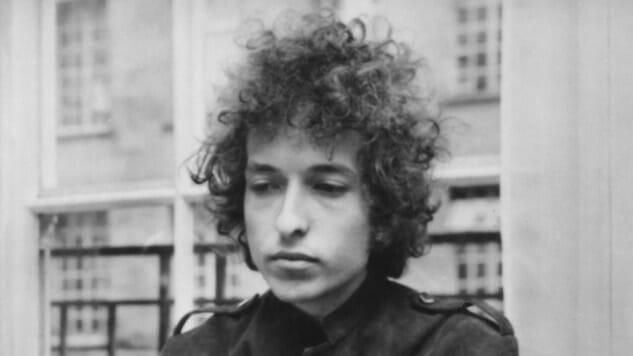 The legacy of Bob Dylan kind of goes without saying. He's one of the greatest songwriters in American history and one of the most important artists of his generation. Since he released his debut album in 1962 and up until 1967, Dylan released one or two albums each year, with the last one of that stretch being John Wesley Harding. Shortly before the release of John Wesley Harding, Dylan's idol Woody Guthrie passed away and Dylan recorded tracks with The Band that would become The Basement Tapes, which didn't come out until 1975. John Wesley Harding marked new territory for Dylan as he set off for Nashville and recorded mostly two-minute acoustic songs inspired by the Bible and the American West.
After Dylan had spent years dabbling in folky protest music, electric blues and rock 'n' roll and writing surreal, poetic musings, John Wesley Harding felt like a rebellion against his own legacy. However, it was well-received by critics and did well commercially, despite no publicity leading up to its release. Of course, traces of the old Dylan were still apparent on the album with songs like "I Pity the Poor Immigrant" and "Drifter's Escape," which demonstrate Dylan's interest in writing about those on the fringes of society. The album spawned one of Dylan's all-time great songs, "All Along the Watchtower," which was later famously covered by Jimi Hendrix.
In 1974, Dylan had just released his fourteenth album, Planet Waves, and he embarked on an extensive tour with The Band, which also spawned the live album, Before the Flood. On Jan. 31, 1974, Dylan played Madison Square Garden, where he performed a searing rendition of "All Along the Watchtower." Dylan speeds up the album version of the track to more closely mirror Hendrix's version and despite this live recording of the track being incomplete due to a tape stock change, this is one of his most feisty recordings with The Band.
Listen to Bob Dylan perform "All Along the Watchtower" in 1974 below.