BODEGA Take the Edge Off But Don't Lose Their Punk Charisma on Shiny New Model
The New York band's new EP serves as a great compliment to last year's Endless Scroll
Music
Reviews
BODEGA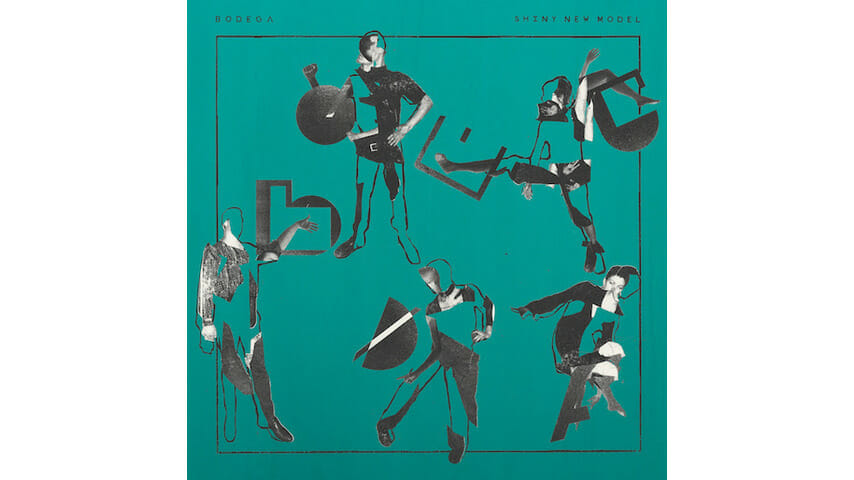 BODEGA have always gone against the grain: Their insane attention to detail and deliberate aesthetic represents the antithesis of slacker rock and bedroom pop trends. From their harsh Parquet Courts-meets-Gang of Four-meets-Television take on post-punk and art-rock to co-lead singers Ben Hozie and Nikki Belfiglio's combative stage personas, every move, every lyric and every sound you hear is extremely calculated. They rage against the machine quite literally—so much of their material references the negative aspects of modern technology and late-stage capitalism—and with only a few exceptions, their instrumentals follow suit, mimicking the dystopian lyrics and Hozie's monotone shouts to paint a pretty bleak look at the world.
That's why it's pretty jarring to hear BODEGA loosen up a bit on Shiny New Model, a standalone EP released a little over a year following their debut record, Endless Scroll.
They open up with a snide joke: "People ask me, "'Ben, what's the deal with all these ATMs?' / Well, have I not been thorough or clear or concise enough?," a line that references their stage setup, their former band Bodega Bay's album artwork for OUR BRAND COULD BE YOUR LIFE and the earrings that Belfiglio commonly wears around Brooklyn. Hell, about halfway through the extended version of "Truth is Not Punishment," (a version of the Endless Scroll album closer that reflects the improvised and lengthy way they perform it live, available only on physical copies of the EP), Hozie starts laughing when speak-singing about trying to take off a seatbelt. Though only a few of the seven punchy tracks on Shiny New Model are as punishing as anything on Endless Scroll, it seems like the Bushwick, Brooklyn and Ridgewood, Queens band is having more fun than ever.
Beginning with "Shiny New Model," an ode to their corner store namesakes and the overcharging ATMs, BODEGA take a lot of the edge off via their newfound shimmering guitar tones and less forceful basslines, giving off more of a vibe of friends jamming in a rehearsal space with no stakes. Describing the space "In the aisle by the cleaning supplies / In the corner by the stale crackers" by "All the bottles and the stale Pringles / All the six packs and the paper towels," a pretty distinct setting for any New Yorker, the backing instrumentals recall the indie college rock of bands like Dinosaur Jr. or even Yuck. While the song does still explore the capitalistic idea of forced obsolescence ("You can increase up your service charge, but you're competing with a shiny new model," "Pray it will save you from a data dictator"), the title track feels lighter than anything BODEGA has put out before with the exception of the introspective "Charlie" off of Endless Scroll.
"Treasures of the Ancient World" sees Hozie lose the monotone vocals and sing a bit more, while the sub-minute "Realism," a song about printing copies of nude photos of an ex just to tear them up, is a mid-tempo indie rock jam that ends before it reaches a chorus. Belfiglio takes center stage on "Domesticated Animal," but unlike her lead vocal tracks on Endless Scroll ("Gyrate" and "Margot"), the song is based around a simple, bouncy processed beat, a far cry from the wiry and upbeat tracks that tear the house down when played live.
But none of this is to say that by toning things down a tad, BODEGA lose their incisiveness or punk charisma. In fact, the opposite may be true. They don't have to be angry all the time to get their point across, and the vulnerability they show throughout these six new songs showcases a band having a bit more fun than they'd like to let on. The "Truth is Not Punishment" re-recorded versions aside, we're left with just over 12 minutes of new material, but that's more than enough to tide us over until next LP. And if anything, songs like "Shiny New Model" and "Knife on the Platter," even though they more noticeably embrace indie rock, will still fit right at home between "Can't Knock the Hustle" and "Name Escape" in the tours to come.