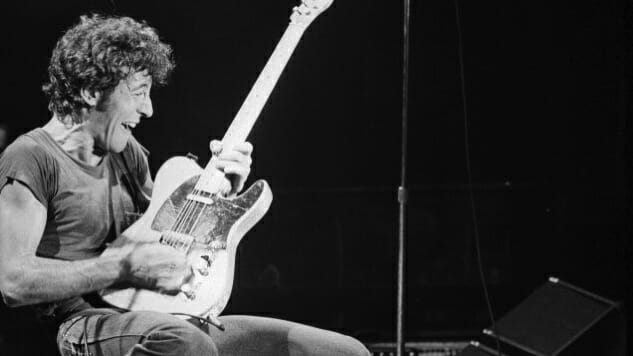 Bruce Springsteen took the stage at the Capitol Theatre in Passaic, New Jersey 40 years ago as a man on a mission to prove that he wasn't a flash in the pan who was washed up at just 28. He delivered to the 3,200 fans in attendance not merely a great show but the concert that many consider the single-best performance of his career, one captured for posterity on a WNEW-FM simulcast broadcast throughout the East Coast and recorded with then state-of-the-art video technology at the venue itself.
"I'd just recently vanished for three years," Springsteen wrote in his autobiography, Born to Run. A dispute with his manager had delayed the release of his follow up to the Born to Run album for nearly three years, an impossibly long time in the industry at the time. "[I] had barely felt visible most of my life, and if I could help it, I wasn't going back."
Richard Neer was simulcasting the show that night and realized from the start that something was different. "Usually Bruce would say something before the show for the simulcast in a joking way like he was a boxer ready to take the ring." But there was no mock Muhammad Ali on this night.
"Bruce didn't say anything that night," remembers Neer, now a novelist with his latest book being the soon-to-be released, The American Storm. He was so amped up, "He just couldn't wait to get out there. Bruce has done so many shows and many argue which one was the best one. But this one had a lot of energy. It meant a lot for him to be in New Jersey. It seems ridiculous now, but then he really had to prove he wasn't a one-album guy."
While many shows on this tour opened with a cover, Springsteen decided to begin this night with a version of "Badlands" delivered with such fiery passion that it's hard to believe there was anywhere left to go for the remaining three-plus hours.
Springsteen shows are communal events. And the birth of that really began on this tour. His fans by then had absorbed his recordings to the point where they could participate in the show in some odd dichotomy of both choreography and spontaneity. The audience never really knew how far and exactly when Springsteen would let them venture into the show—or how far he literally would venture into the crowd. On this night, it was farther than ever before, according to Neer on the simulcast that night. And this was after Clarence Clemens took the saxophone solo into the crowd as well in "Spirt In The Night."
Springsteen's story telling, now honed to the point where he can carry a Broadway show not merely with his music but his words, is in fine form in "Thunder Road," as well as his politics and his humanity. The power of the introduction moves the crowd to a spiritual connection rarely seen in rock and roll. Suddenly, he has more than 3,000 backup singers. There's one big stage at a Springsteen concert, especially in that period, and the audience was on it. And that would become a defining characteristic of the Springsteen concert experience.
This tour featured for the first time the two-set Bruce concert experience. The show was broken up this way, Springsteen says, so he could give the audience the new material from the Darkness On The Edge Of Town album that he felt they needed to hear, along with the then more established music that they wanted to hear.
"The live power, the strength of the of the E Street Band proved invaluable and, night after night, we sent our listeners away, back too the recorded versions of this music, newly able to hear their beauty and restrained power," Springsteen wrote.
The "Darkness" material was so powerful live that this bifurcation soon became unnecessary. And songs from Darkness also bled into the second set. They were received with enthusiasm rarely seen at shows featuring new material. "Candy's Room" here is the best example of this, about two hours into the show. Bruce's restraint as he holds the artillery that he and the audience knows is coming in full fury is thrilling.
But Springsteen doesn't want you to feel just something at a concert. He wants you to feel everything. The entire range of human emotion condensed into one, unforgettable night. And his commitment every night to delivering this has never been better chronicled.
"I want an extreme experience," he told The New Yorker in 2006. When you leave, he wants, "your hands hurting, your feet hurting, your back hurting, your voice sore, and your sexual organs stimulated!"
"10th Avenue Freeze Out" is three hours into the show, with Bruce drenched despite playing on what Neer said was a very cold September night. But his enjoyment is palpable and infectious.
"For an adult, the world is constantly trying to clamp down on itself," Springsteen said in that 2006 interview. "Routine, responsibility, decay of institutions, corruption: this is all the world closing in. Music, when it's really great, pries that shit back open and lets people back in, it lets light in, and air in, and energy in, and sends people home with that and sends me back to the hotel with it. People carry that with them sometimes for a very long period of time."
There's no letup, with the show closer featuring fans on the stage as Bruce triumphantly exiting with a woman from the crowd strapped to his arm.
Could it really be that Springsteen's greatest concert ever was in a former porn palace in Passaic, N.J., a site that became a venue only to fill the area void created by he closing the Fillmore East? (The Capitol declined after a Sgt. Pepper year in 1978 featuring not just Springsteen but also The Rolling Stones and The Who; it eventually closed when the then Brendan Byrne Arena was opened a few miles away in East Rutherford, ironically by Springsteen before the paint was even dry.)
Part of this show's legacy was that it was recorded in radio quality and went on to become one of the most bootlegged concerts in history. Not to mention the video. Here it's listed in the top spot on a very well-thought-out list of Springsteen performances. And note the live recording released by Springsteen last year was of the show at the venue the next night, featuring a revamped set list (another Springsteen innovation to keep the crowd even more on edge). Of course, the top Springsteen performance ever is no doubt a very strong contender for the best rock concert in history, too. All in an obscure New Jersey town, with Springsteen spurred on by fear of irrelevance and a desire to live out one of his iconic songs.
"Everybody's got a hunger, a hunger they can't resist
There's so much that you want, you deserve much more than this
But if dreams came true, oh, wouldn't that be nice
But this ain't no dream we're living through tonight
Girl, you want it, you take it, you pay the price"
Watch the full, nearly-four-hour concert below: