Cage the Elephant Get Dark with "Ready to Let Go," Lead Single/Video from Forthcoming Fifth Album
Social Cues is due out in April
Photo by Neil Krug
Music
News
Cage The Elephant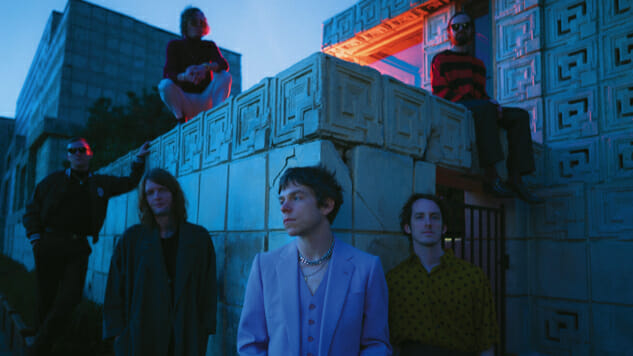 Cage the Elephant announced Thursday their fifth studio album, Social Cues, out April 19 via RCA Records. The Grammy Award-winning alternative-rock outfit ushered in their return with a chilling new video to accompany their latest single, "Ready To Let Go."
With cult-like motifs reminiscent of Suspiria or Eyes Wide Shut, "Ready To Let Go" does anything but let the viewer go, opting instead to lure curious onlookers in with an intoxicating, blood-spattered strangeness you can't quite look away from. Ominous landscapes punctuated by glowing, blood-red light, a ceremonial orgy, latex bodysuits and carefully dressed altars seem all at once enchanting and unsettling, both eerie and erotic.
The video was directed by the band's very own lead singer Matt Shultz, who created the majority of the material for Social Cues while processing the unraveling of his own relationship. "It can be a vehicle to act out things that are hard to confront," Shultz said of his creative process. "When I'm creating, I try to put myself in a reactive state of improvisational thought. I let images just arise in my mind and wait for it to evoke an emotional response and then when it does, I know I'm on to something."
Social Cues, produced by John Hill (Santigold, Florence + The Machine, Portugal. The Man, tUnE-yArDs) is the follow-up to the band's Grammy-winning studio album Tell Me I'm Pretty. Its 13 tracks include a Beck feature titled "Night Running." The album is available for preorder now.
Watch the video for "Ready To Let Go" and listen to Cage the Elephant's 2009 Daytrotter Session below, and find the details of their forthcoming album further down.
Social Cues Tracklist:
01. Broken Boy
02. Social Cues
03. Black Madonna
04. Night Running (Cage The Elephant, Beck)
05. Skin and Bones
06. Ready To Let Go
07. House of Glass
08. Love's the Only Way
09. The War is Over
10. Dance Dance
11. What I'm Becoming
12. Tokyo Smoke
13. Goodbye
Social Cues Album Art: