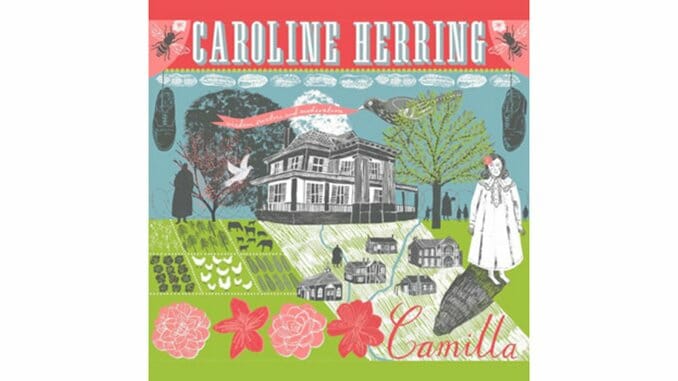 Folksinger Caroline Herring has quietly but steadily been building a canon. It began back with her debut record, Twilight, in 2001. From the start she received many accolades, including "Best New Artist" at SXSW. Since then, the praise has continued to come in droves for her five subsequent albums. Camilla continues this construction project with her now-trademark deft craftsmanship, stirring storytelling and timeless tales that reveal a songwriter whose gifts of keen observation are being honed more sharply with each outing. Here, with Camilla, we have again Herring the historian, the storyteller who excels at chronicling and mythologizing historical figures who might otherwise exist only on the fringes of American folklore.
Her assured, haunting voice and the beauty of her melodies belie the weight of her topics. On the title track she recalls the steely courage of a civil rights-era heroine. It's the story of Marion King, who was brutally beaten by a sheriff's deputy in Camilla, Ga. in 1962 while lobbying for a friend's parole. On this song Herring's singing is captivating, but even her enunciation becomes an instrument unto itself as she elucidates the carrying of a "cass-er-ole" (and how often do you hear anybody use the word "casserole" in a song lyric anyway?).
She covers similar territory on "White Dress," which recalls the story of Mae Frances Moultrie, the freedom rider who survived a bus firebombing in Anniston, Ala. Lifted by the transcendent pedal steel playing of Fats Kaplin (part of Herring's backing band The Nashville Band) the evocative and haunting "White Dress" typifies Herring's brand of Southern gothic— quiet grace and beauty in the face of fierce struggle and the horrifying side of humanity.
These themes permeate the collection, complemented by "Maiden Voyage," a recounting of Herring and her daughter driving to Washington, D.C. for the inauguration of Barack Obama, only to be shut outside the barricades while the "privileged held." Herring responds by teaching her daughter to put her hand on her heart while singing, "This Land is Your Land." It's a poignant picture, where Herring shows her knack as a vivid storyteller. She treads other folkie idioms too with a tale of mountaintop mining catastrophes in "Black Mountain Lullaby."
Conjuring these real-life tales into powerful songs is what she does best. And she's always traded in these earnest, warbling story-songs. Previously, she pondered the state of mind of Susan Smith, the South Carolina woman who drowned her own children, on 2008's "Paper Gown." She paid homage to the artist Walter Anderson with "Tales of the Islander" on 2009's Golden Apples of the Sun. Here she adds Marion King and Mae Frances Moultrie to the expanding cast of characters in her canon.
Herring's songs always seethe with linguistic feats of literary prowess and sometimes outright literary references too. For a woman who once penned a tune based on her favorite character in a Larry Brown novel ("Song For Fay") and set to music poems by W.B. Yeats, it's no surprise to see her turn in a tune based on a Eudora Welty short story—the compelling a cappella number "Traveling Shoes," which was inspired by Welty's "A Worn Path."
Throughout Camilla, Herring manages to traverse moods that embody both levity and misery. The banjo stomp of "Fireflies" joyously describes a little girl chasing fireflies. Meanwhile, the anguished ache of "Until You Go" is a powerful rumination on death that finally concludes with the concession that "time is no healer/pain makes me human." Weighty observations, beautifully rendered. Her forté.
In addition to the splendid Nashville Band, Herring is joined by sisters in arms Claire Holley, Mary Chapin Carpenter, Jackie Oates and Kathryn Roberts on background vocals on several tracks, which lends a gorgeous layering of voices to these strong songs.
This latest installment from Caroline Herring is the yet another brick in that now towering canon of songs, songs that are creating a folktale mythology of rich and vibrant characters who are struggling through hardships with amazing fortitude. It's great to watch it grow.