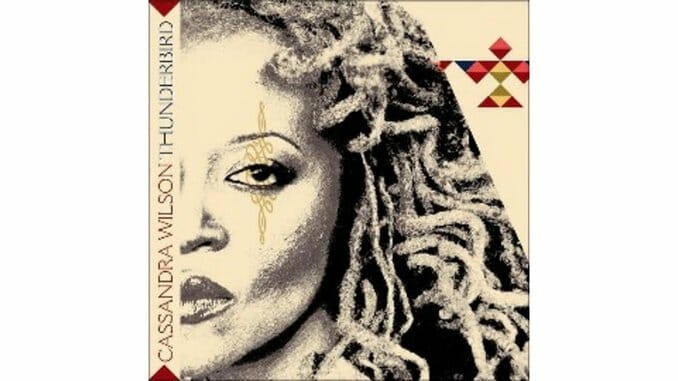 Sounds of Thunder: Intimate songbird whistles a new tune
Since her 1993 breakout release, Blue Light Til Dawn, vocalist Cassandra Wilson has fused blues, soul, jazz and a handful of other idioms into a unique and powerful amalgam. Unified by her smoky voice and highlighted by her savvy choice of covers, ranging from Dylan's "Lay Lady Lay" (done with Afro Cuban accents) to a delightfully dusty take on The Monkees' "Last Train to Clarksville," Wilson has spent the last 13 years building a formidable catalog. While her deep voice bears a resemblance to Nina Simone's, her style shares more in common with the powerfully intimate croons of Shirley Horn. Wilson's vocal stylings also owe small debts to jazz greats like Abbey Lincoln and Betty Carter, but none of these legends possessed the front-porch magnolia sound distinguishing Wilson's last five discs. On those recordings you expect to hear crickets in the background.
Her latest, thunderbird, offers a different sound. Produced by T Bone Burnett and bassist/keyboardist Keefus Ciancia, the recording's broad, open sound is built around keyboards rather than small percussion instruments and gentle acoustic guitars. A stellar group of sidemen including drummer Jim Keltner and guitarist Marc Ribot ?esh out the songs. But the change in music hasn't altered Wilson's overall aesthetic; she's still delving deeply into the roots of the Delta and celebrating its eclectic possibilities. The recording takes its name from the Native American legend about the animal that brought calm and growth to its haunts, and Wilson claims this spirit guided the collaboration.
Wilson's repertoire still leaps all over the map. She turns Jakob Dylan's "Closer to You" into a twilight stroll, but she dips into her voice's lowest registers to wring every drop of sultriness from Willie Dixon's "I Want to Be Loved." The traditional "Red River Valley" gets a magisterial arrangement highlighted by dense guitar chords. The record's centerpiece is Blind Lemon Jefferson's "Easy Rider" which succeeds on the strength of Wilson's quivering, lament-deepening vocals.
Over the last decade, Wilson—a Mississippi native who lives in New York City—had grown as a songwriter, deftly fusing urban meditations with rural sounds, but on thunderbird her originals seem less fully developed, as if she hasn't quite figured out how to write for the new band. Burnett's two contributions, "Lost" and "Strike a Match" resonate more deeply.
Wilson's new sound may fluster the fans she's gained in the last 10 years, but that's been a hallmark of her career. When she arrived in New York, she fell in with the Brooklyn-based M-Base Collective in the '80s; then in '88—just when she seemed like the diva of the futuristic-jazz-funk crowd—she released Blue Skies, a collection of jazz standards with a traditional trio accompaniment. The disc became a huge hit. Many of her Blue Skies fans resented her Blue Light… material and the music that followed, deeming it a sell-out. But she eventually won over most doubters. And with thunderbird, she's poised to do it again.