Watch Chance the Rapper Go Undercover as a Lyft Driver in Video for CPS Philanthropy Fund
The video is part of Chance's partnership with Lyft through his New Chance Fund
Photo by Lyft
Music
News
Chance the Rapper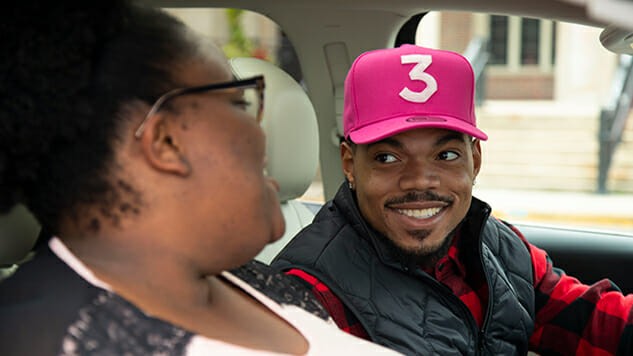 Chance the Rapper, philanthrope extraordinaire, has released a video as part of his collaboration with Lyft's Round Up and Donate program. The rapper has partnered with Lyft through his youth outreach and empowerment program SocialWorks, an institution focused on "fostering leadership, accessibility, and positivity within the youth throughout Chicago," per their website.
The partnership, which was announced back in September, utilizes Lyft's Round Up and Donate feature, and will donate all proceeds to SocialWorks' New Chance Fund, which "ensures arts enrichment education for Chicago schools in need." Chance has been an active proponent of change in the Chicago education system in recent years. In 2017, he met with Illinois governor Bruce Rauner to discuss CPS funding, and later that year Chance donated $1 million to Chicago public schools and raised $2.2 million more to benefit 20 underfunded neighborhood schools through the New Chance fund.
The video features Chance, decked out in wraparound shades and a face-obscuring beanie, picking up various Chicago residents under the guise of a Lyft driver named John. Along the ride, he drops increasingly obvious hints to his identity. Some particularly great moments: "Are you going to 79th? 65th and Ingleside?" "Sometimes people spill fries on the seat. They lie on the seat, fart on the seat." To top it off, various passengers tell him that Chance is their favorite rapper. "I hope this video encourages even more folks to give back just by taking a Lyft," Chance said in a statement. If they have people thinking there's a chance they get Chance as a driver, they should have zero problems.
Watch the video below.