David Byrne Releases Official Video for His Choir-Backed Cover of David Bowie's "Heroes"
Image via Choir! Choir! Choir!/YouTube
Music
News
David Byrne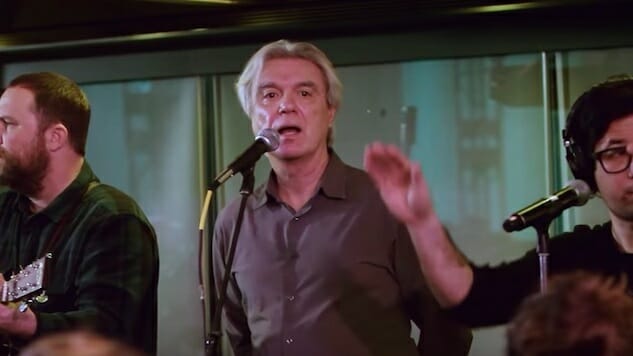 Former Talking Heads frontman David Byrne has released an official video for his live cover of David Bowie's "Heroes" with Choir! Choir! Choir! in New York.
Following the news of Byrne's forthcoming album American Utopia and its accompanying world tour, Byrne joined Choir! Choir! Choir! on Jan. 13 for a performance at Under The Radar Festival.
Choir! Choir! Choir! is a group, founded by Daveed Goldman and Nobu Adilman, that performs by open participation. They became wildly known thanks to their viral video of Rufus Wainwright performing Leonard Cohen's "Hallelujah" just before Cohen's death.
The official video for "Heroes" features Byrne singing with a crowd of people who learned the back-ups for the song and practiced for an hour prior to the performance. The video was filmed live in the Ford Foundation Lobby of the Public Theater in New York City.
Byrne and Choir! Choir! Choir! also covered Madonna's "Borderline" during their Jan. 13 performance, which you can watch here.
Watch Byrne's official video for "Heroes" below, and listen to Bowie himself performing the song circa 1987 via the Paste Cloud player beneath that.