Watch David Byrne Perform on SNL for the First Time in 31 Years
Images courtesy of Will Heath/NBC, NBC
Music
News
David Byrne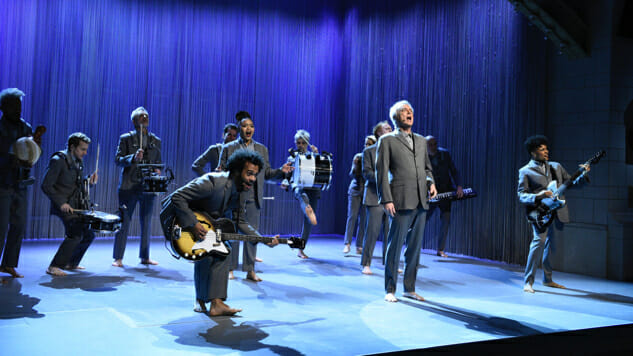 Former Talking Heads frontman David Byrne was the musical guest on the Feb. 29 episode of Saturday Night Live, with comedian John Mulaney hosting. Fresh off his recently extended American Utopia Broadway residency and word that Spike Lee will direct the film version of the show, Byrne performed an epic rendition of "Once in a Lifetime," which appears similarly in his Broadway show. Byrne also performed "Toe Jam" from his collaboration with Fatboy Slim as The Brighton Port Authority.
The last time Byrne performed on SNL was in 1989 when he released his debut solo album, Rei Momo.
Byrne also joined in on the show's "Airport Sushi" sketch, playing an all-knowing LaGuardia baggage handler who chucks suitcases into the Long Island Sound. After poking fun at the dilapidated airport through popular Broadway song parodies, the cast (including surprise guest Jake Gyllenhaal) end the sketch by segueing into an airport rendition of "Road to Nowhere."
The extended run of American Utopia will begin Sept. 18 at the Hudson Theater and close on Jan. 18, 2021. The Lee-directed film version of the show is expected to hit theaters later this year.
You can watch Byrne perform "Once in a Lifetime" and "Toe Jam," and appear in the "Airport Sushi" sketch below. Further down, check out a 1980 performance of "Once in a Lifetime" by Talking Heads from the Paste archives.