David Byrne to Rock Broadway This October with American Utopia Theatrical Event
Images via Catalina Kulczar, American Utopia Broadway
Music
News
David Byrne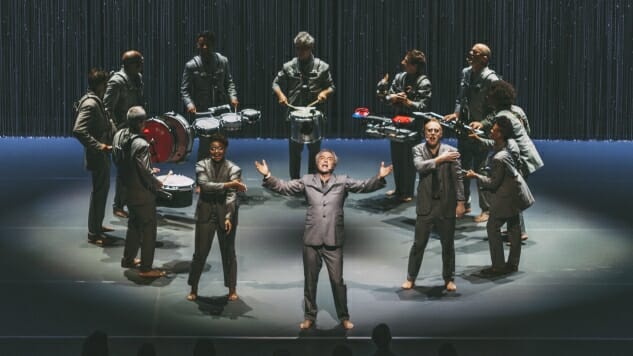 The inimitable mega-talent David Byrne is ready to blow minds on Broadway. Byrne is prepping his stellar American Utopia show for a limited engagement at NYC's famous Hudson Theatre starting Oct. 4, followed by an official opening Oct. 20 and closing out Jan. 19, 2020.
American Utopia is rooted in Byrne's 2018 album of the same, which peaked at number one on the Album Charts and reached top five on the Billboard 200, a first for the artist. The show will also feature songs spanning his decades-long career as a solo musician and as the former lead of the influential avant-garde art-rock band Talking Heads.
In a statement, Byrne recounts the process of adapting for the Great White Way a show that sold out 150 dates in 27 countries over nine months in 2018:
As I was recording the songs for my American Utopia album it occurred to me that they would be exciting to play live, and I realized that a lot of my older material would fit right in … I imagined a live show… I pictured a lot of drummers, a kind of drum line/samba school/second line that would create the rhythms.
Because of how theatrical the show is, others started telling me, "This needs to go to Broadway." Why not? But what did that mean? Parked in a beautiful Broadway theater, we can perfect the sound, the lights, the movement. I thought to myself that this new context might be good, it might bring out the narrative arc a little bit more, to make it just a little more explicit. I asked [production consultant] Alex Timbers, whom I'd worked with twice before on musicals, to help. He brought some original and insightful ideas to the room, ideas I was too close to imagine, and we used those to build on what we had.
Byrne and an ensemble of 11 musicians also plan to bring American Utopia—choreographed by Annie-B Parson—to Boston's Emerson Colonial Theatre for a limited, pre-Broadway run of 18 shows from Sept. 11-18.
Paste had the pleasure of catching Byrne's American Utopia show back at Shaky Knees last May, with Editor-in-Chief Josh Jackson praising it as "the best set of the day," one defined by its innovation and "full of an infectious joy."
Scope out the promotional poster for David Byrne's American Utopia below and hear a 1984 Byrne interview from the Paste archives further down. American Utopia tickets are available here.