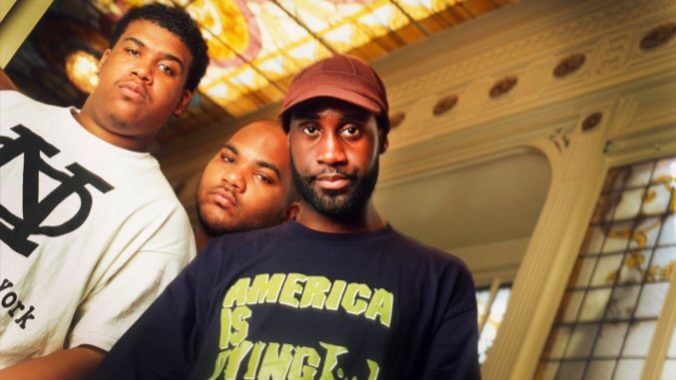 2023 was set to be a banner year for De La Soul. The beloved hip-hop trio had been languishing in musical purgatory for the past couple of decades, trapped by an archaic legal dispute which allowed rights clearances for their samples in physical media, but not digital downloads or streaming. After years of legal wrangling and record-label spats, the group finally announced in January that an agreement had been reached. They even settled on an auspicious date for the long-awaited release of their music on streaming and download platforms—March 3, referencing the "three is the magic number" refrain of one of their most popular hits.
"We can't believe this day is finally here," the astonished trio said in a statement. But the breakthrough agreement that was set to finally get De La Soul's music out there again, offering a new beginning and opening them up to a new generation of fans, has now become a legacy project. Less than a month before the 3/3 release date, the news came that band member David Jolicoeur—known by his nicknames Trugoy the Dove, Plug Two, and Dave—had passed away. At just 54 years old, Dave's death came as a major shock to fans and artists around the world, though, a few years earlier, he had revealed his health issues with congestive heart failure, which forced him to wear a portable defibrillator.
The release of De La Soul's music, after such a long and arduous battle, should have been an occasion of unbridled joy. Now, it is overwhelmed by sadness. But the best way to honor Dave's memory is to celebrate the musical legacy he and his bandmates Kelvin 'Posdnuos' Mercer and Vincent 'Maseo' Mason have left behind. With that in mind, we're pleased to provide a concise guide to the six classic De La Soul albums which are making their way to streaming and download services today—for fans new and old.
3 Feet High and Rising (1989)
De La Soul's debut album is their undisputed masterpiece and one of the greatest hip-hop albums of all time. The trio were barely out of high school when they teamed up with producer Prince Paul to create a record that completely subverted the prevailing ethos and aesthetics of contemporary hip hop. Their innovative use of sampling drew on unlikely sources—everything from Liberace to a French vocabulary tape. And their lyrics entered into bizarre and surreal territory, including songs about dandruff and Dr Doolittle-esque interactions with animals. What ultimately makes 3 Feet High and Rising a great album is its individuality. Dave, Posdnuos and Maseo made a record that appealed to their own sensibilities, without trying to be anyone else, as exemplified by the album's most successful single, "Me Myself and I." Their easygoing humor permeates the 67 minutes of runtime—unusually long for a hip-hop album of that era—allowing the time to fly by and making it as much of a joy to listen to today as it was on its release.
Standout track: "Potholes in My Lawn"
3 Feet High and Rising is packed with incredible tracks. But "Potholes in My Lawn" might be the best exemplar of De La Soul's early sound and idiosyncrasy. Drawing on a gardening metaphor to critique lesser MCs, the track highlights their lyrical creativity. And, with a jaw harp and yodeling sample to cement the chorus, it provides a pivotal example of De La Soul's ability to blend the most unusual sounds into something truly original.
De La Soul Is Dead (1991)
The flowery décor of their debut album had De La Soul branded as "the hippies of hip hop." But it was a label they disliked—no one would define them except themselves. So, they titled their follow-up De La Soul Is Dead and adorned the album cover with a broken flowerpot. The contents inside showed a desire to create a new image for the group too. The fourth track (out of 27) includes an anecdote about Maseo starting a fight after a clubgoer calls him a hippy. And "Millie Pulled a Pistol on Santa"—a song about a girl suffering abuse from her father, who works as a Macy's department store Santa—strayed into darker territory than anything on 3 Feet High and Rising. Dave later described it as "one of the first songs I recall approaching with some seriousness". But the light-heartedness of their earlier material was there too. The album's first single "A Roller Skating Jam Named 'Saturdays'" delivered the fun that its title promised, while "Bitties in the BK Lounge" provided humor with an unfulfilled fantasy of being recognized by a beautiful cashier at Burger King.
Standout track: "Ring Ring Ring (Ha Ha Hey)"
With a chorus hook cribbed from a Curiosity Killed the Cat song, this single demonstrated once again De La Soul's ability to draw on an unlikely array of diverse influences. The result is possibly the catchiest song in their entire oeuvre. And it's also one of the funniest, taking as its subject the plethora of wannabe rappers who bombarded them with demo tapes in the aftermath of their debut success.
Buhloone Mindstate (1993)
De La Soul's third album was a transitional record. Their final collaboration with producer Prince Paul, who was critical in shaping their early sound, it was also created at a time when their New York rap community, known as the Native Tongues, was drifting apart. The result was a jazzier album, with a much tighter runtime than its predecessors. Upon release, it didn't do much for the group commercially. But it's since become the "connoisseur's choice" of De La Soul albums. In 2022, Rolling Stone ranked it at 65 on their list of the greatest hip-hop albums of all time—higher than any other De La Soul album, except for 3 Feet High and Rising. Canadian DJ A-Trak also singled it out in a Twitter tribute after Dave's death, describing it as an album that "shaped me".
Standout track: "Breakadawn"
With a chorus sampled from the Smokey Robinson tune "Quiet Storm," coupled with a laid-back beat, "Breakadawn&#" seemed to suggest that the continued spirit of De La Soul was as inevitable as the gentle calm that comes at the start of each new day. Posdnuos concluded the track with a reference to old-school hip-hop pioneers the Sugarhill Gang, before dismissing "the normal rappin' fool" of his present day—suggesting a grievance with contemporary hip-hop culture that would become more overt on De La Soul's next album.
Stakes Is High (1996)
De La Soul's fourth album was the first time they had the title for the record in mind before they even started on it. Originally this title referred to themselves. With the departure of their long-time producer Prince Paul and the commercial disappointment of their previous album, it represented a last chance for the group. But the title soon grew into something much greater. As the album came together the 'stakes' began to encompass what the group saw as a decline in hip-hop culture, and a broader discontent with political realities. The result is their angriest record and one in which the zaniness of their previous albums is almost entirely stripped away. Posdnuos said that it was their equivalent to Marvin Gaye's What's Going On. And though he quit before the album production truly got underway, Prince Paul would later single it out as "probably my favorite De La record."
Standout track: "Stakes Is High"
In previous records De La Soul's grievances with the gangsta aesthetics and shallow materialism of mainstream hip-hop culture had generally been expressed in subtle gibes. On "Stakes Is High" they spoke directly—most powerfully through Dave's verses: "I'm sick of talkin' 'bout blunts, sick of Versace glasses / Sick of slang, sick of half-ass awards shows / Sick of name-brand clothes." In this way, the title track became not only the thesis statement for the Stakes Is High album, but a summation of De La Soul's career-long philosophy. And it is a strong contender for their greatest song.
Art Official Intelligence: Mosaic Thump (2000)
Despite establishing a new sound with Stakes Is High, De La Soul decided to go in another new direction with their fifth album. They conceived it as the first of a trilogy, based around the Art Official Intelligence moniker, which would later be recycled as the name for the group's AOI Records label. Though the planned trilogy was never completed, this first installment set the template for all subsequent De La Soul records, which have generally been defined by an abundance of guest artists and guest producers. This album may have been more uneven than earlier De La Soul releases, but it secured them a rare Grammy nomination for "Oooh," a track which featured Redman and would later become a staple of their live performances.
Standout track: "All Good?"
Amidst an impressive, but predictable, line-up of hip-hop royalty guest stars on the Mosaic Thump album—from Busta Rhymes to the Beastie Boys—R&B singer Chaka Khan seemed like the odd one out. But the "Queen of Funk" helped create the album's most memorable track. Her vocals carry the chorus hook, as well as the bridge, while Posdnuos and Dave's verses chart the group's fluctuating fortunes: "We were certified hot, then dropped to lukewarm / Now we back up in the spot, claiming never been gone."
AOI: Bionix (2001)
The second installment of De La Soul's planned AOI trilogy was also the last. But, more importantly, it was also their last album with Tommy Boy—the record label that would plunge them into years of legal disputes and controversy, which left them languishing in physical-media obscurity through the dawn of the digital-music era. Shorter and tighter than its predecessor, AOI: Bionix was a more satisfying album. The final track, "Trying People," was one the trio were particularly proud of. Recorded just after the September 11 attacks on their native New York, the song struck a solemn tone, with personal verses on pushing through in the face of adversity, including Dave's admission: "I cry a lot but admit to it / Enjoying life now but I've been through it."
Standout track: "Held Down"
This gospel-infused hip-hop masterwork might be De La Soul's most underrated track. A paean to individual agency, it warns against those who may push divergent thinkers to "fall in line," while also recognizing that "the biggest suppressor could be your own ego." It's held together by a rapturous guest vocal from Cee Lo Green, powerfully backed by a gospel choir on the latter choruses. It's a track that deserved more attention from the critics on release. But now, with its arrival on streaming it at least has an opportunity for a new lease of life.
After these six classic albums, De La Soul released three more studio albums, as well as a Nike-branded mixtape—all of which have already been available on streaming and download services since their release. They also made a name for themselves through their memorable guest performances with other artists—most notably Gorillaz, with whom they picked up their only Grammy Award for their work on the smash hit "Feel Good Inc."
But now that their entire back catalogue is becoming available, a new generation of fans can get a fuller picture of their remarkable and diverse career. Their signature song "The Magic Number" was already exposed to a new fanbase when it was featured in the Marvel blockbuster Spider-Man: No Way Home in 2021. Now with their music made widely available at last, there will doubtless be even more opportunities for the De La Soul sound to be rediscovered for years to come.
At the moment, the future of De La Soul is uncertain. It seems unlikely that Posdnuos and Maseo can continue under the De La Soul name as a duo. But perhaps there are unreleased tracks out there, or unfinished recordings that can be polished into complete songs. Regardless of what the future holds, De La Soul's arrival on streaming and download services shows the breadth of their achievement over 35 years of music. No matter what they do next, their legacy is cemented as one of the most innovative hip hop groups of all time.
Christian Kriticos is a freelance writer based in London, England. You can find more of his work at "christiankriticos.com":https://www.christiankriticos.com.