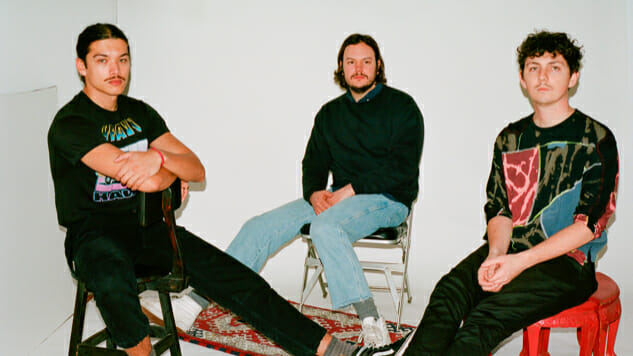 Daily Dose is your daily source for the song you absolutely, positively need to hear every day. Curated by the Paste Music Team.
Chicago post-punks Deeper have shared another single from their forthcoming second album Auto-Pain (March 27, Fire Talk), "Lake Song." The band has also unveiled new spring tour dates in North America and Europe.
"Lake Song" finds Deeper further incorporating electronics into their sound while still maintaining deft control of tone: The song begins faintly, then steadily grows more forceful, like a negative thought overtaking a troubled mind. Built on a drum machine beat and thrumming bass line, the song interweaves dizzy guitars with phosphorescent synths as singer/guitarist Nic Gohl conjures up the complex feelings of nihilism and helplessness that come with caring for someone beset by mental illness—"I just want you to feel sick," he sings, ruing a problem he can't solve.
"We grow up learning and eventually intuiting how to take care of people who are physically hurt or sick," says Gohl in a statement. "On the other hand, caring for those struggling with mental illness is a constant process of grappling to understand the complex nuances that then dictate the best care and approach. 'Lake Song' is about supporting a loved one struggling with mental illness and wishing the pain they experience was easier to cure, like a head cold or broken bone."
Deeper's new album comes, after all, from a place of profound grief and loss: The band's late guitarist Mike Clawson died by suicide after leaving the band in 2019, and with Auto-Pain, Gohl, guitarist Drew McBride, bassist Kevin Fairbairn and drummer Shiraz Bhatti strive to honor their fallen friend, as well as to call attention to the invisible struggles Clawson and so many others, in the music world and beyond, deal with every waking hour.
"I think most people with problems with depression or mental wellness don't really seek out help, especially in our generation and older. I don't think we're taught to reach out. I guess we are now gradually destigmatizing it," Gohl told Paste in January. "But growing up, if I were to tell my mom I was depressed, she would flip shit, you know, like, 'What's wrong with you?' I feel like we're not taught how to treat that kind of illness. We're taught how to treat a head cold or a scratch on the arm, but when it comes to your mental health, people are afraid to talk about it in an open and productive way."
"Lake Song" is the second single from Auto-Pain, following the January release of "This Heat." Paste named that track one of last month's best. Auto-Pain, meanwhile, follows Deeper's acclaimed 2018 self-titled debut.
Currently touring Europe alongside Twin Peaks, Deeper head out on a co-headlining leg alongside Corridor in March, which includes a SXSW showcase. Their new dates comprise 20 shows in Europe, the U.K. and North America, running through the end of May.
Listen to "Lake Song" below and see Deeper's complete tour itinerary further down—new dates are in bold.
Deeper Tour Dates:
February
25 – Brighton, U.K. @ CHALK *
26 – London, U.K. @ Electric Brixton *
27 – Salford, U.K. @ BBC6
March
04 – Brooklyn, N.Y. @ Rough Trade #
06 – Savannah, Ga. @ Savannah Stopover #
07 – Orlando, Fla. @ Will's Pub #
08 – Tampa, Fla. @ Gasparilla Music Festival #
09 – Miami, Fla. @ Gramps #
11 – Tallahassee, Fla. @ The Wilbury #
12 – New-Orleans, La. @ TBD #
13 – San Antonio, Texas @ Paper Tiger #
14 – Houston, Texas @ Satellite Bar #
16-20 – Austin, Texas @ SXSW
22 – Hot Springs, Ark. @ Valley of the Vapors
23 – Nashville, Tenn. @ DRKMTTR #
24 – Atlanta, Ga. @ 529 #
26 – Richmond, Va. @ Poor Richards #
April
02 – Chicago, Ill. @ Lincoln Hall (Record Release)
11 – Paris, France @ L'International
12 – Zwolle, Netherlands @ These Go To Eleven Festival
13 – Brighton, U.K. @ The Hope And Ruin
14 – Oxford, U.K @ The Wheatsheaf
15 – Manchester, U.K @ Yes
16 – London, U.K @ Windmill Brixton
17 – Rotterdam, Netherlands @ Motel Mozaique Festival
18 – Utrecht, Netherlands @ Stathe
20 – Cologne, Germany @ Hangende Garten
21 – Hamburg, Germany @ Hafenklang
22 – Berlin, Germany @ Schokoladen
23 – Prague, Czech Republic @ Rock Cafe
24 – Zurich, Switzerland @ Gonzo
25 – Luxembourg. Luxembourg @ Out Of The Crowds Festival
26 – Brussels, Belgium @ Volta
May
05 – Seattle, Wash. @ Back Bar
09 – Los Angeles, Calif. @ Hi Hat
14 – Dallas, Texas @ Ruins
15 – Austin, Texas @ Mohawk
16 – San Antonio, Texas @ Paper Tiger
19 – Atlanta, Ga. @ The Earl
20 – Nashville, Tenn. @ DRKMTTR
21 – Washington, D.C. @ Black Cat
22 – Philadelphia Pa. @ Boot and Saddle
23 – Brooklyn, N.Y. @ Sultan Room
26 – Montreal, Que. @ Brasserie Beaubien
27 – Toronto, Ont. @ Baby G
28 – Cleveland, Ohio @ Beachland Tavern
(* = w/ Twin Peaks)
(# = w/ Corridor)