Deerhoof Announce 7″ Vinyl EP of The Shining Soundtrack Covers
The album will be pressed on "Room 237 carpet-green" vinyl
Photo by Shervin Lainez
Music
News
Deerhoof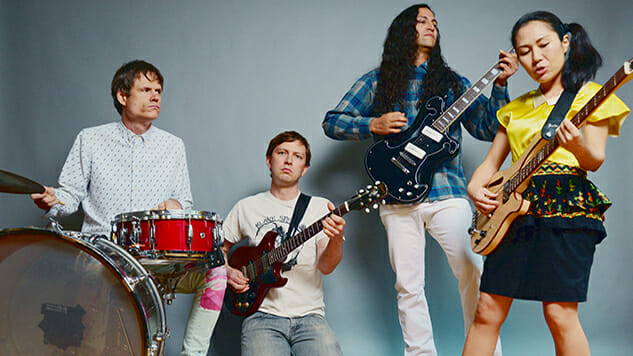 Deerhoof have announced a special, vinyl-only seven-inch EP of covers of music from the 1980 horror classic The Shining, out Oct. 26 through Famous Class Records.
Side A will be a cover of Bela Bartok's disorienting, often cacophonous "Music for Strings, Percussion and Celesta" that is featured heavily throughout the Stanley Kubrick film. Side B, now streaming via Deerhoof's Bandcamp, finds the band re-imagining Ray Noble's "Midnight, the Stars, and You," the song that plays over the film's final moments.
Deerhoof plays the music of The Shining will be arriving just in time for all your arty, weirdo-indie Halloween party needs. The record comes housed in a Jack Torrance-inspired jacket, and the entire pressing is done on Room 237 carpet-green vinyl.
Images of the release can be found below, along with Deerhoof's 2009 Daytrotter Session. Preorder your copy here and stream Deerhoof's rendition of "Midnight, the Stars, and You" right here.