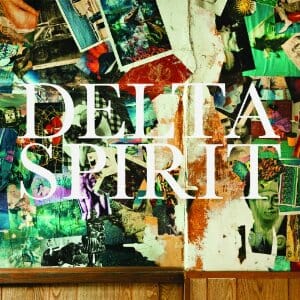 Delta Spirit first caught attention with the folk-tinged rock on their debut record Ode to Sunshine, an album characterized with an abundance of energy and soul. They've since found brethren in bands of a feather like Deer Tick and Dawes (with the lead singers of all three bands forming the supergroup Middle Brother) and enjoyed critical acclaim and a supportive fan base.
But despite being described as having a "twangy" or "country rock" sound, the band has always really felt that their music didn't quite reflect the style that they intended to deliver, that they were still growing into themselves, so to speak. To Delta Spirit, they set out not to make roots-influenced music, but rather modern rock.
With their sophomore follow-up, the band expanded their sound by experimenting on several songs with a bigger, harder approach more commonly found in arena rock. The new direction was exciting and fun and still fit right in with the band's—dare I say it?—"spirit."
Now on their third LP, the band thinks they've finally hit their mark. They've even gone so far as to release this record as a self-titled to indicate that this is what Delta Spirit is supposed to sound like. This time around, the band has almost completely done away with any inkling of Americana or folk influence. However, the result suffers from a distinct lack of soul.
DISCLAIMER: I must be honest here and admit that I'm completely biased because I love folk-rock. As much as I think it's important for musicians to grow and change, Delta Spirit's sound is what drew me to them in the first place.
That being said, it's not that the songs on Delta Spirit are poorly written or inadequately performed—quite the opposite, in fact. The tracks are extremely well-produced. But, unfortunately, they just don't feel nearly as dynamic as the group's previous work. They're missing the stirring raw power of songs like "People C'mon" or the heartbreaking stories in "Vivian" or "Ballad of Vitaly." In an effort to create a "thoroughly modern rock" record, Delta Spirit has instead made an album that comes across as way too cold and generic compared to the passionate, organic quality of the rest of their catalog. With the exception of singer Matt Vasquez's distinct, throaty vocals, these songs feel like they could belong to any number of alt-rock bands playing today. ("Tear It Up" almost sounds like Delta Spirit covering a Strokes number.)
These are my initial reactions, and despite them, I applaud the band for being so bold. It's not easy for a group of musicians to shift gears the way they've done, and such a move is almost always met with mixed reviews. However, it's very possible that Delta Spirit will attract a whole new group of music lovers with this LP. It's also possible that this album is a grower. More than half of my favorite songs and albums originally drew reactions from me that were either indifferent or negative. But as time passed, I began to better understand them. Eventually, something clicked, and I fell in love.
So, is Delta Spirit worth a listen? Absolutely.
There are some great songs to be found on the record, even for a stubborn folk-rock enthusiast. "Idaho" is a high-energy rocker that will surely become a staple of the band's live set, and "Time Bomb" is a beautiful number about the infinite possibilities of the impending future.
Who knows? Maybe all Delta Spirit needs to go from being a decent to a great record is a little time.