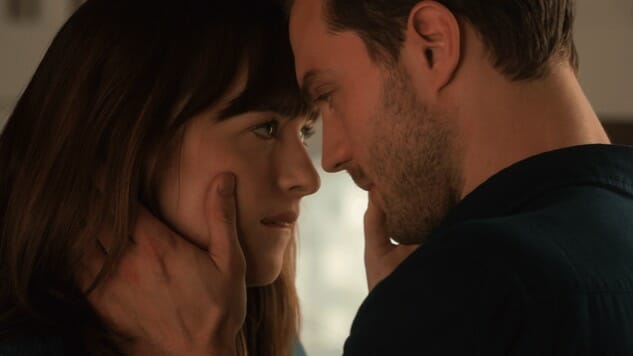 While there's no music from The Weeknd to be found on the Fifty Shades Darker soundtrack, the film's production team has absolutely earned its keep for the musical crew it was able to assemble.
We already know that Taylor Swift and former One Direction member Zayn are featured on the film's theme song, but today brings news that some major pop music heavyweights will be joining them. Nicki Minaj and Nick Jonas are tangoing on the song "Bom Bidi Bom," Tove Lo's written an effort titled "Lies in the Dark," the consummate soul pop singer John Legend contributes with the track "One Woman Man," and the enigmatic Sia brings "Helium" to the album proceedings.
There aren't any new tracks premiering from the soundtrack yet, and it doesn't seem as though Miguel's stellar "Crazy in Love" cover from the film's trailer has made the cut, so enjoy the still-solid collabo between Swift and Zayn (which sounds like the name of a defunct '80s new-wave duo) below, and find the soundtrack's tracklist beneath that.
Fifty Shades Darker Soundtrack Tracklist:
01. "I Don't Wanna Live Forever (Fifty Shades Darker)" by Zayn / Taylor Swift
02. "Not Afraid Anymore" by Halsey
03. "Pray" [ft. Rooty] by JRY
04. "Lies in the Dark" by Tove Lo
05. "No Running From Me" by Toulouse
06. "One Woman Man" by John Legend
07. "Code Blue" by The-Dream
08. "Bom Bidi Bom" by Nick Jonas / Nicki Minaj
09. "Helium" by Sia
10. "Cruise" by Kygo ft. Andrew Jackson
11. "The Scientist" by Corrine Bailey Rae
12. "They Can't Take That Away From Me" by José James
13. "Birthday" by JP Cooper
14. "I Need a Good One" by The Avener ft. Mark Asari
15. "Empty Pack of Cigarettes" by Joseph Angel
16. "What Would It Take" by Anderson East
17. "What Is Love?" by Frances
18. "On His Knees" by Danny Elfman
19. "Making It Real" by Danny Elfman