On Their Self-Titled Debut, Free Nationals Un-.Paak Themselves
The rapper's backing band flexes their versatile talents and fluid style on their first solo outing
Music
Reviews
Free Nationals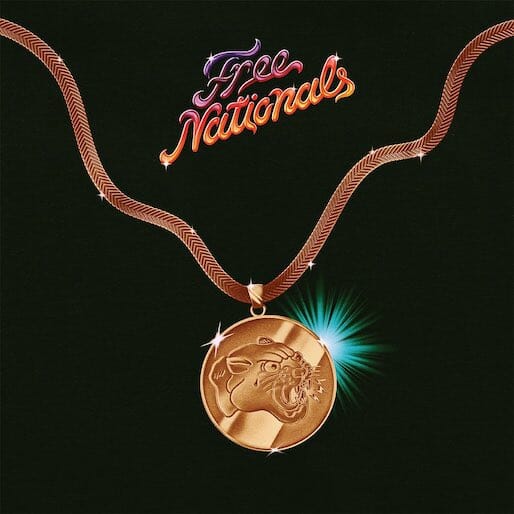 Anyone wondering what Free Nationals sound like on an Anderson .Paak record can just listen to an Anderson .Paak record. But to truly understand what the band is all about, Free Nationals, the band's first album on their own terms, is a good place to start. Stepping out of .Paak's shadow feels risky, which isn't to say that .Paak necessarily overshadows his band, but rather that name association can be a yoke around the neck for artists with their own creative aspirations. Free Nationals, to listeners who are familiar with .Paak, could simply be received as a .Paak-adjacent project rather than the wholly separate work it's intended as.
The operative word is "could." Whether Free Nationals are a known quantity to the individual or not, their record feels like an arrival: The qualities they've adopted from collaborating with .Paak melt and reform into a piece unique from said collaborations. Put another, blunter way, Free Nationals is too confident, too refined, too self-assured to be boiled down to something as simple as "an album by Anderson .Paak's band." This is music to groove to, to sway to, possibly to make love to depending on the mood and moment one plays it in. Maybe Free Nationals don't expect people to spontaneously procreate while their record streams in the background, but there's really no way they didn't intend it to be as sensuous and steamy as it is.
Fortunately, it's also melancholic in the right ways at the right times, not enough to kill the mood but enough to at least temper it: "I'm lonely / You're lonely too," Daniel Caesar murmurs on the chorus of "Beauty & Essex," both an invitation for palliative lovemaking and a solemn admission of isolation. It's a sad track, but there's something sexy about sadness, at least couched in the act of reaching out to another person. There might be better reasons for intimacy than heartache, but there are worse reasons too, and the way Caesar croons, heartache might in this context actually be the best reason after all.
A hefty dose of progressive influence winds throughout Free Nationals, most notably via space-age bass and synth that add layers of classically funky psychedelia over modern sensibilities. Tracks like "Rene," where the band's drummer, Callum Connor, sings to his baby over the sound of slapped low-end, feel like relics of bygone decades, while "Cut Me a Break," featuring T.I. on the mic, rings distinctly of today, in part because the way the band writes around his lyricism, providing him a stage for his verses, where other songs blend together production with vocals.
Speaking of the guest list: It's extensive. Apart from Caesar and T.I., Free Nationals have Syd, Benny Sings, Chronixx, Kadhja Bonet, the late Mac Miller, Kali Uchis and many, many more invitees helping out their efforts to refine their personal identity as a musical outfit. On paper, that sounds counterproductive; how can Free Nationals hope to announce themselves as an act unto themselves by stuffing around 20 different musicians on their docket (of course including .Paak, who pops up on "Gidget")? But that is Free Nationals' personal identity. They're good middlemen. They're astoundingly talented musicians, instrumentally multifarious and creatively curious, but they also have a knack for complementing their vocalists no matter what style they sing, whether .Paak or Benny Sings, Syd or Bonet. Not everyone has that kind of versatility.
That's not a bad niche to eke out, particularly given that the standout element of Free Nationals isn't its guests: It's Free Nationals. Their music speaks for itself, even as the guests literally sing for them.
Bostonian culture journalist Andy Crump covers the movies, beer, music, and being a dad for way too many outlets, perhaps even yours. He has contributed to Paste since 2013. You can follow him on Twitter and find his collected work at his personal blog. He's composed of roughly 65% craft beer.