Friday at Festival d'été de Québec 2015: Viet Cong, Interpol
Photo by Renaud Philippe for Festival d'été de Québec
Music
Features
Friday was (sadly) the last day of my trip to Quebec City, and I spent much of the afternoon making the most of it, drinking La Fin du Monde on draft and walking through the fortified Old Quebec to take a peek at the Château Frontenac, the most photographed hotel in the world, and snap my own obligatory picture. (Stay tuned for more on that in a separate article.) There was, however, more music to be taken in—here are some of the highlights.
Gypsy Kumbia Orchestra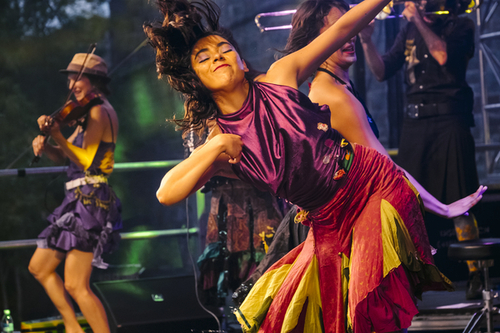 Photo by Renaud Philippe
I stumbled upon Gypsy Kumbia Orchestra's set completely accidentally, but once I was there, I found it difficult to leave. The energy from this group (which blends Afro-Colombian percussion with traditional Eastern-European Roma melodies) was completely infectious, and the dancers onstage weren't the only ones moving by any stretch of the imagination; the crowd gathered at the Hydro Quebec stage was one of the liveliest I saw all weekend.
Viet Cong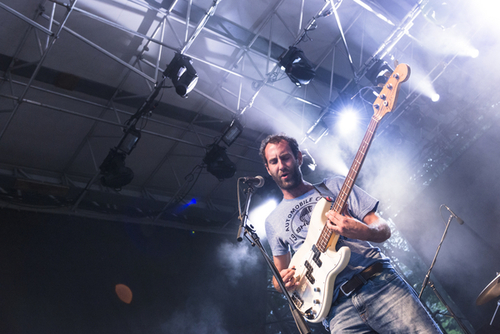 Photo by Francis Gagnon
My unexpected detour at Gypsy Kumbia Orchestra's set meant that I missed the first few songs of Viet Cong, but thankfully I was able to get there in time to catch the majority of the Calgary group's performance. Songs bled together as the post-punk band deployed noise and fuzz, stretching their wings on each track. I'd missed Viet Cong on this tour so far, and up until now, had considered them to be slightly overrated, but now having seen them live, I completely understand the hype.
Interpol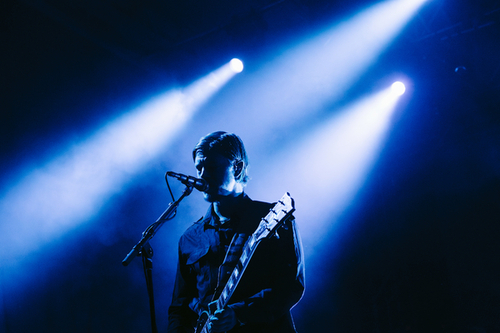 Photo by Renaud Philippe
Frontman Paul Banks seemed genuinely surprised by the band's strong reception in Quebec City. "This is fantastic!" he exclaimed after a particularly long ovation. "Merci." Banks and co. came back for an encore, where favorites like "All the Rage Back Home," "PDA" and "Obstacle 1" were met with equal fervor. It's always amazing to watch when a band is visibly fueled by a warm crowd response, and that was certainly the case with Interpol on Friday night.