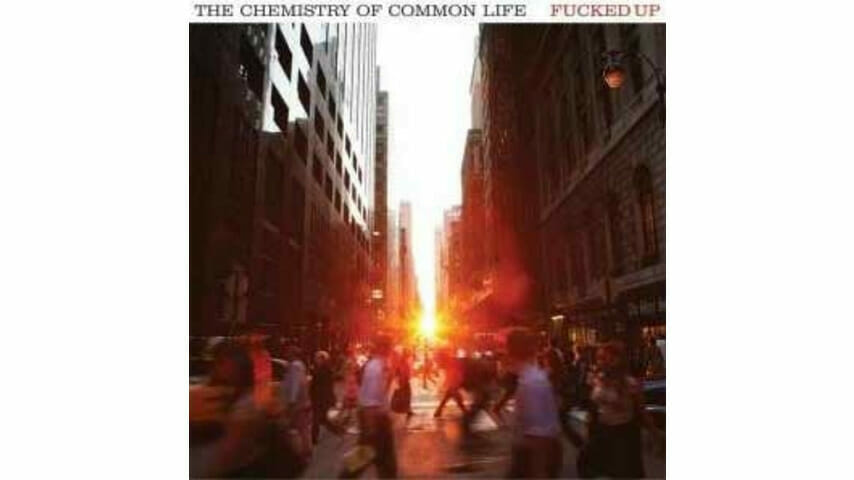 The Chemistry of Common Life is…
The hardest part about reviewing Fucked Up's latest record is trying to boil it down to a single sentence.
"The Chemistry of Common Life is this generation's New Day Rising." Perhaps. Do kids these days know Hüsker Dü?
"The Chemistry of Common Life is like getting hit with a ton of bricks." True, but that's a terrible metaphor.
"The Chemistry of Common Life is the second coming of hardcore punk." Arguably, but after being cannibalized in the late '80s and again over the last few years, does "hardcore" even mean anything anymore?
However it's billed, Fucked Up's sophomore release is one of 2008's singular records. For whatever reason, loud punk rock has fallen out of favor as of late, and with its crunchy power chords and overdubbed guitars, The Chemistry of Common Life is an unapologetically loud punk record. Despite a surprisingly visceral first listen, Chemistryreveals itself to be expertly crafted record with hidden subtleties at every turn, be they the synths that swirl in the background of "Golden Seal" or the shared melodies of the album's opener ("Son the Father") and closer ("The Chemistry of Common Life"). And if you listen hard enough to the thick growls of frontman Pink Eyes Damien Abraham—think Bob Mould with a head cold—you'll find a skeptical non-believer genuinely searching for answers. If all this sounds a little ambitious, it is. But a little ambition never hurt anyone.