Watch the Eccentric Video for Fucked Up's New Single, "Normal People"
Images via Merge Records
Music
News
Fucked Up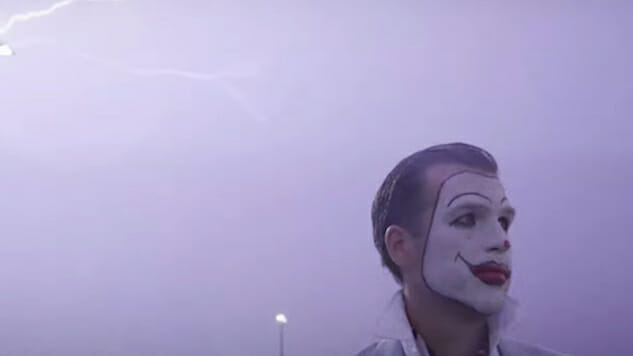 You can't write a song called "Normal People" and then fill the video with regular folk—sorry, we don't make the rules. In the lead-up to their forthcoming album Dose Your Dreams, Fucked Up have released their latest single and video "Normal People," and it's filled with anything but that.
The track itself is at once coherent and all over the place, switching between styles and voices during its almost six-minute run time. It begins with a growling spoken word before transitioning into a dance-y indie-rock section, intermingling with Damian Abraham's gravelly punk-rock vocalizations.
In the video, there's an older woman with intricate fingernails fiddling on Abraham's bald head, clown get-ups, red latex suits, and Jonah Falco returning in that suit and row-boat from the lyric video for "Raise Your Voice, Joyce," the first single from Dose Your Dreams. The "Normal People" video was directed by guitarist Mike Haliechuk and features all these eccentric characters going about regular tasks, or, as a press release describes it, "a series of vignettes that attempt to make sense of daily life." Watch the video below.
Dose Your Dreams is out on Oct. 5 via Merge/Arts and Crafts, and the band will be going on an international tour in support; check out those dates here. Keep scrolling for Fucked Up's 2008 Daytrotter Session.