FYF Fest Day 2: Frank Ocean Actually Performs; Thundercat & Erykah Badu Leave Their Mark
Thundercat's triumph, the most anticipated set of the year and one that fell short.
All Photos by Adrian Spinelli
Music
Features
FYF Festival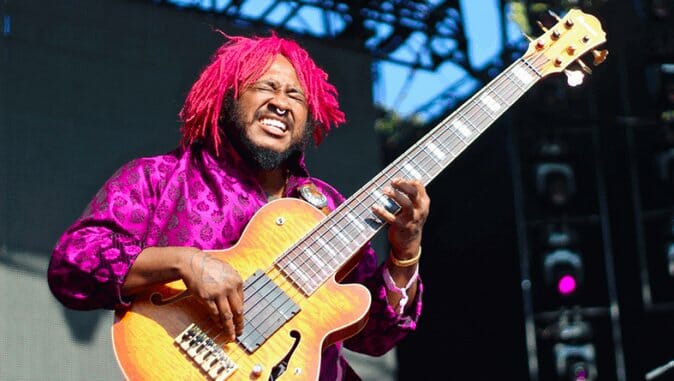 "Thundercat's gonna win a Grammy for this one y'all!" Flying Lotus shouted to the crowd before dropping his long-time collaborator's "Friend Zone," during his Friday night set. The tangible idea of a Grammy win is a testament to how the LA-based Thundercat has quickly established himself as the best bass player in the business and walking in on Saturday to 'Cat's 5:30pm set on FYF Fest's Lawn Stage was a spectacular way to start FYF Day 2.
Donning a purple silk robe and pink dreadlocks in the blistering Exposition Park sunshine, Thundercat absolutely dominated the stage in front of his hometown crowd. He coursed through tracks from his excellent 23-track LP Drunk, none hitting harder than the aforementioned "Friend Zone." And the crowd-pleasing "Them Changes." His dexterity and sheer wizardry on the bass is nothing short of a musical revelation.
Saturday's lineup saw the same intentional diversity in artists, which was likewise reflected in the tens of thousands vibrant daily attendees. The weekend's first big schedule conflict happened when King Krule, Perfume Genius and Built To Spill (playing Keep It Like A Secret in full) all appeared on different stages at around 7:30. We opted for the #rare King Krule set and the 22-year old English singer and guitar player flashed shades of a young Billy Bragg. He expresses millennial angst with a polished, mature delivery and a voice that's primed to age well.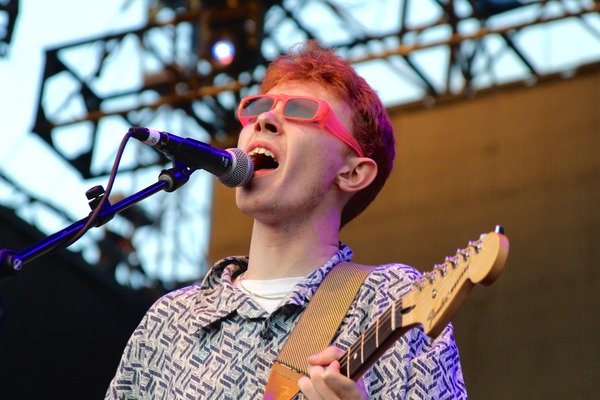 King Krule
Back on the Main Stage, A Tribe Called Quest's Q-Tip and Ali Shaheed Muhammad slapped hands and made perfect contact after an emotional opening tribute to the recently departed Phife Dawg, but the set failed to maintain the intent of the group's entry. While the J-Dilla produced "Let's Ride" might be Q-Tip's best solo cut, it was difficult to get past how it was totally out of place as the set's third track. Aside from Raphael Saadiq appearing on the bass for "Buggin' Out," this set lacked cohesion and too often relied simply on nostalgia for the days of old.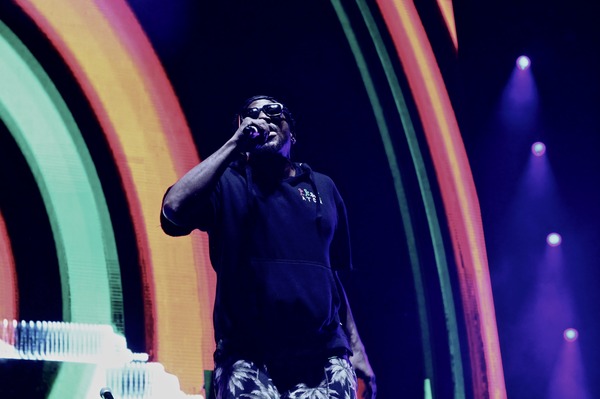 Q-Tip
Where Erykah Badu's 30 minute delay to begin her set hinted at a potentially ominous turn for the festival's evening, her triumphant performance squashed any doubts and set Saturday night back on track. Badu is the pinnacle of poise and her delivery is the fabric of classicism with modernity. She was truly in the moment and commanded the stage in the same way that D'Angelo did on this same time slot two years ago.
"They can only trick us for so long. It's the people vs the powers!" Badu said as she culminated a political message of community empowerment. She then shed the last of her ornery layers and finished the set in a tank top, in total control of the crowd, like the ultimate hip-hop diva that she is.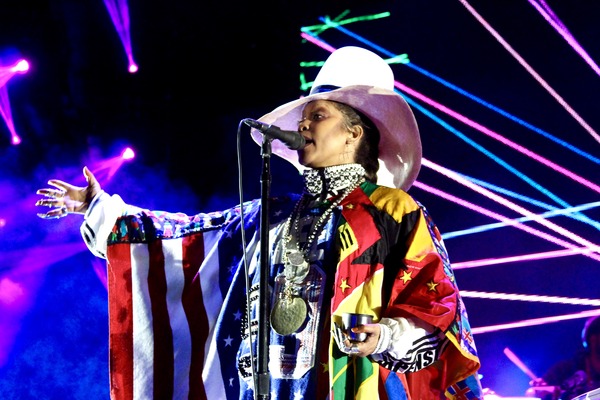 Erykah Badu
Finally, about 20 minutes after his scheduled set time, the elusive Frank Ocean took to the stage and opened with "Solo." Wearing a shirt that said "Instant Karma" and noise cancelling headphones that never left his head, Ocean delivered perhaps the most anticipated set of the year. His voice was truly immaculate through the set's 75 minutes, where he largely performed on the edge of a long catwalk from the stage to the middle of the crowd. On the screen, Spike Jonze produced a live video of the performance, capturing Ocean playing his Rhodes piano on the ground—almost like a bedroom studio come to life—and even Brad Pitt being serenaded on his cellphone on-stage by Ocean to a "Close To You" Carpenters cover.
Just before Ocean closed with "Nikes" and Seun Kuti & Egypt 80 ended the evening on the nearby Club Stage with an orchestral Afrobeat explosion, Ocean sang Blonde closer "Futura Free." For the FYF faithful who'd hoped to see Ocean two years prior, only to have him cancel his performance week of and be replaced by Kanye West, the lyrics to "Futura Free" provided the closest thing to an explanation from the gentle, vulnerable, oft-insecure and brilliant artist.
"I ain't on your schedule
I ain't on no schedule
I ain't had me a job since 2009
I ain't on no sales floor
You say I'm changing on you…"
Check out our FYF Day 1 coverage here and check back in tomorrow for words and photos from Day 3.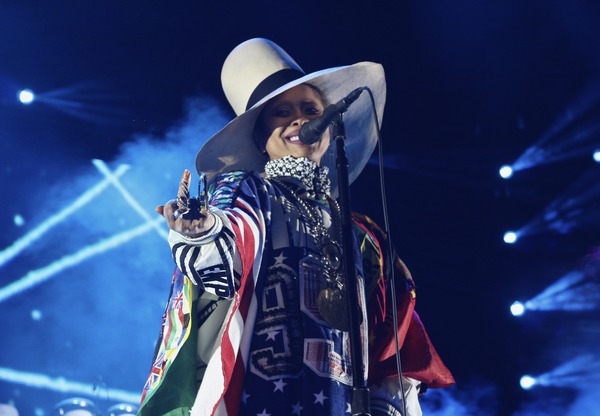 Erykah Badu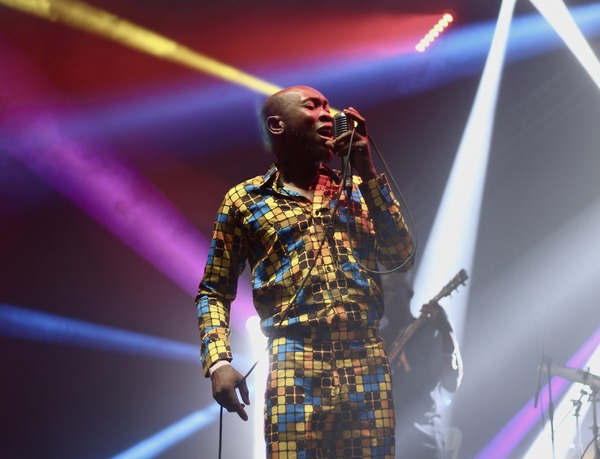 Seun Kuti
RIP Phife Dawg