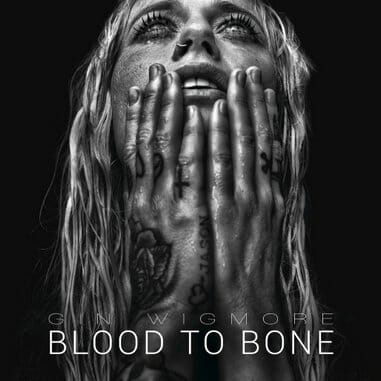 Gin Wigmore is a certifiable megastar in her home country of New Zealand, where her two previous albums, 2009's Holy Smoke and 2011's Gravel & Wine were both multi-platinum smash hits. The latter made her a popular music blog darling and up-and-comer in the American market when it was released here in April of 2013, snaring her a bevy of commercial placements that included the likes of AMC TV, Orange is the New Black and Heineken commercials starring Daniel Craig as James Bond in Skyfall. The table was set for a big-time follow-up in Blood to Bone, a generally entertaining album that doesn't quite match its predecessor. At its best, the peaks are nearly as high, but the valleys are significantly lower.
What we're presented with here is a bit of a top-heavy recording, one that packs some great cuts of alternative rock and neo-soul into its first half before starting to run out of steam in an increasingly contemplative second act. As a rule, Wigmore is at her best when her music seems dissatisfied—venomous, biting lyricism does tend to make a natural bedfellow with Wigmore's uniquely gravelly voice. Blood to Bone delivers a few of those tracks before taking a detour that feels a bit more personal (and perhaps even more sincere) to Wigmore, at the expense of verve and entertainment factor.
Still, it's a recording you'll want to spin for a few stand-out tracks, especially lead single "Written in the Water," which was a natural choice to champion as her new signature tune. This is a spectacularly catchy, propulsive, driving song that samples some of the best bits of Wigmore's previous successes, with a swinging beat, horns and pounding piano that echo Gravel & Wine's "Man Like That." Also solid is the galloping pace of "New Rush," which seems to incorporate a little bit of electronic inspiration, along with the swaggering, dramatic swings between grandiose choral backup and solo piano featured on "Nothing to No One" and "24." Those songs crackle with Wigmore's intensity of presence and match up favorably against anything she's done before.
There are also some more unusual tracks, however, such as the odd call-and-response intro on "Willing to Die," which sounds a bit like a chain gang work song. Worse is "DFU," with its confused backing vocals and seeming inspiration in '80s synth rock, something that simply doesn't seem to fit comfortably into Wigmore's oeuvre. Same thing with the overlong, maudlin ballad "I Will Love You."
Ultimately we're left with a mixed bag, but the highlights make a stronger lasting impression than the negatives. I may chop some of these songs out and into more expansive playlists, but I have a hunch that "Written in the Water" will make a strong reappearance in my year-end best song nominations.