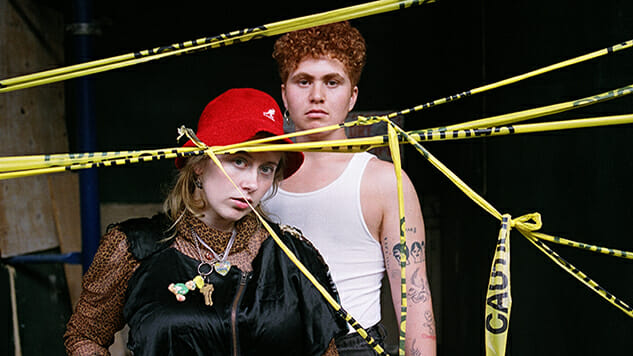 "Everything We Know about … " is Paste's series of deep dives into the forthcoming projects we're most excited about. Explore them all here.
Girlpool promised their latest record this past spring (via Instagram) and it's almost time for them to deliver.
It hasn't even been two years since the release of their critically acclaimed sophomore album, Powerplant, but Girlpool are back with a new record called What Chaos Is Imaginary, set for release Feb. 1, 2019, via Anti- Records. The indie-rock duo consists of Los Angeles natives Harmony Tividad and Cleo Tucker.
What's the same, what's different?
Look forward to Girlpool's signature guitar swells, but as a recent press bio for the band points out, while the previous two albums relied on the guitar, the bass and the drums, What Chaos Is Imaginary features "drum machines and synthesizers and beautiful/new harmonies and huge guitars and at least one orchestral breakdown by a string octet."
But the biggest change in Girlpool's sound is related to Tucker's voice. Since the band's last album, the co-vocalist has begun "gender flow" (a term Tucker prefers to "transition," which can imply a linear process and reinforce binaries). Tucker now sings an octave lower in a rich baritone.
"I'm in no way in a comfortable place with my voice. I don't know what I can or can't reach, and it's still changing," Tucker said in an interview with i-D. Tucker might not be able to hit the same high notes as on the band's fan-favorite smashes, but with the duo's current combined range, Girlpool's sound is fuller than ever before.
What's on the What Chaos Is Imaginary tracklist?
Girlpool have released three singles off their third album to date: "Where You Sink" and "Lucy's," and most recently, "Hire," which came out a month ago today. Of the three tracks, "Where You Sink" stands out as the most experimental: Girlpool manage to incorporate heavy synths without crossing the (fine) line into the realm of kitsch. The song's back-and-forth between light, muted verses and a brimming chorus makes for an overall transformative listening experience.
On "Where You Sink," Tividad explains:
"Where You Sink" explores our fixations on characters in our lives and the projections we create. It explores our natural human desire to be made special by another. I wrote it when I found myself looking at one person from various angles (emotionally); I found them to be beautiful in toxic but charismatic ways. It's about loving someone who you don't really have the chance to get to know fully because their time is spent trying to get out of their head, further from reality. It explores the complications of trying to get close to someone who ultimately wants to be far from themselves.
On "Lucy's," Tucker explains:
This song responds to stubborn feelings from a past relationship. I wrote "Lucy's" a couple of years ago to sort through some droning thoughts about hope, distraction, and love. 'I swear I'll be alright/ although (you) are in the sky,' continues to resonate. These lyrics distinguish a time when my partner would check out from our relationship. I reassured myself that even when they were not present, and I was, that I would be alright. I was hopeful that my partner would find resolve from their struggles, which stifled their capacity to provide the kind of care and attention that I needed. I practiced nurture, and I hoped that they would find the ambition that I saw in them."
Hear all three singles and check out the recent video for "Where You Sink." The full 14-song tracklist for What Chaos Is Imaginary can be found below.
01. Lucy's
02. Stale Device
03. Where You Sink
04. Hire
05. Pretty
06. Chemical Freeze
07. All Blacked Out
08. Lucky Joke
09. Minute In Your Mind.
10. What Chaos Is Imaginary
11. Hoax and the Shrine
12. Swamp and Bay
13. Joseph's Dad
14. Roses
Are Girlpool going on tour?
Girlpool will begin an extensive tour of North America in the spring, alongside up-and-coming Australian dream-pop singer Hatchie. Check out the dates below, beneath the duo's 2017 Paste Studio session, and stay tuned for any further updates on What Chaos Is Imaginary.
Girlpool Tour Dates:
April
04 – Tustin, Calif. @ Marty's on Newport
05 – San Diego, Calif. @ The Casbah
06 – Los Angeles, Calif. @ The Regent Theater
09 – San Francisco, Calif. @ The Independent
11 – Portland, Ore. @ Wonder Ballroom
12 – Seattle, Wash. @ Neumos
13 – Vancouver, B.C. @ Biltmore Cabaret
16 – St Paul, Minn. @ Turf Club
17 – Madison, Wis. @ High Noon Saloon
18 – Chicago, Ill. @ Lincoln Hall
19 – Ann Arbor, Mich. @ Blind Pig
20 – Toronto, Ont. @ Longboat Hall
21 – Montreal, Que. @ Bar Le Ritz
23 – Boston, Mass. @ Royale
24 – Brooklyn, N.Y. @ Music Hall of Williamsburg
25 – New York, N.Y. @ Bowery Ballroom
26 – Philadelphia, Pa. @ Underground Arts
27 – Asbury Park, N.J. @ Asbury Lanes
28 – Washington, D.C. @ Black Cat
30 – Durham, N.C. @ Motorco Music Hall
May
01 – Athens, Ga. @ 40 Watt
02 – Birmingham, Ala. @ Saturn
03 – Baton Rouge, La. @ Spanish Moon
04 – Houston, Texas @ Satellite
05 – San Antonio, Texas @ Paper Tiger
07 – Austin, Texas @ Mohawk
08 – Dallas, Texas @ Club Dada
09 – Oklahoma City, Okla. @ 89th Street Coop
10 – Santa Fe, N.M. @ Meow Wolf
11 – Tucson, Ariz. @ 191 Toole
We're going on tour with @hihatchie in April+May. Tickets on sale Friday at https://t.co/iYzveBnH6Cpic.twitter.com/ookv2OkIcc

— Girlpool (@girlpool) November 13, 2018