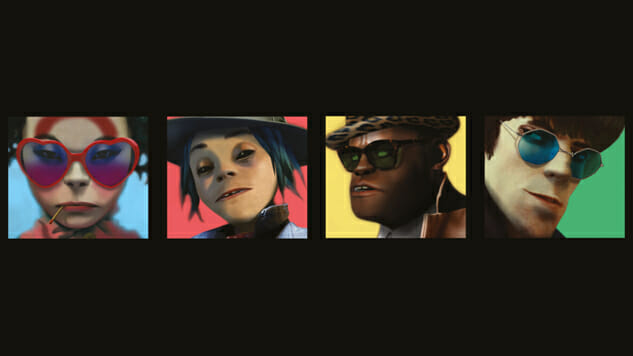 Created in 1998 by Blur's Damon Albarn and Tank Girl artist Jamie Hewlett, Gorillaz was always more than just a band: They were an art project that allowed both Albarn and Hewlett to experiment with the idea of a virtual musical group. As a result, Gorillaz includes four animated characters that exist within their own entire animated world. The melancholy eyeball-less 2D serves as the lead singer, the depraved monster Murdoc Niccals plays bass, the teenage prodigy Noodle shreds on guitar and the size-changing Russel Hobbs is the possessed drummer. With their creation, Gorillaz became one of the most interesting and captivating bands in recent history. And, yet, they kind of don't actually exist.
In January, Gorillaz released "Hallelujah Money," the first song from their forthcoming fifth album Humanz, ending their seven year silence as a band. And with a list of collaborators including Vince Staples, Mavis Staples, Carly Simon, Jenny Beth of Savages and Grace Jones, Humanz is becoming one of the most anticipated releases of the year.
So as we bide our time until Humanz comes out April 28, and look forward to nearly 20 years of Gorillaz being a "band," here are their 10 best songs so far.
10. "Hong Kong"
The only song on this list that doesn't sound like anything ou'd expect from Gorillaz, "Hong Kong" is basically just a Damon Albarn solo track under the Gorillaz moniker. When Albarn performs as Gorillaz frontman 2D, he gives the animated character a listless, lazy delivery. But in "Hong Kong," Albarn pushes his voice further than he ever does as 2D. Primarily backed by a gorgeous Chinese zither played by Zeng Zhen, "Hong Kong" is sparse and fragile, a complete shift from the Demons Days era in which it was released. Originally released on the compilation Help!: A Day in the Life, produced by the charity organization War Child, each artist had only 30 hours to finish their songs before the album was released. This might explain the simplistic orchestration and mostly nonsense lyrics, but together Albarn and Zhen craft an elegant track that sounds like it could soundtrack the sun setting during the apocalypse.
9. "Tomorrow Comes Today"
In The Gorillaz biography The Rise of the Ogre, Murdoc and 2D describe "Tomorrow Comes Today" through cinematic terms, comparing it to noir, French films and Ennio Morricone-scored Westerns. As the first song released by Gorillaz in 2000, "Tomorrow Comes Today" makes sense to be compared to film, as the band was just as much a visual experiment as an auditory one. As the band's first song (which didn't change from its original 2000 EP release to its appearance on their self-titled debut), "Tomorrow Comes Today" is about the blending of the real and the digital, an inability to escape the virtual world that has melded with our own. Because of this, the track is a perfect introduction to a band that doesn't quite exist, a completely new endeavor that could only be created in this modern age.
8. "Ascension"
The opening track to Gorillaz' upcoming fifth album Humanz, "Ascension" features plenty of similarities to the first single "Hallelujah Money," but in a more urgent, catchy and fast-paced package. Both songs show a newfound political leaning in Gorillaz' music, allusions to the world ending and even an oddly placed SpongeBob Squarepants reference. But Vince Staples' phenomenal verses hint at a level of debauchery reserved for the end of the world, one last party before it all comes crashing down. Both in terms of collaboration and worldview, Gorillaz tends to exist in its own universe, but "Ascension" blurs those lines in a big way for the first time in the band's career. 2D starts his verse by mentioning the attack on Iraq, while Staples discusses police brutality, racial inequality, and Obama. Even having Staples on Humanz is more prescient in terms of guest collaborators than the band has been previously. In Staples' last verse, all sorts of unusual sounds are added, blocking his words at one point, and culminating in a shocking scream, as if the song accidentally caught the exclamations of someone terrified from the sky falling and the inflamed roof. "Ascension" is Gorillaz coming back into the world with a blast of excitement, ready to evolve for the present, even as the world is falling apart.
7. "El Mañana"
Gorillaz rarely write love songs, but "El Mañana" posits that maybe they should. As the album name implies, each song on Demon Days represents a different personal demon, with "El Mañana" showing the desperation of recently lost love. 2D's voice has never sounded as defeated as he does here, as he fades out at the end of every line, as if he just can't bear to sing for one more second. While every song on Demon Days celebrates its demon, "El Mañana" suffers through it, with 2D begging God for happiness once more, if only the one he lost could come back to him. Of all the songs on Demon Days, "El Mañana" has the most obvious presence of producer Danger Mouse. With the spare guitar, pumping drums, soaring violins and occasionally synth beeps all layered atop each other, Danger Mouse keeps the production of Gorillaz' love song simple and heartbreaking.
6. "On Melancholy Hill"
Alban's vocals are the centerpiece to the pop highlight of Plastic Beach, and "On Melancholy Hill" is the album's most exquisite example of the power of his voice. Almost like the counterpoint to "El Mañana," "On Melancholy Hill" manages to balance beauty and sadness through a bouncy synth beat that undercuts the exhausted potency of Albarn's lyrics. Plastic Beach, more than any other Gorillaz album, attempts to create a visual in its audience's mind, an idyllic island, which led to Albarn creating what he called the most pop album he'd ever written. "On Melancholy Hill" comes off like being depressed in the happiest of places, being amongst the "happy folk," yet not being able to crack a smile.
5. "DARE"
Before Demon Days goes slightly off the rails in its final third with Hopper narrations and fire coming out of monkey's heads, "DARE" presents a solution to all the problems mentioned prior in the album: Press on, try to make change and don't let yourself get overwhelmed by what the world throws at you. But "DARE" has Noodle giving her rebuttal to 2D's problems throughout Demon Days in the album's most addictive dance track. "DARE" replaces the voice of Noodle with Roses Gabor, while Shaun Ryder of Happy Mondays and Black Grape joins them, and the music video implies that Ryder is nothing more than a singing head attached to Noodle's computer. In line with this visual, Ryder's verses come off more as a shouting instrument, screaming the song's message while laying down a solid beat. The key to "DARE" is Gabor's vocals, which open up an entire new world for Gorillaz and give the band multiple viewpoints from which to perform. Gorillaz rarely utilizes this, often looking outside themselves for collaborators, but "DARE" proves that some of its best voices are within.
4. "19-2000 (Soulchild Remix)"
While Albarn has stated that "19-2000" is about the turn of the millennium and keeping up with the trends of the future, the song is also simply an addictive song full of nonsense. First released on their debut album Gorillaz in a more basic version, this remix from 2001's G-Sides immediately supplanted the original as the quintessential version of the song. Sped up and spacier, "19-2000 (Soulchild Remix)" is one of the rare Gorillaz songs in which both Noodle (portrayed by Miho Hatori) and 2D can be heard together on the track, making the song sound more like a duet. It doesn't matter that lyrics like "get the cool shoeshine" make absolutely no sense; within a catalog of music that builds entire worlds through its music, sometimes Gorillaz makes music just to have hella fun.
3. "DoYaThing" feat. Andre 3000 and James Murphy
Ever since the thought of of pairing Albarn's music with Hewlett's animations, Gorillaz has focused around the idea of collaboration. But usually Gorillaz' collaborators come off like they're just adding a line to an already existing Gorillaz song. "DoYaThing," however, sounds distinctly like the work of all three of its musicians, Albarn, Outkast's Andre 3000 and LCD Soundsystem's James Murphy. Brought together for Converse's Three Artist. One Song project, Albarn brought Andre and Murphy into the studio together and it made all the difference. Instrumentally, "DoYaThing" sounds like a Gorillaz song put through the DFA ringer, while Andre 3000's bridge destroys everything in its wake, to the point that Murdoc can be heard at one point, proclaiming "yeah!" to each new Andre line. The original 13-minute version goes into an unusual soundscape of Andre screaming his insecurities and devolving into pure insanity. "DoYaThing" is impressive that it even came together, considering this was Murphy post-This Is Happening, Albarn's post-Plastic Beach simplicity that would lead to The Fall and Andre 3000, who nowadays, is simply a gift to have on a track. It's also just incredibly rare for any collaboration to not lean in favor of one particular artist, but "DoYaThing" melds these three distinctive artists into one whole, a staggering achievement that is unfortunately one of the least well-known songs on this list.
2. "Clint Eastwood"
Looking back on Gorillaz' career, "Clint Eastwood" is a deceptively simple song in the band's discography. Originally recorded by Albarn using nothing more than a drum machine and a guitar, "Clint Eastwood" is truly brought to life by the addition of Del the Funky Homosapien's two verses. Del has stated that he wrote the lyrics to "Clint Eastwood" after reading a book called How to Write a Hit Song, proof that the book actually works. Hearing this first Gorillaz single, it's easy to understand why Gorillaz was originally seen as little more than an Albarn side project. Yet "Clint Eastwood" is more than just a Albarn hip-hop experimentation, it shows an entirely new side to Albarn's oeuvre than had been heard on any Blur album. But "Clint Eastwood" also creates an entire Gorillaz universe, and is somehow the only Gorillaz song that mentions one of the members of the band, as Del raps about Russel, the body in which his soul has possessed. It's a simple line, but it makes all the difference, turning Gorillaz from a gimmick into a much larger storytelling opportunity, as glimpsed in the "Clint Eastwood" music video. "Clint Eastwood" is the beginning of the entire Gorillaz universe, a haunting track that leads to who this band is—part Albarn brilliance, part animated cartoon, part horror film that can still surprise you 16 years after this first hit.
1. "Feel Good Inc."
If Gorillaz was essentially Albarn screwing around and seeing what he could come up with for a side project, Demon Days perfected the band's aesthetic. While Gorillaz is all over the place in terms of experimentation and influences, Demon Days is far more cohesive, refining those previous ideas into one of the greatest concept albums of the 2000s. But no song better encapsulates that growth from debut to sophomore release quite like "Feel Good Inc.," which takes all the disparate ideas that made Gorillaz enjoyable, refined them and turned Gorillaz into a truly great band.
"Feel Good Inc." ended up being Gorillaz' biggest song, even earning them a Best Pop Collaboration Grammy. But what makes "Feel Good Inc." the group's masterpiece is how each individual sound is perfectly placed into a near-perfect pop song. In many ways, "Feel Good Inc." sounds like a version 2.0 of "Clint Eastwood," where 2D continues his lament about isolationism and the longing to escape. But "Feel Good Inc." has Gorillaz at their peak in every possible way, from Russel's thumping drums, 2D's exquisite lyrics and mumbled delivery, Noodle's acoustic-infused hook and Murdoc's dark bass undertones that could fit into nearly any horror film. Gorillaz combines so many sounds, but throwing them all into one song, including a collaboration with the great De La Soul and having it all come together into a hit track is bonkers. "Feel Good Inc." is a brilliant mishmash that sounded absolutely nothing like what was on Top 40 radio at the time or since. It's a remarkable achievement that encapsulates the genius of Gorillaz into less than four minutes.
Ross Bonaime is a D.C.-based freelance writer and regular contributor to Paste. He not-so-secretly wants to become the fifth member of Gorillaz. You can find more of his writing at RossBonaime.com and follow him on Twitter.