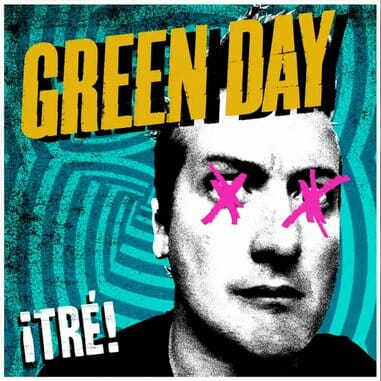 There are very few bands—if any—whose music is good enough to justify three full-length studio albums in one calendar year. And as they've proven over the course of their bloated 2012 triple-album saga, Green Day are clearly not that band. Their ambitions have swelled over the past decade (American Idiot, 21st Century Breakdown), beefing up their trademark crotch-rocket pop-punk with strings and horns and interludes and all the "serious studio tricks" bands pull when they're hunting down maturity. But that hasn't made their music any better—neither of those albums had a moment of clarity as pure as "Longview" or "Welcome to Paradise" or "Geek Stink Breath" or "Nice Guys Finish Last." But this triple-album set has split the difference between those two Green Days: It's more raw, pointed and hard-hitting than anything they've released in years, yet it's littered with head-scratching filler and awkward sonic diversions.
Tre!, the saga's final chapter, is also its most schizophrenic. There's a soulful old-rock nugget (lackluster opener "Brutal Love"), a charming acoustic ballad (the playful "Drama Queen"), a puzzling, multi-part rock anthem ("Dirty Rotten Bastards") and a sappy, string-coated piano-ballad closer (the weirdly disconnected "The Forgotten"), rubbing elbows with a handful of gleeful, power-chord-fueled singalongs. Just like the first two offerings in the trilogy (but especially the very average Dos!), Tre! is exhausting: Tracks like "Missing You" and "Amanda" are so by-the-numbers, they almost feel improvised, battering crunchy three-chord riffs, tired blast beats and Billy Joe Armstrong's forced snarls. The hooks are familiar, but they arrive in rapid-fire succession—one delirious drool of melody crashing into the next. But there are plenty of stand-outs: The power-pop rush of "8th Ave Serenade" boasts the entire project's strongest chorus—a frenzy of "whoo-ooh"s gliding over tricky rhythmic shifts—while "X-Kid" and "Sex, Drugs, & Violence" (the latter featuring bassist Mike Dirnt on vocals for approximately six seconds) both harness an urgency and instrumental flair sorely missing elsewhere.
You could pilfer Green Day's head-scratching trilogy for a killer cut-and-paste playlist—it'll also save you some shelf space.