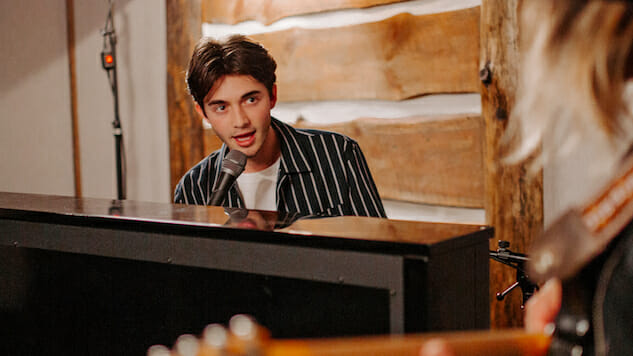 Back in 2010, a 13-year-old singer and pianist named Greyson Chance stumbled into overnight sensation after a clip of him performing Lady Gaga's "Paparazzi" went viral. It has since been viewed more than 60 million times and led to Chance's debut album, Hold On 'Til The Night, which arrived in 2011.
Now, after two EPs (2012's Truth Be Told, Part 1 and 2016's Somewhere Over My Head), Chance is finally returning with a follow-up full-length. portraits is set to arrive March 15 on AWAL, and Chance is now on tour supporting his new music. He carved out time to stop by our studio in New York City to perform three tracks from portraits: recently released single "shut up," a song Chance wrote in the Tel Aviv airport as he was preparing to leave Israel, plus two unreleased tracks—"lakeshore," the last song on portraits, and "stand," what he says is "an ode to where I'm from and my family." For the second half of the session, Chance is joined by guitarist Daniel Lape.
Two years ago, the Oklahoma native came out as gay publicly and has since used his platform to support the LGBTQ community. "I just want to create music that can help people through hard times," Chance said during his session. "I think that's the best contribution I can give."
Again, watch Greyson Chance in the Paste Studio below. Keep scrolling for his tour dates, and find tickets here.
Greyson Chance Tour Dates:
March
01 – New York City, N.Y. @ Gramercy Theatre
02 – Toronto, Ontario @ The Drake Hotel
03 – Toronto, Ontario @ The Drake Hotel
09 – Tulsa, Okla. @ The Vanguard
10 – Dallas, Texas @ Three Links
14 – Austin, Texas @ The Palm Door on Sixth
15 – San Francisco, Calif. @ Café Du Nord
16 – Los Angeles, Calif. @ The Roxy
21 – Pittsburgh, Pa. @ Hard Rock Café
22 – Philadelphia, Pa. @ The Fillmore
23 – Boston, Mass. @ Sonia Live Music Venue
April
05 – Chicago, Ill. @ Lincoln Hall
07 – Denver, Colo. @ Lost Lake
July
11 – Seattle, Wash. @ Neumos