I Can't Stop Thinking About Danielle Haim's Eye-Roll
This look from HAIM's "Now I'm In It" video could literally kill
Image via YouTube
Music
Features
HAIM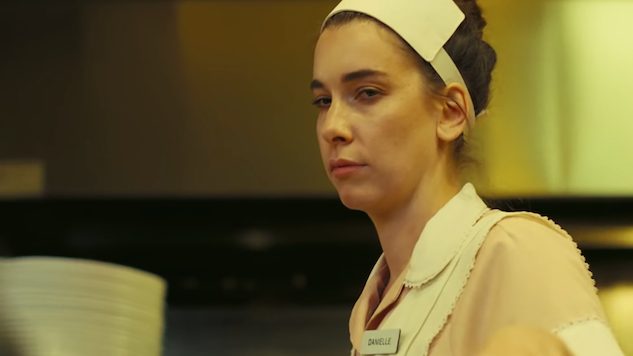 Last week, HAIM shared the music video for poppy new single "Now I'm In It," which the band said in a tweet is about "going through it. a depression." Keeping with the tradition of pop music (this decade's, in particular), "Now I'm In It" chases the dark away with a dance-y tempo and candy-sweet melody. Following the equally great, Lou Reed-inspired single "Summer Girl," which does some really sexy stuff with a saxophone, "Now I'm In It" is pure, pop release. This excellent pair of songs has me more jazzed than ever for HAIM's LP3, what will be the follow-up to 2017's Something to Tell You.
What's even more all-consuming than the thought of a supposedly imminent new HAIM album, however, is a particular moment in the "Now I'm In It" music video, which was directed by the band's frequent collaborator Paul Thomas Anderson. Many of the other PTA/HAIM collabs from the last album cycle were live videos, like the stunning one-take shot of the sisters performing "Night So Long" live at the Greek Theatre in their native Los Angeles, or the in-studio look at "Right Now." But in the "Now I'm In It" and "Summer Girl" videos—both directed by PTA—Danielle, Este and Alana shake up the scenery a little bit. In the former, Danielle plays a hungover waitress who, before getting swept up by her sisters and thusly improving her mood, serves up more than just coffee and pie. Cut to 00:43 and you'll see what I mean.
Did you see that?! That eye-roll is one thing, but the series of looks she throws at customers whilst haphazardly refilling their coffees deserves a medal. Behold, the evolution of Danielle's no-fucks-given morning as told by Paul Thomas Anderson. Step one, the smug smize: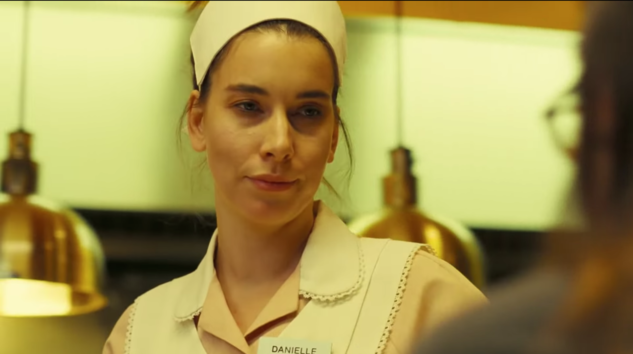 Then, the icy cold stare of death. Don't even think about talking to her: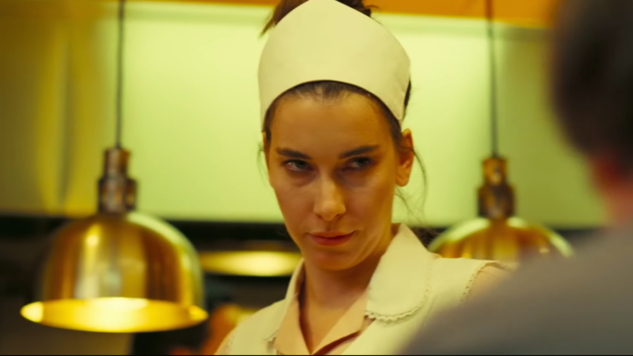 And, finally, the crowning jewel—the piercing side-eye: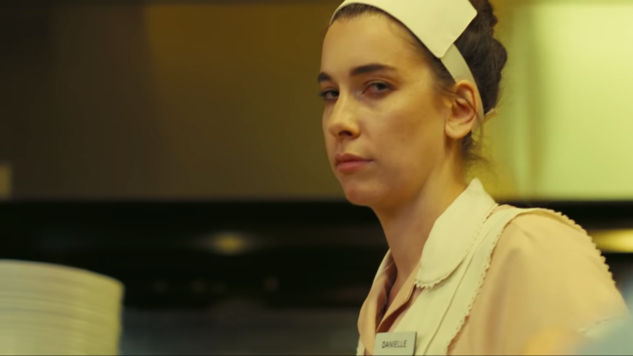 It's been eight days, and the spitting image of Danielle Haim's sassy mug still occupies my thoughts 85% of the day. It's just so perfect—the looks she dishes out have been worn by every woman at one time or another. It's the glare you put on when you've just had enough. Now whether its use here is a clever piece of music video character work or the genius idea of one of our greatest living filmmakers—who's to say! But one thing's for sure: Danielle Haim is a master of expressions, and if we're lucky enough to witness any more narrative-based HAIM/PTA collabs (something tells me we will), there's an opportunity for more sass and more stone-cold stares. Here's hoping.
But as memorable as Danielle's death-glare is, it's still not necessarily the year's best HAIM-girls-at-a-diner content—that title could go to The Lonely Island's "IHOP Parking Lot," where HAIM, the Bash Brothers and Maya Rudolph shake their "nasty butts" right off. There's truly just nothing like those Oakland nights.
Stay tuned for more information regarding HAIM's new music. Hear HAIM's 2012 Daytrotter session below.