Watch Lin-Manuel Miranda and Ben Platt Perform the Latest Hamildrop, "Found/Tonight"
Image via Atlantic Records/YouTube
Music
News
Hamildrops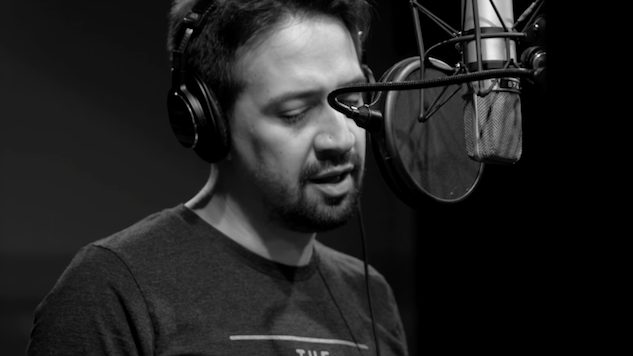 Your long and arduous wait is over: The latest installment in Lin-Manuel Miranda's Hamildrops series is here. This time, the widely successful Broadway star of Hamilton enlisted the help of actor and singer Ben Platt in a March For Our Lives-inspired track, "Found/Tonight."
To quickly recap, the Hamildrops series is a monthly release of Hamilton-inspired content, started by Miranda late last year. The Hamildrop for December was "Ben Franklin's Song," which Miranda created alongside The Decemberists. January had two Hamildrops, with "Wrote My Way Out" and its subsequent remix. Then in February, Miranda teamed up with comedic multi-instrumentalist "Weird Al" Yankovic for "The Hamilton Polka."
Now for March, Miranda shares the theatre mashup of two songs, "You Will Be Found," written by the songwriting duo Benj Pasek and Justin Paul, and ""Story Of Tonight," written by Miranda. The musical supervisor for both productions is Grammy-winning producer Alex Lacamoire.
The two songs combine into the track "Found/Tonight," which is accompanied by a new music video, recorded at Atlantic Records' studios. The song is said to be inspired by the nationwide mobilization of students in support of the March For Our Lives movement, following the school shooting in Parkland, Fla. Both Miranda and Platt have pledged to donate a portion of the song's proceeds to the initiative against gun violence, and encourage participation inside the music industry with the hashtag #IWillMarch. Miranda gave his thoughts on the student-led movement in a statement, saying:
In the wake of Parkland, I was awestruck by the strength and leadership of the students and their ability to speak truth to power. In the midst of their grief, they mobilized the youth of our nation and created a movement. This is their moment. Not just for themselves, but for all of us. This song is my way of helping to raise funds and awareness for their efforts, and to say Thank You, and that we are with you so let's keep fighting, together.
Platt also commented on the subject, adding:
When Lin called me to be a part of this mashup, I couldn't say no. Better gun control is something that all Americans should be passionate about. These students are paving the way for future generations and it's so inspiring to see young people standing up for what is probably the most important cause right now in this country, and demanding action. I hope that this song can play some small part in bringing about real change.
Listen and watch the latest Hamildrops release, "Found/Tonight," below.